Why is it cool to be a Punjabi film star? I hear you ask. Well, when it comes to regional cinema in India, the Punjabi film industry, along with the Tamil film industry, has sky rocketed in popularity. In the West, it used to be that our definition of Indian film was Bollywood and Bengali cinema (which is an entirely separate entity by the way) but that is changing fast.
So, here's the run-down of why you should all be paying attention to Punjabi cinema. In Britain alone, Punjabi films have been climbing higher and higher up the box office top 10. Just this year Anurag Singh's rom-com 'Jatt & Juliet', starring Diljit Dosanjh and Neeru Bajwa, reached number 2 at the box office, based on point average, which trashed 'Bhaag Milkha Bhaag', the Bollywood biopic of athlete Milkha Singh, despite the latter's huge marketing campaign and its star attraction Farhan Akhtar.
Punjabi film stars are now, like their Bollywood counterparts, paying more attention to marketing. Two such stars are Karanvir Bohra and his wife Teejay Sidhu, who recently travelled to London to promote their new film 'Love Yoou Soniye'.
'Love Yoou Soniye' is a distinctly different film to others. Mixing together Punjabi humour and storytelling, with glossy and high-octane Bollywood sensibilities. A tale of love and hate, it's an age old narrative, yet it's packaged in a fresh format.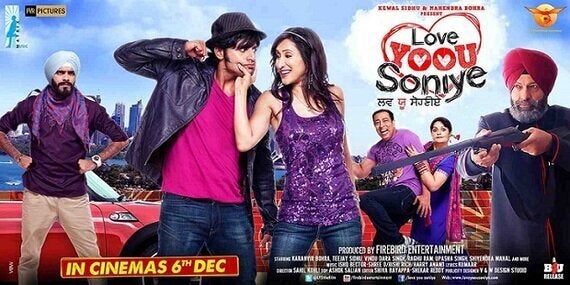 Speaking to Karanvir, his opinion was clear; 'Love Yoou Soniye' has been approached very differently from all sides, from production to marketing. Yes, it's a Punjabi film, but it's one which is injected with a broader sense of creativity. Basically, everyone involved from the actors, to the production team, to the films composers have thought big.
Karanvir says that to be memorable one has to be unique, particularly in the world of film. It's all about cherry picking the best aspects of mainstream and regional cinema, to fashion something that captures audiences imaginations. So by merging the best of both worlds, you're creating something entirely new.
In a conversation I once had with BBC Asian Network DJ Bobby Friction, he said that Bollywood is like an oak tree, with nothing able to flourish beneath its branches, so filmmakers, actors, composers etc must become part of Bollywood in order to achieve success. Karanvir disagrees, saying that it is possible for international success to occur outside the Bollywood machine, reiterating that using the unique factor as your prime instrument is the key.
Teejay, who stars as Karanvir's love interest in the film, shares the same opinion that it's about tapping into what's unique, and creating a story that everyone can warm to. Her role in the film as the pretty girl is something she accepts with good humour. "I had a lot of fun with it" she said.
Teejay went on to explain that the whole idea for 'Love Yoou Soniye' was an impulsive one, "we wanted to make a film, so we did. We put the idea around to our friends and colleagues, and thank God, all of them said they'd love to be involved." The film includes actor Raghu Ram and a special appearance by Manav Gohil, the music was arranged by a mix of different artists, including Rishi Rich, Harry Anand and Shree D, amongst others.
'Love Yoou Soniye' arrives in cinemas on 6th December, distributed in the UK by B4U. Whether it will match the success of 'Jatt & Juliet' remains to be seen, but it's highly likely it will, and then some.