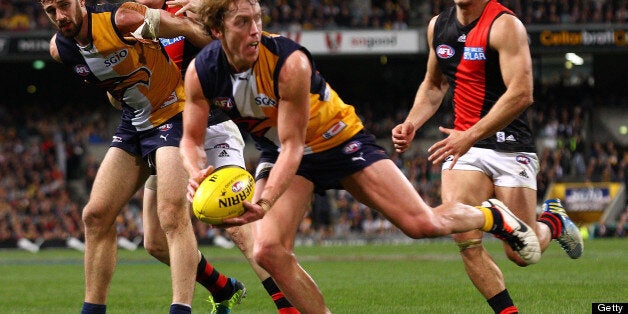 This weekend, the British & Irish Lions will play Australia in the second test of their tour down under. They are 1-0 up in the series following Saturday's nerve shredding 23-21 win in Brisbane, and victory in this next match would seal a series win - a rare thing for Lions teams. For those of you after any pre match expert analysis - sorry, that's not my bag (although you could do a lot worse than check out the thoughts of this rugby legend) but instead I'm going to look at the actual location of the second test - Melbourne.
Melbourne is a place that likes to think of itself as the sporting capital of Australia. Given the Aussies obsession with anything that runs, jumps or plays with a ball, that probably makes Melbourne the sporting capital of the world. Now, people in Melbourne don't really 'do' rugby union. Their football code is AFL, or as we would call it in the UK, Australian Rules Football. Yet the Etihad Stadium will still be a sell out, demonstrating how Melbournians will always come out in force to watch high caliber sport.
It is expected that over 30,000 Lions fans will be descending on the capital city of Victoria. In the days either side of the test they will have ample chance to experience some of the bucket list travel experiences that are in and around Melbourne. For example, they may head down the Great Ocean Road, check out the wines of the Yarra Valley, take a tram and catch some winter sun at St Kilda beach or head for the Grampians and the indigenous experience of Brambuk National Park.
But when the Lions have left the city any travellers making their way over will still have plenty to choose from when it comes to 'sports tourism'. Here are 5 of the top things you can do in Melbourne if you are a holidaymaker with a penchant for athletic diversions.
Those people who watched Channel 4 in the 1980s may remember Australian Rules Football being shown on a Sunday in the 'odd sports' slot, alongside Sumo wrestling and Kabaddi (the South Asian game which resembled British Bulldog but with of a bit of exotic class). In those days, rough tough men's men having a punch up whilst parading around in short shorts and unreasonably shaggy mullets dominated 'footy'. These days, the hair is generally shorter but everything else remains pretty similar. Between March & September, the state of Victoria becomes obsessed by the sport. During the other months the obsession turns into mass cold turkey as they wait for the off-season to end. If you are in town and a game is on, watch it and get an authentic Aussie experience. Tickets are easy to get, the fans are passionate but friendly, and the action is fierce.
They don't just play cricket at the Melbourne Cricket Ground. Four Australian Rules teams also call the Melbourne Cricket Ground home and it is frequently used for other sports and events. (Madonna once played here. I am told she hit an unbeaten half century, but I think I was being spun a yarn) Yet even when there isn't a game on it is worth a visit. When you arrive you are greeted by statues of such legends as Dennis Lillee and Don Bradman, Then you can go on a guided tour of the ground known locally as the 'G' and visit the National Sports Museum - which comes complete with a hologram of legendary spin bowler Shane Warne - still a scary site for English batsmen.
However the big motorsport attraction happens in March when the Formula 1 circus comes to town. Lewis Hamilton and co scream around Albert Park near the city centre, and if you can't get a ticket to see the action there's every chance you will be able to hear it. As you would expect, Melbourne fully embraces the event, and like the Australian Open Tennis - held a couple of miles down the road in January - it is a great chance to show off to the rest of the world. You can also (almost) emulate the F1 drivers by taking your own car around some of the grand prix circuit, albeit at a much slower pace.
Flemington was first used for horse racing in 1840, and its pear shaped racecourse is most famous for hosting the Melbourne Cup, which is Australia's richest horse race. Every year on the first Tuesday of November at 3pm the country's population gathers around the nearest TV screen and for just over 3 minutes screams encouragement at its chosen nag. It is commonly referred to as the 'race that stops the nation' and that is no exaggeration -the Grand National in the UK doesn't really come close. In fact, Melbourne Cup day is a public holiday for all those working in metropolitan Melbourne and some parts of regional Victoria. If you can't make it for the big day, don't worry. There is year round action at Flemington and you can take part in of their walking tours and explore behind the scenes in the jockey rooms. What's more, the grounds are home to the largest public rose garden in the Southern Hemisphere and the resident 'keeper of the roses' will even give you tips on cultivating and pruning your own.
Go Tubular at Bells Beach
Bells Beach and its surrounds are one of the classic day trips from Melbourne. Every Easter the world's top ranked surfers carve up the waves and compete at the Rip Curl Pro Surfing Competition and you can get a great view from the high cliffs that surround the beach. A word of warning though - if you are not an experienced surfer don't be tempted to have a go yourself as conditions here can be very testing. The beach is also very close to the start of the Great Ocean Road, one of the world's most famous driving experiences. Not necessarily an attraction for sports lovers per se (unless you planning to walk, run or cycle it) but more than worth a detour.
So, plenty for sports fans to get up to. If you are not part of the Lions fans 'Sea of Red' in Melbourne at the moment then maybe take a trip down here for the Boxing Day Ashes Test later this year. If all goes well, England will wrap things up in 3 days and you will have plenty of time to explore the cities delights.
Related