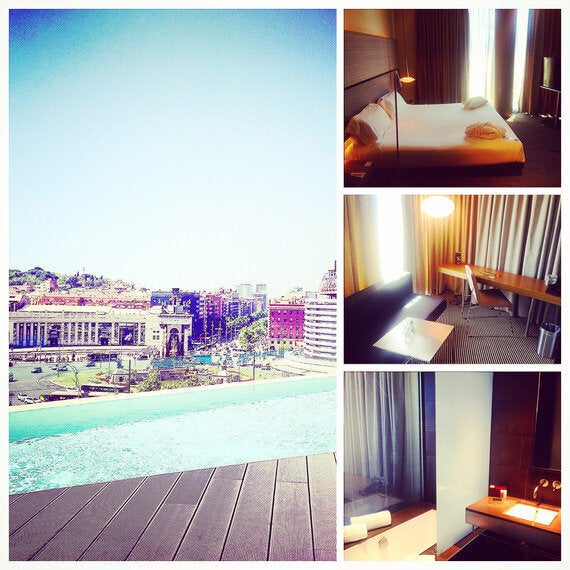 For our third night in Barcelona, we headed back to a more central location to B Hotel, which is right opposite Placa Espanya.
Entering through large glass doors, the hotel foyer was spacious and modern with check-in desks directly in front and a lounge and bar area with comfy sofas on the left hand side. It was around midday when we checked in and our room wasn't ready (usual check-in is 3pm) so we left our bags behind reception and headed to the top floor of the hotel to have a look at the hotels big selling point - it's rooftop sundeck and infinity pool.
With an infinity pool running half way around the decked roof area and the other half occupied with loungers, chairs and tables, the rooftop of B Hotel was impressive. The view looked out across Placa Espanya and Fira Barcelona towards Barcelona's mountains and we definitely caught some enviable glances from people on the roof of the nearby Las Arenas shopping centre (which was a former bullfighting ring)! Despite being in such a touristy area and on a busy road, the rooftop was surprisingly serene and was only half occupied with hotel guests.
Since we couldn't check in for a while, we decided to head for lunch somewhere local and were pleased to learn that Bodega 1900, which a friend had recommended, was only a short walk away. Bodega 1900 is a restaurant specialising in vermouth and tapas from Albert Adrià, known for both El Bulli and Tickets (which was actually across the road).
It was busy on arrival and we were lucky enough to bag the last two seats at the bar area. Whilst also featuring tokens of Tickets famous dishes, such as the Olives that are not actually an olive but a gel that taste just like one, Bodega 1900′s menu comprised of separate plates of cheese and meats (which hung from the wall and you were able to watch staff slicing these to order), traditional tapas such as tomato bread, croquetas and anchovies (the best I'd tasted) and signature plates such as tuna belly on crisp bread with their own tomato sauce and a hot pig cheek bun that just melted in the mouth. The atmosphere was laid back, the service was great and we were even treated to a little singsong from one of the waiters for all the diners before we left!
When we arrived back at our hotel, our room was ready so we checked into our Double Deluxe room, which was one of the rooms situated on the corner of the hotel and as such, was a more unusual shape but quite spacious. It featured a king sized bed in the middle with a desk and sofa area at the end of the room and the bathroom had a bath with shower over, which had a glass screen looking into the sofa area (fine for couples but perhaps not for friends!). The room also had a small balcony with chairs on looking out over Placa Espanya.
Since the weather was so nice, we decided to head up to the roof and sunbathe for the afternoon and spent a lovely afternoon relaxing reading our books and even braved a dip (it was May!) in the infinity pool as it looked too nice not to try.
Being in a really central location, it was easy to head out to Las Rambla in the evening and we enjoyed dinner at one of our old favourite spots at La Crema Canela just off Placa Reial. We were glad we'd booked as the restaurant was heaving and it seemed more people knew of its good food and very reasonable prices since the last time we'd visited!
Despite it being slightly noisy from the traffic, we had a great nights sleep in B Hotel and enjoyed breakfast the following morning on the first floor, overlooking the bar and lounge area and Placa Catalunya.
B Hotel is in an ideal position for exploring central Barcelona and the pool and roof terrace really is a fantastic spot!
B Hotel, Gran Via de les Corts Catalanes, 389-391 08015 Barcelona