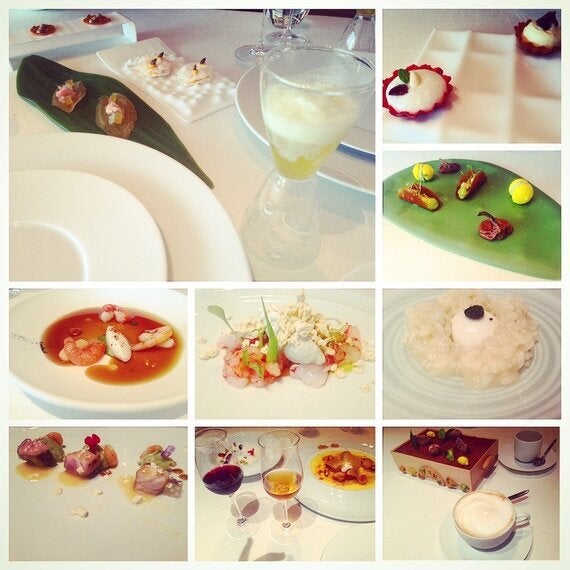 Whilst staying at Hotel Arts, we were lucky enough to be able to dine in their two Michelin Star restaurant, Enoteca, overseen by renowned Catalan chef Paco Pérez, who holds five Michelin Stars to his name.
Situated on the ground floor of the hotel just off the main reception area, Enoteca has an almost seaside style in its blue and white colouring with striped soft furnishings and rounded wooden chairs. We had a table booked at 8pm and it was quite quiet when we arrived (people tend to eat later in Spain) but filled up throughout the evening and was fully booked. We were welcomed warmly by the maître d', who seated us at a table for two by the window, and informed us that we were having a specially designed tasting menu which matching wines that evening, which we were made up with!
To start with, we were brought a selection of appetisers which included Thai Broth, Cronut, Suckling Pig and Seeds, Ginger, Ginger, Cupcakes and Viva Mexico! The Thai Broth was a bright yellow soup with a white froth which was light and refreshing with fantastic thai flavours. The Cronut, Suckling Pig and Seeds and Ginger, Ginger were all served at the same time with the Thai Broth and were presented well on different long plates, with one looking just like a big green leaf. The cronut was two thin white crisps filled with a fruity cream, made to look like a 'cronut', the suckling pig was crackling with a delicate meaty mousse piped on top and the Ginger, Ginger was a mixture of stem and pickled ginger on a thin crispy bread which was delicate yet zesty.
We were then brought Cupcakes which were two cases filled with cream that were savoury but made to look just like a cake. One was filled with Mozarella and Basil in a Tomato case and the other was a Ginger case and mousse and both just melted in the mouth and were extremely tasty. Lastly we had Viva Mexico! which again came on a leaf like plate featuring a taco, a savoury macaron and a Habanero Chilli Pepper. The taco was crisp, creamy from the avocado and full of lime flavour, the macaron was filled with Foie Gras and was rich but balanced by the fruity meringue and the chilli was divine, giving a slight kick before melting away in the mouth.
Paired with all of these dishes, we were served a 'Finca Serral del Vell' Brut de Brut 2006 Recaredo Cava which was dry yet refreshing and worked well with the appetisers.
The first course was Calcots 2015 served with Penedes 'Cosmic' 2014 Pares Balta, which was a delicious and crisp white wine. Calcots is a Catalan green onion and tasted like a cross between a spring onion or leek and it was served softly cooked with some perfectly cooked prawns on a really flavoursome broth made from the Calcots.
Next we were served a Thai Salad with Red Prawn, with a Nahe 'Lenz' Riesling 2009 Emrich-Schonleber, which was quite floral and sweet. The salad was absolutely incredible and tasted exactly like a thai curry paste in a salad, with flavours of shrimp, lemongrass, ginger, chilli, garlic and coriander and the coconut came from popcorn like pieces of ice which melted into the dish. It was one of the most memorable dishes we've ever eaten.
We were then brought Risotto Instant which was served with Penedes 2012 Vinya Oculta, which was our first red wine of the evening and was a light and fruity red. The risotto was a white risotto and came with a burrata style cheese in the middle that oozed out as you cut into it and melted into the rice. It was rich but extremely flavoursome made with a delicious stock.
For main course, we were served Grouper with Alt Emporada touches, Patch, Sea and Mountains which came with Conca de Barbera 'Milmanda' 2012 Torres, which was a Spanish wine and a fermented cloudy white, which we'd never tried before and tasted delicious. The Grouper was seared like tuna and served pink in the middle and it was delicious. It was decorated with edible flowers and came with quite a rich jus that worked perfectly with the delicate fish.
For dessert, we were served two dishes of Blackberry, Chocolate, Yogurt and Sage with 'Dolc Mataro' 2012 Alta Alella and Creme Brûlée with Breganze 'Torcolato' 2009 Maculan. The desserts were both very different, with the Blackberry dish very light with tangy yogurt and sweet fruit balanced by the earthy sage, and the creme brûlée very rich and creamy with a perfect sugary crisp topping. It was the best creme brûlée we'd ever eaten. I am not a huge fan of dessert wines and the Breganze Torcolato 2009 Maculan tasted like quite a typical sweet dessert wine to me however the Dolc Mataro was almost like a port and was absolutely delicious. So much so that I am thinking of ordering a bottle for at home!
We decided to end the meal with a coffee, which came with some fun Petit Four in a garden style box with the fruit shaped chocolates on top of edible chocolate soil. All of the chocolates were gorgeous and were designed very cleverly, looking exactly like slices of fruit!
Enoteca is a fantastic restaurant serving inventive, thoughtful and above all, delicious food. The service is attentive and friendly and eating in the restaurant definitely feels like a treat but it is also comfortable and not pretentious in any way. It was one of the best meals we have ever eaten and if you are in Barcelona, it should be at the top of your list for a visit.
Related