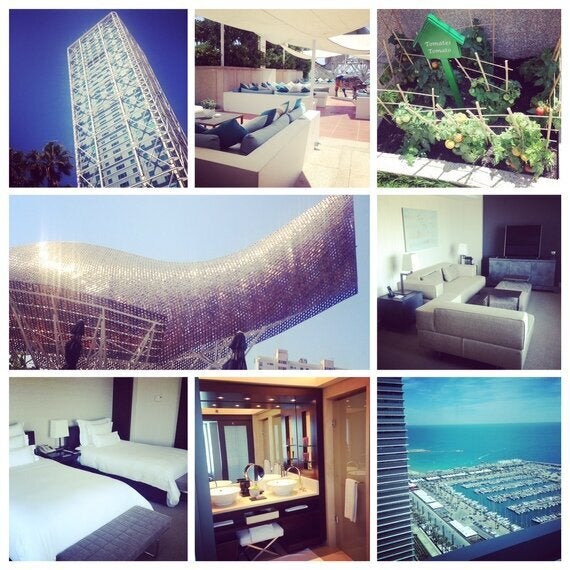 We were really excited about where we were staying for the night on the fourth day of our Barcelona trip as we were booked into the infamous Hotel Arts. Situated on the beach front at Port Olimpic, Hotel Arts is a tall white skyscraper with a big gold fish sculpture at the front of the hotel, which can't be missed.
We caught a taxi from B Hotel around midday which took around 10minutes and as it pulled up outside Hotel Arts, our car doors were immediately opened for us and our bags were taken inside the foyer before being labelled with our names. We caught the lift one floor up to the main reception where we were greeted by a friendly lady and offered a welcome drink. Since we were staying in The Club, which Hotel Arts describes as a hotel within a hotel, we were told we had a private check in so the lady escorted us in the lift up to The Club floor.
The Club lounge was immediately impressive as soon as we entered with incredible views over the sea, comfy sofas, ambient candle lighting and gorgeous flower arrangements and the atmosphere felt very serene. We were welcomed by the Club Manager and offered a drink whilst we checked in. The Club lounge serves breakfast, snacks, tea time, hors d'oeuvres and sweets and desserts throughout the day and since it was lunch time, we sat and enjoyed some snacks which included a variety of sandwiches on crusty bread, salads, cheeses, meats, nuts and desserts and all were delicious. There was also the choice of red and white wine, which you could help yourself to, or you could order champagne or serve yourself a whole host of spirits and mixers.
Despite feeling very relaxed sat in The Club lounge, we decided since our room wasn't quite ready that we should go for a wander around the hotel. We were given a key for the lift until we could collect our room key (The Club level is accessed in the lifts by a private key which makes you feel very important!) and headed down to the pool area for a look around.
The pool was situated right by the big gold fish sculpture and was a small but pleasant pool with a good amount of sun beds all around it and a few hammock loungers at the back of the pool. As soon as we sat down on a lounger, we were brought a little basket with two bottles of chilled water and two apples in it and it was a nice touch. Near to the pool there was also a small jacuzzi on the grass level below and further sunbeds throughout the gardens.
After sitting in the sun for a while, we wandered around the restaurant and bar areas on the same level which were all tastefully decorated and looked lovely. As we walked we kept noticing private gardens of fresh herbs and vegetables and it was impressive that the hotel grew some of their own ingredients for their dishes. We then took the lift back down to the foyer where there was another bar and restaurant and a host of shops - if you wanted to treat yourself to something new without leaving the hotel!
We arrived back at The Club at the right time as our room was just ready and wow, what a room it was! We were given one of the The Club suites which were accessed from a private staircase from the lounge and our room was on a corner of the hotel with the most amazing views over both the city and the sea. It featured a bathroom as you entered before walking into a huge lounge area with sofas and a TV and off that was a desk area, bathroom with bath, walk-in shower and double sinks before coming into the bedroom which was really spacious. Unfortunately we were given twin beds rather than a double but since the suite was so impressive we decided we didn't mind for one night. It really was incredible and felt like somewhere celebrities would stay!
As we started to unpack, our doorbell rang and we were delivered a gorgeous tray of homemade sweets including truffles, strawberries with champagne jelly and chocolate to dip them into and various other chocolate delicacies. It was a very welcome treat. After settling into our room, we decided to spend the afternoon lounging by the pool which was actually quite quiet and the perfect place to soak up the sun whilst reading a book.
We had dinner booked at the hotels two Michelin Starred restaurant Enoteca that evening - look out for that review coming tomorrow but let's just say, it was probably the best meal of our lives!
We had a fantastic nights sleep in our suite which was probably helped by the electric blinds which shut out all light to the room and reminded me of the blinds in the LA house in the film The Holiday! And pressing a button to open them from bed that morning to see such an incredible view was such a treat.
Even though we could have had breakfast in the main restaurant downstairs, we decided to opt for a more continental breakfast in The Club. We sat looking out to sea and enjoyed smoked salmon and cream cheese bagels, fruits, meats, cheeses and pastries and it was a relaxing start to the day. I was also about to get more relaxed as I had a massage booked in the Spa on the 43rd floor of the hotel.
Before my massage, I was able to enjoy the jacuzzi, steam room and sauna, which were in a small but cosy room, and I was the only person in there at the time so fully enjoyed having the space to myself. I had the hotels signature massage booked, The 43 Experience (200E), which was an hour and 20 minute massage focusing on chiropractic techniques, pressure and stretching maneuvers. I have to say, it was one of the most thorough massages I've ever had, applying pressure throughout my whole body and I don't think I've ever been stretched quite so much by a massage! It definitely released a lot of knots in my back and shoulders and the aromatherapy oils used were particularly nice.
We both left the hotel feeling very chilled out and a bit overwhelmed by such a wonderful stay. Hotel Arts is the perfect hotel to go to if you want to spoil yourself, feel pampered and live the high life for the night. It was a very memorable stay and we really want to go back to do it all again!