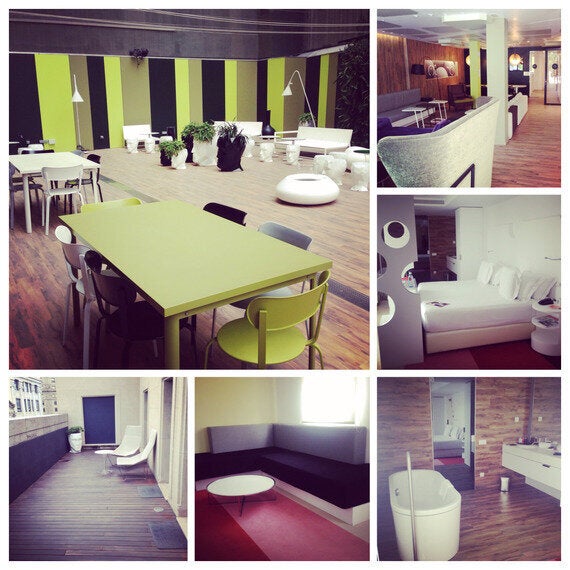 We arrived in Barcelona for five nights last month on a sunny Monday afternoon, after spending three days in Girona at a friends wedding. The drive was around an hour and a half and we dropped the rental car at Barcelona-El Prat airport before catching the Airport Bus into one of the main squares, Placa de Catalunya.
Fortunately our hotel was only a couple of minutes walk from Placa de Catalunya so it took no longer than thirty minutes to be in the centre of Barcelona and checking into our hotel.
For our first night we were staying at Room Mates Pau, which as mentioned, is just around the corner from Placa de Catalunya and walkable distance to the popular tourist area of Las Ramblas. We have been to Barcelona many times so we know our way around quite well but it was still nice to be staying so central for our first night back in the city.
Room Mates are a chain of affordable worldwide hotels and in Barcelona alone, they have two hotels (Pau and Emma) and are opening a third hotel later this year.
Pau is entered through double doors into a minimal designed reception area, where check in was both quick and friendly. We were shown the lifts and taken up to the top floor and guided to our room for the night - a suite! We were only expecting a double room, which looked perfectly nice, but being upgraded to a suite on our first night was a lovely start to our holiday!
The suite was a great sized room with wardrobes and a sofa area to the left as you entered with a king-sized bed with a tall unit at the bottom, which we worked out to be a small dining table and chairs, and bathroom with free-standing bath and rain shower taking up the rest of the room to the right. Off the room was a door leading out to a huge decked terrace with comfy lounge chairs and trendy plant pots. It was a fantastic room that was comfortable and quiet and just what we were looking for after partying in Girona for three days.
After lounging in our room enjoying the complimentary jelly sweets, we decided to go for a wander and get a late lunch. Las Ramblas was as busy as we remembered but it was great wandering amongst other holidaymakers taking in the bustling streets of Barcelona. One of our favourite spots from recent visits is Placa Reial, which is situated just off Las Ramblas, and we decided to head there for a bite to eat.
We chose Les Quinze Nits, which from past trips we know is very popular and always has a long queue outside in the evening, and were given a table for two outside looking right onto the square of Placa Reial. Whilst perhaps still a little touristy, it is a great spot for relaxing amidst the palm trees, people watching and taking in the relaxed feel of Barcelona. We ordered a selection of tapas for lunch which was quite standard and whilst it was tasty, it was nothing exceptional but the location definitely made it worth while.
After lunch we headed to La Boqueria, the local food market on Las Ramblas, and enjoyed wandering around for an hour looking at all the local vegetables and fruit and impressive meats and cheeses. La Boqueria also features many stalls which you can sit and eat at and whilst we didn't get chance to do this, it seemed the perfect way to feel like a local and taste fresh produce.
Tiredness got the better of us as it reached early evening so we headed back to our suite at Pau where I sunk into the huge bath before climbing into our comfortable bed where we watched a film and then fell asleep.
We had a great nights sleep and awoke quite early so headed downstairs to the basement of the hotel for breakfast. The restaurant and bar area were fantastic with both an indoor and outdoor area featuring stylish furniture, cool head shaped plant pots (where the plant was the hair!) and ambient lighting.
Breakfast is a buffet style affair and there was lots of choice including fruit, meats and cheeses, Spanish omelette, pastries and breads and hot items such as scrambled eggs and bacon. There was also a selection of juices, teas and a coffee machine where you could get whatever type of coffee you wished for. It was a light and enjoyable breakfast and the Spanish omelette was particularly tasty and I was glad I'd got to enjoy a good one on my first full day in Barcelona!
Before we checked out, we had a couple of hours spare so we decided to head to El Cortes Ingles, which is a big Spanish department store and was situated on the end of our street. There are floors full of clothes and myself and my husband Steve were easily entertained before we had to head back to Pau to check out.
We really enjoyed our night at Room Mates Pau. For such a central hotel, it is extremely quiet and the design is very modern and stylish yet really affordable. It is definitely somewhere we would stay again if we return to Barcelona and we are already planning to visit some of their other hotels in Europe.