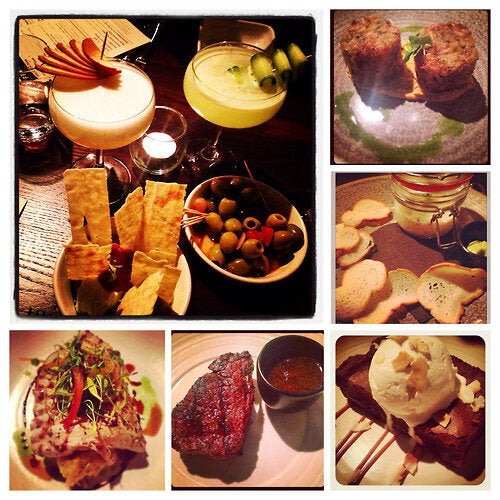 A few weeks ago, I visited The Jones Family Project based in the heart of Shoreditch, which is a restaurant and bar set up recently by a group of friends with a passion for food, drink and enjoying time with friends.
I was excited to visit as not only did the space look really interesting with a cool design throughout, but I liked the fact that the restaurant takes care in the produce they use with meat coming from butchers and farmers they know and fish always coming from a sustainable source.
I visited with a friend on a Friday evening and we were given a table for two in the corner of the basement restaurant. The restaurant inside is split into different spaces by colour such as greens and reds and our table was situated in the green area with cool retro style armchair seats and dark wood tables. One area I loved and decided would be fun to book some time is the pop up dining room, which can be hired for events (£35 set menu including some drinks) and the decor of which is changed to a particular theme every couple of weeks. It was based on the 1920s when we visited but had recently been a 1970s dining room and I would have loved to have been there to see that!
To start off our evening we ordered a couple of cocktails and chose a Jones Apple Pie (£9) and a Don't Get In A Muddle (£10). Both drinks came in champagne saucer style glasses and were presented very elegantly with fanned cinnamon dusted apple and a concertina style cucumber decoration and they both tasted delicious. We also ordered some Marinated Olives (£2) and Smoked Aubergine Puree (£2.50) to nibble on with our drinks. The puree tasted really different next to the chilli jam and greek yoghurt it was served with and the crispy bread was a perfect accompaniment. The olives however were a little disappointing and I was expecting plump Borough Market style olives and these were small, a little dry and lacking in taste.
For starter, I decided on the Tomato Cheese and Risotto Cakes with Almond, Basil and Tomato Pesto (£6.50) and my friend chose the Cornish Crab with Avocado Sauce and Crostini (£9.50). The risotto cakes arrived presented on a big glass plate and whilst they looked small on appearance, they were perfectly adequate when it came to taste with the rich cheese and tomato and creamy rice. They were comforting and absolutely delicious. The crab came in a glass preserve style jar with a healthy portion of thinly sliced crostini and the crab, coupled with the avocado, made for a very fresh tasting dish.
Since The Jones Family Project has quite a reputation for its meat (a lot of it is supplied by the Ginger Pig) and particularly its steak, cooked in its josper charcoal oven, I decided I had to go for steak for my main course and ordered the 250g Fillet Steak (£30) with Peppercorn Sauce (sauces are £1.50-£3), Potato & Godminster Vintage Cheese Croquettes and Seasonal Green Vegetables with honey soy sesame dressing (both £3.50). It's fair to say that the steak was one of THE BEST steaks I have ever eaten. It was plump, tender and literally melted in the mouth with a welcome smokiness on the outside from the josper grill. And rather than chips or mashed potato, the croquettes were a fantastic accompaniment, especially with the warming peppercorn sauce, and they were quite simply, heavenly.
My friend decided to opt for one of the fish specials that evening and chose the Seared Asian Tuna with wasabi Crushed Potatoes and some Truffled Macaroni Cheese (£3.50) on the side. The tuna steak was a really generous size and was cooked perfectly pink with the fiery potatoes complimenting the asian marinade perfectly. The macaroni cheese was also delicious with a bubbly and crisp cheese topping. We also shared a bottle of house white (£20).
Despite being far too full for pudding, we couldn't not order Anna's Triple Chocolate Brownie with Coconut Sorbet and Salted Caramel Sauce (£5) and also opted for the recommended Patron XO Cafe Tequila on the side (£7.50). The brownie was served warm and was rich and sticky and worked well with the coconut sorbet. Our only complaint, as salted caramel fans, was that there could have been more sauce.
We enjoyed a great evening at The Jones Family Project. Despite being a Friday evening and quite busy, we didn't feel rushed at all and the service was very good throughout the evening. The dishes are presented with care and attention and the food is both traditional and modern and packed full of flavour. I can taste my steak again just writing this and will definitely be back.
The Jones Family Project, 78 Great Eastern Street, London, EC2A 3JL.