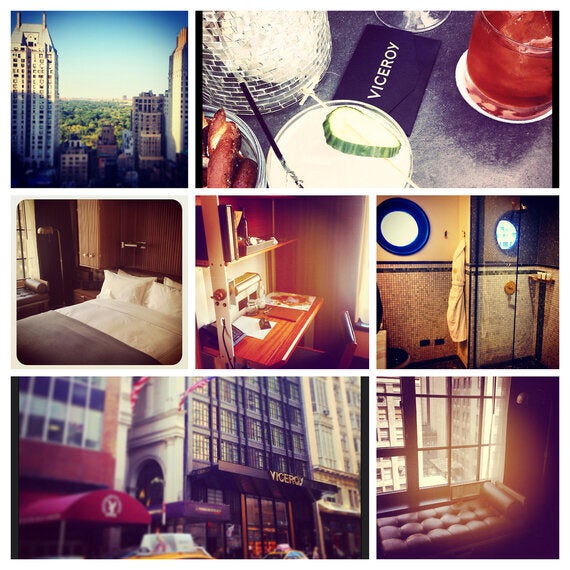 Our last hotel stay in New York was in The Viceroy, which is quite a new hotel which only opened in Manhattan just over a year ago. Situated right near Central Park, it is also close to Carnegie Hall, the Rockefeller Center and the luxurious shops of 5th Avenue.
We first heard about the hotel earlier this year, with the opening of the new roof top bar which opened its doors in Feburary. As soon as we saw the modern yet retro decor of the hotel, we knew we had to stay there.
On arrival we entered through black and gold double doors, lit with yellow lighting into a grand marble floored and walnut wood panelled lobby, filled with brown leather chaise lounge style sofas, leather arm chairs and 60s style table lamps. It was sleek, sophisticated and definitely had the wow factor.
After a smooth check-in, we took the lift to our room, which was a Viceroy Deluxe, and were immediately glad we'd stayed at The Viceroy after stepping into what felt like Don Drapers office. With a spacious marbled bathroom to the right as you entered, wood panelled walls surrounding a king-sized bed in the middle of the room, a leather chaise lounge in front of the window looking out to 57th street with a desk and chair next to it, it was a very cool bedroom. It had the decor of the 1960s and did indeed feel very Mad Men, yet it was also very modern at the same time.
Since this was our final hotel and we were staying here for 3 nights, we were able to unpack our cases - which felt like a treat! There was a small cupboard with a hanging rail hidden in the wooden panelled cupboards next to the bed and it was more than enough room, with the extra drawers, for myself and Steve. We had heard that the Viceroy hotel rooms lacked space for cases and hanging clothes, but we didn't feel that this was the case and actually found the room to be quite spacious, especially since it was the smallest room out of all the hotels during the week and were expecting something much more compact.
After a wander around the shops nearby, we decided to sample the rooftop bar (which opens at 3pm) and have an early evening drink. In keeping with the rest of the hotel, the decor was retro yet modern with brown sofas and wooden walls with glimpses of gold detailing and along with the indoor area, there were also some comfy sofas and tables with bar stools outside with a fantastic view of Manhattan. Even though it was nearing 5pm, we managed to get a table and sofa outside and it was an amazing spot looking out at the city. We enjoyed a beer and a glass of wine and some complimentary pretzels before treating ourselves to an Old Fashioned and a Cucumber Margherita. Both of the cocktails were delicious and it was Steve's first old fashioned in New York, and The Viceroy definitely felt like the right place to try it.
When we arrived back to our room to get ready for dinner, we had been left a bottle of wine on ice and some biscuits in a cute little jar and it was a nice welcoming touch from the hotel, which we enjoyed listening to music on the room's Beatbox whilst getting dressed up for dinner in the Lower East Side.
We woke the next morning after having a great night's sleep in the most comfortable bed and despite being right on 57th Street, the hotel room was really quiet and you couldn't hear the traffic at all really.
The Viceroy was a great stay for our last three nights of our holiday and we enjoyed the location of the hotel and the decor, which was completely up our street, and we would definitely like to visit again.
The Viceroy, 120 W 57th Street, New York, NY 10019.