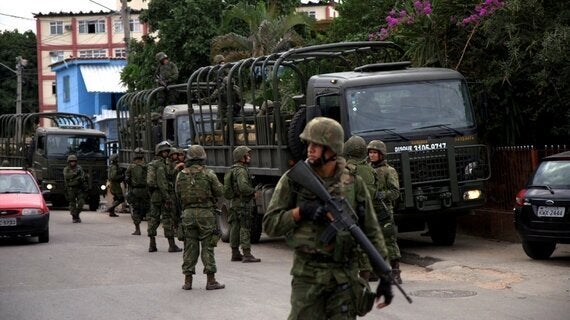 Gabriel's story is not an unusual one. Aged 13, he loves playing football with his friends, and looking after his pet horses, turtle, chickens, dogs and rabbits. But life changed for Gabriel earlier this year, when he was out playing with friends. Since April, the army has occupied the favela called Mare in Rio de Janeiro, which Gabriel calls home, to challenge the dominance of heavily-armed drug gangs in the area. During a confrontation between the armed forces and residents, Gabriel was hit in the arm by a bullet.
"We were playing marbles when the guys appeared," he remembers. "They started shooting. The bullets hit the bridge and I ducked. When I came up, a bullet hit my arm. I screamed: I've been shot! I was in so much pain. I thought I was going to die, or lose my arm."
Though Gabriel and his family believe he was shot accidentally, the incident illustrates how dangerous it is for children living in Mare to go about their daily lives. What was intended to make their community safer has, in many cases, left them in more danger. Many believe the army occupation in April was related to the World Cup arriving two months later, as Mare lies on the route from Rio's main airport to the city centre and would be passed by tourists. During the period of the tournament, five children died during police actions in Rio de Janeiro, including a three-year-old boy, most from stray bullets.
Since Gabriel was shot, the favela has undergone more violent upheaval. An attempted takeover by rival factions on the weekend of Brazil's elections, which took place on October 5, caused a shootout which spilled onto one of Rio's main arteries. Last month, the president of the residents' association for a region of Mare called Timbau was murdered by an armed gang. The proposed replacement of the army by Rio's military police has been delayed several times. It is now set to happen in December, leaving residents faced with going about their daily lives in what resembles a war zone until then.
"In reality, what we have in Mare are four armed forces: drug traffickers, militias, the army and the military police," said resident and journalist Thais Cavalcante, 20. "Imagine coming back from work to find a tank in the street, and lots of armed men. We don't have our freedom." Thais remembers one soldier shouting "Good morning!" at her. When she didn't respond, the soldier shouted out: "Good morning soldier, that's what you should say to me." She hurried home quickly without looking back. Despite that intimidating incident, there is one group which she believes are targeted more than any other. "Young, black boys are always approached by the authorities," she said. The army says it holds regular meetings with the community to address any issues that arise, but many residents still report tensions.
The occupation is part of a wider project dubbed pacification, which involves putting military police into some of Rio's most dangerous favelas. While the aim isn't to wipe out drug dealing completely, the authorities hoped the project, which began in 2007, will radically reduce deaths and injuries as a result of gun violence. However, it has hit problems, with police accused of torturing bricklayer Amarildo Dias de Souza to death in Rocinha, in July 2013. Other claims of rape, corruption, and beatings have followed.
A project was launched this weekend across 13 favelas, including Mare, to look at the impact of this militarisation of favelas on young, black people living there. Many spoke of the difficulty living in places where violence is a daily reality - and it seems that hopes of peace are a long way off.
Terre des Hommes is investigating the effects of mega sporting events on children.
Related