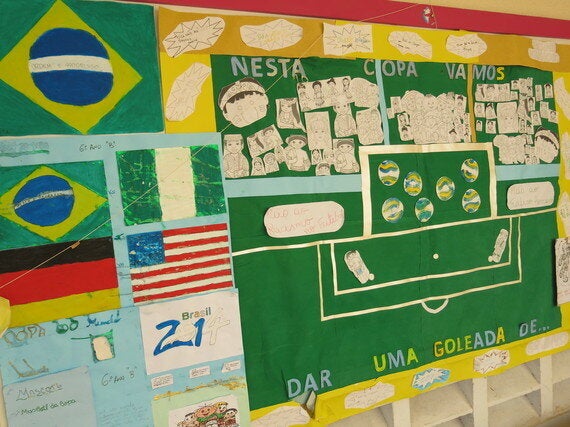 A mural in Escola Municipal Santos Reis in Natal
Since the World Cup started, Brazilian children have been enjoying the entertainment as much as children anywhere. Schools are closed in most areas for this month, but while those classes will be made up in December and January for most pupils - a stiflingly hot time of year in many parts of Brazil, which is partly why it's usually a holiday - some have faced a more serious disruption to their education due to the arrival of mega sporting events here.
Between 57,300 and 76,500 children and young people under 19 are estimated to have been removed from their homes due to works related to the Olympics or the World Cup, often forcing them to change schools or travel long distances.
One of the cases I have encountered was Neide's. Her family was moved 40km away from Recreio II in Rio de Janeiro to Campo Grande, in this case for a proposed Olympic-related transport route. The new school had poor facilities and was plagued with drug users and gangs. Her sons, now 15 and 16, stopped attending without her knowledge. "Every day, I packed their school things before I went to work, and I thought they were going. I only knew they had stopped going to school [in Campo Grande] when the director called me to say the boys weren't there," she said. In the new housing estate, Neide had to leave for work at 5am, and was unable to check up on her sons the way she used to at lunchtime.
Worst still, one became involved with drugs, without their former close-knit community to watch over them. "In my former community, there were no drug gangs. People look out for each other, and they would tell the parents if your son or daughter got involved in something bad. When I went to work, neighbours would watch over my children, but in Campo Grande, people only speak to you to complain."
She is now waiting to get them a vacancy in a school close to their old community, having rented a house nearby, but it will soon be two years since they attended class.
In some cases, children cannot afford the fares from their new homes to their schools some distance away.
Neide's case was highlighted by the work of Bruno Moreno, who travelled across Brazil in an investigation which began last year to find out what the impact was of the mega sporting events (the Olympics come to Rio in 2016 don't forget) on children's education. The results, which I've previously mentioned, were published in a series of articles entitled Copa Sem Escola (World Cup Without School), and show a repeated pattern across the country.
Uncertainty and the threat of closure due to World Cup related works forced one primary school to close in Recife, which might seem strange but the threat of eviction is often mired in uncertainty here. Human rights groups have complained heavily at the lack of transparency surrounding evictions, with unclear or changing reasons being given by the authorities. In Neide's case, the Olympic route was never built, and while many of these transport proposals were part of the authorities' promises to FIFA and the IOC, the government will claim they are unrelated to the mega sporting events when complaints are made.
To add to this dossier, I found out that in Curitiba, a high-speed transport route from the airport to the stadium runs close to a school despite local opposition to the danger. Curitiba human rights lawyer Luana Coelho says World Cup related evictions there will mean primary pupils are forced to change schools too.
A wave of strikes have seen many pupils miss classes in recent months, as poorly paid Brazilian teachers demand a "FIFA standard" salary. It can be as little as £450 per month in some areas. This is not just motivated by the arrival of the World Cup, as clearly the salaries have been in need of an increase for a long time, and we shouldn't forget that this year there will be elections in Brazil.
However, universal primary education is one of the UN's millennium goals with good reason, and any disruption can be very hard to reverse. It's nice to see children enjoying the matches, but it shouldn't be at the price of their schooling.