I am confident that anyone who knew my husband, Dunc, would say he had a big heart. He was kind, generous, friendly, warm and, indeed, the most well-liked person I have ever met. Sadly, the pathologist who carried out the post-mortem examination after Dunc's death, found that he also had an enlarged heart in the medical sense. He had hypertrophic cardiomyopathy. To you and I, this effectively means that his heart muscle was considerably thicker than normal. The consequence was that his heart developed an arrhythmia during a friendly game of football. Despite prolonged efforts, the medics were unable to get it back into a normal sinus rhythm and Dunc was pronounced dead about an hour later.
Just prior to Dunc's death, we had watched a documentary about Fabrice Muamba, the Bolton Wanderers footballer who collapsed and suffered a cardiac arrest on the pitch, during a televised FA Cup match at White Hart Lane, in March 2012. Fortunately, a cardiologist was watching the match from the stands and he, along with the medical staff from both teams, gave CPR and other vital medical support immediately. Muamba apparently maintained a shockable heart rhythm and, after 78 minutes he was revived, subsequently making a good recovery. Unfortunately for Dunc, there was no crowd of supporters at his game, no medical team and no cardiologist in the vicinity.
The documentary about Muamba raised concerns for me that Dunc was playing football once a week without maintaining any underlying fitness, having given up his gym membership shortly after Thomas was born in 2010. (One of the cardiologists that we have seen since Dunc's death, due to the fact that the boys have a potential risk of inheriting the condition, told me my concerns were actually valid. Those of you who play a game of football / squash / netball each week, without doing any exercise in between, please take note!) Anyway, I discussed my feelings with Dunc, but he felt that I was worrying about nothing. I have since learnt that a newly-installed health check machine at work also suggested that he had high blood pressure. Of course, Dunc didn't tell me that...
It is only since Dunc's death that I have become more aware of the prevalence of people with underlying cardiac conditions collapsing whilst doing sport. This is often due to the extra strain that exercise puts on the heart. The charity Cardiac Risk in the Young (CRY) (http://www.c-r-y.org.uk) has been supporting us since Dunc died. Its research says that twelve young people are dying each week in the UK as a result of undiagnosed cardiac conditions. Often, they have had absolutely no warning signs at all, until they simply collapse and die, sometimes whilst participating in sport and sometimes just engaging in their normal day-to-day activities.
CRY is doing amazing work on several fronts: it carries out research into these cardiac conditions that are silent killers amongst the younger population; it supports bereaved families with counselling and advice; it provides a specialist cardiac pathology service, and it provides screening sessions around the UK for people between the ages of 14 and 35. In order to do all of this, the charity requires a vast amount of funding. I have received two of its regular updates in the last few months and it is clear that there are a lot of supporters out there raising money in memory of friends and loved ones. In fact, I find the publications very difficult to read, as it really drives home the vast number of young lives that have been lost, and the family lives that have been shattered as a result.
Dunc would have celebrated his 40th birthday next March and I am intending to mark the occasion by holding a fundraising event for CRY in his memory. However, the main reason for writing this post today is to raise awareness of the conditions that are cutting short the lives of young people before they have really begun. If, by reading my blog, just one of you decides to get yourself or a loved one checked out, I will feel that I have done something worthwhile. It's all very well CRY holding screening sessions around the UK, but I suspect that persuading some people to attend them can be difficult. I know that if I'd asked Dunc to attend one, he would never have got round to it. Other people might not wish to confront their own mortality. Until you know someone who has died, or who has been personally affected, it is very easy to ignore the possibility that one day, you, or a loved one, might just become another statistic. So, please take action if you have a close family member who has died from a cardiac condition at a young age, or if you experience:
• light-headedness or blackouts
• palpitations (a rapid and/or irregular heartbeat)
• chest pains (often as a result of physical exertion)
• shortness of breath (often as a result of physical exertion)
Don't assume that your symptoms are normal / will pass / are just because you are a bit stressed. Do something about it. Do it for yourselves, for your loved ones, for Dunc and I. Don't let your partner / children / parents / siblings / friends suffer in the way that we are all suffering right now. For the sake of a quick trip to a CRY screening session, or to your GP, it is just not worth risking your health and the future emotional well-being of your friends and family.
Be under no illusion - I might usually encourage my natural optimism to shine through in my posts about the new lives of Sam, Thomas and I, but I wouldn't wish our recent experience on anyone. It is horribly hard, endless and lonely. Losing someone you love is shocking, heartbreaking and utterly devastating. The undiagnosed cardiac conditions that are killing young people, and that a simple, painless ECG test can detect, are treatable. You just need to know that you need the treatment. Without screening, you might not live to find out. On this one occasion, I make absolutely no apology for promoting my cause. Please share this post widely, especially with those that you know and love, and always hold them tight.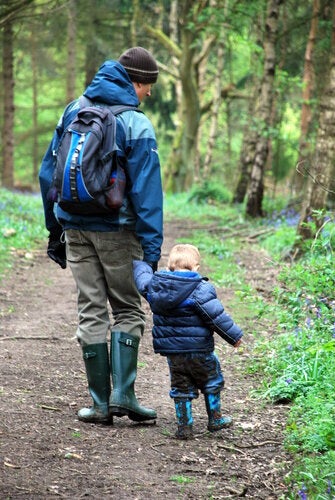 Dunc and Thomas exploring our local woodland, May 2012.