When it comes to Christmas food the most important thing is not to overcomplicate and to stay calm! Producing a perfect spread is all about time management and not losing your head when things don't quite go according to plan. So pour yourself a Baileys and follow my tips for perfect festive food.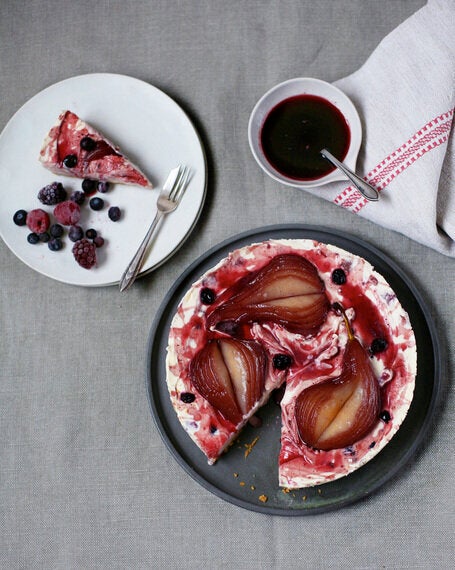 I'm a firm believer that the best presents are homemade - people really appreciate the effort, plus they will save you a bit of cash too. Try layering a jar with grated chocolate, cocoa, brown sugar and marshmallows for a DIY hot chocolate kit. Or make mulled wine syrup for your family - simply bring to the boil 250g caster sugar, 1 litre of water, 2 cinnamon sticks, a handful cloves, 2 star anise pods and the peel and juice from 2 oranges. Once boiling, turn off the heat and leave to cool. Then bottle up the syrup and give to your friends and family. All they need to add is red wine and orange juice and bring to the boil for perfect mulled wine in minutes.
Cooking the vegetables the day before really does work - sprouts, carrots, cabbage, peas can all be prepared and cooked in advance and your guests will be none the wiser. Keep bowls of icy water to hand. Boil or steam your veg and when they are a couple of minutes from being cooked through, quickly drain and plunge into ice water to stop them cooking further and to retain their vibrant colour. On Christmas day, heat them up in the microwave or even better saute your sprouts and carrots in a pan with a knob of butter for richness and shine.
Make sure all of your veg cut as uniform in size as possible - this will help everything to cook evenly. With parsnips, I prefer to cut them in half widthways, then cut the thicker part in half or quarters, leaving the smaller end whole or halved.
Turn ready-made, shop bought essentials like sweet mincemeat and stuffing into beauties by adding your favourite festive flavours - stir toasted chopped pecans or flaked almonds, orange zest, sour cherries and a swig of brandy into a jar of mincemeat to pimp up your mince pies. For fabulous stuffing, chop celery, apple and onion then saute in butter. Add to a packet of dried stuffing mix with some dried apricots and whole nuts for a beautiful vegetarian festive stuffing that tastes homemade.
Breakfast is the most important meal of the day
A hearty breakfast is essential to line your stomach and set you up for a day of present opening, dressing up the dog and sinking glasses of mulled wine. And why shouldn't your Christmas breakfast be as decadent as the lunch? Smoked salmon and eggs are a guaranteed winner in our house - for the best scrambled eggs, heat lightly whisked eggs and plenty of salted butter in a pyrex bowl over a saucepan of simmering water. Keep on a gentle heat and fold with a spatula every 30 seconds. When the eggs are nearly cooked remove from the heat and serve immediately so they stay slightly fluffy and creamy.