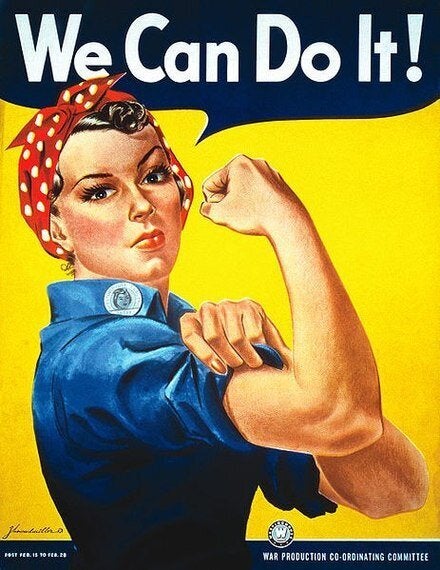 1. IT'S ACCEPTABLE TO PULL OUT YOUR WEDGIE AT ANY TIME AND IN ANY PLACE
Ladies underwear can be a constant dilemma. To lacy, little knickers and tight traumatizing thongs, the wedgie witch is forever casting her spells. But being surrounded by girls all day, every day, who were also suffering from the serious wedgie worries, it became the norm to see your friend pulling out her pants. This is definitely a habit that I've taken to university. With skimpy skin tight shorts still being core components of my wardrobe, whether walking to a lecture, dancing in a club or having a coffee, nothing will prevent me from pulling out my wedgie.
2. WE ARE THE FUTURE GENERATION OF FEMALE LEADERS
I am all for the Spice Girls Girl Power, but I am certain that my growing feminist views first blossomed during my years in a girls' school. Being persistently told that I can achieve my dreams, be successful and do everything and more than what boys can, I'm beginning to think that girls' schools are practices for the Woman's World that our headmistresses desperately aim to achieve in the future. If a regular celebration of females in Woman of the Month assemblies wasn't enough, my feminist A-Level English literature course sure was. Thrown into books of women finding themselves and fighting off men, I'm surprised the solitary boy in our class is still alive. There's a reason why our last week of school prank revolved around trashing the boys school with sanitary towels and tampons... talk about a final celebration of the female gender...
3. YOU CAN FACE ANYTHING IN LIFE WHEN YOU'VE FACED 7 YEARS OF LIVING IN A LION'S DEN OF FELLOW HORMONAL WOMEN
'Bitch', 'fake', 'slag', 'plastic', 'ugly', 'slut'... you name it, I've been called it! After seeing 14 year olds argue at a summer camp this week, it seemed incredibly appropriate to respond to their bickering with, 'If I managed a girls school for 7 years, you can manage two weeks together'. In fact, being able to survive in an environment of women, women and more women, it's been somewhat liberating to move onto university and have the female sex significantly diluted. Now immune to bitchiness, gossip, whispering and detestable drama queens, an education in so many subjects was not the only thing I left school with, but also an education in how to cope with life in general... whenever there's women around that is.
4. BEING BISEXUAL ISN'T JUST A SEXUALITY, BUT ANOTHER HIGH SCHOOL CRAZE
The usual joke of 'you go to a girls' school, so are you a lesbian?' was one I heard many a time. But sadly, such myths actually became reality. The innocence of primary school was full of crazes like tamagotchis, scoobies, football and pokemon cards, but with the hell of hormones, bisexuality became the top trend. This was traumatizing for many of us girls, who managed to stay sane, in terms of our sexuality anyway... But for many, the attention gained by telling the whole school 'I'm a bisexual!' was oh so tempting. In fact, looking back, my heart goes out to those genuine lesbians or bisexuals. It was also incredibly disappointing when PDA's aka Public Displays of Affection, were banned from the school premises. So thanks all of you bogus bisexuals, because of you many girls couldn't have the much-needed cuddle when the boyfriend broke up with them.
5. IT'S SCIENTIFICALLY POSSIBLE TO BE ON YOUR PERIOD EVERY WEEK OF THE YEAR WHEN SWIMMING IS IN YOUR TIMETABLE
Nothing much more to say except that there was nothing better than a free period, because of a pretend period.
6. ONE FLASH OF MIDRIFF AND YOU'LL BE GANGRAPED BY THE WHOLE MALE TEACHING STAFF
What sort of 'own clothes day' did my school not understand? Being given a long list of 'what not to wear', non-uniform days were ironically more limiting than having to wear a uniform. And what I learned 7 years later were the incredibly dangerous risks of exposing your midriff. And don't even get me started on the sexiness of a shoulder. Of course, strappy/sleeveless tops were banned. When such clothes are worn, obviously boys just can't stop shouting, 'What a slut, she's got her shoulder out!'. And what's even stranger is that flesh could never, under no circumstances, be flashed, despite the fact that we were all girls. Yet it was perfectly fine for the PE teacher to demand that we strip and take a shower, shouting 'what are you waiting for, we've all got two boobs and a bum!' In fact, all that the NO-FLESH rules of non-uniform days highlighted was that we must have had some pretty seriously messed up male teachers, who wouldn't be able to take their eyes off innocent shoulders.
7. PULLING UP YOUR FRIEND'S SKIRT IS ANOTHER VERSION OF 'HELLO'
To make your presence known, what better way to do it than yanking up your friends skirt. Squeals and shrieks were always crying through the corridors, and girls were constantly collapsing on the floor in a desperate attempt to protect their privates. And 'Sorry Sir, can I go to the office because my skirts split in two?' was one of my fondest memories of the sport of skirt-lifting.
8. GOSSIP TRAVELS FASTER THAN LIGHT
Nothing is secret when you're in a same sex school.
9. GIRLS ARE LIKE POLAR BEARS. THEY LOOK CUTE, BUT THEY'LL RIP YOU TO SHREDS.
It's no surprise that it was Eve who was tempted by evil and nicked the apple. And it's completely justified that god punished us for being such sinners. Girls are evil. No wonder Mean Girls was such a hit film, for every female can connect to the bitchy world of burn books and Queen Bees.
10. AND BOYS ARE LIKE UFOS. PROBABLY ALIENS, ONLY SEEN NOW AND AGAIN, BUT WHEN THEY'RE SPOTTED EVERYONE GOES CRAZY
Forget the Mean Girls quote 'Don't have sex. You'll get pregnant and die'. My girls' school motto may as well have been 'Don't make eye contact with a boy. Your life will be ruined and you'll die'. The sighting of a member of the boys' school across the playground was like the sight of water in the Sahara desert. Teachers treated boys as a different species and getting a boyfriend was as big a deal as a black person sitting next to a white person during the years of racial segregation.
11. LIFE CAN BE A MUSICAL
It was perfectly acceptable to burst into song several times a day. Class sing songs were regular occurrences and such musical inspiration originated from whole school sing-a-longs in assembly, featuring hits from the musical Wicked and even Greenday's Wonderwall.
12. WEARING MAKE-UP DETERMINES HOW WELL YOUR BRAIN FUNCTIONS
To this day I am still trying to figure out the connection between how much make-up I put on, and how much work I get done. However, according to several heads of years, there is a direct correlation between make-up and how well you perform in the classroom. After several encounters with the Senior Management Team's stash of eye-make up remover and tissues, my concentration in class was clearly not as up to scratch as my make-up was. So, a clear face obviously means a clear mind. Although years of my school's bare-faced brigade has had little effect on me, for I'm still mad for make-up.
13. THERE ARE MANY WAYS TO AVOID A SPORTING ACTIVITY
Singing, dancing, a sudden illness, or simply hiding in the toilet, avoiding PE was a definite sport in itself.
14. GIRLS ARE JUST AS BAD, IF NOT WORSE, THAN BOYS WHEN IT COMES TO TOILET HYGIENE
The school toilets totally shattered the concept that girls are 'sugar, spice and everything nice'.
15. YOUR LEVEL OF COOLNESS IS DETERMINED BY THE LENGTH OF YOUR SKIRT
Cheers to the days of rolling up your school skirt just so you can be cool.