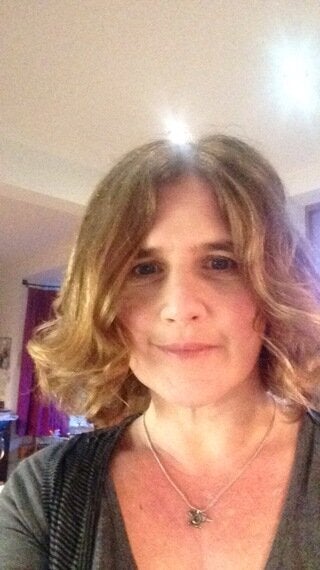 Quirky, sincere, creative - and obsessed with when you're going to die.
When my partner first died I thought it was impossible for me to ever love again and yet, just over a year later, here I am dating again. It's been a complex process to arrive at this position. For the long version, see my blog, especially the post about reshaping my narrative. The short version is simply that eight months of true love isn't enough for me.
Still, it's one thing to decide that you are interested in having another relationship but finding love is a whole other kettle of fish. You can't just click your fingers and ask all appropriate suitors to form an orderly queue. Especially if you're a self-employed, single parent who spends most evenings trapped in their own home, meeting someone is not easy. Paul was the only appealing single man that I have encountered in real life in the last decade or so and my time is precious; I don't expect to get that lucky again. So, not prepared to wait another decade, I have dusted off my fishing rod and, only eighteen months since I deactivated my dating profiles, I find myself online fishing again.
I started gently, casually, by reactivating Tinder and adjusting my personal statement to reflect my change in circumstances. I made it clear that I was not ready for a relationship but would like some male company. It was a clumsy beginning. The first person who approached me got short shrift when he asked me about my taste in books, films and music. At that time my brain was so shot to pieces that I couldn't remember anything. I hadn't watched a film or read a book for many months and had had the same CD playing on repeat for just as long. I told him to stop asking me so many questions! Luckily he was patient with me and I found myself an online Scrabble buddy (cue the blog in which I weep my way through my first Scrabble game, feeling like I am cheating on Paul who loved to play Scrabble with me). Next I met an ex-vicar who I've been for a couple of drinks with and then a fellow writer who has become like a surrogate online boyfriend. We chat about kids and writing and he offers me online hugs when it all gets too much. Sometimes he indulges my need to have someone to say goodnight to. He's not ready for a relationship but, along with the others, he has been part of my rehabilitation into the land of the living. It's been good to spend at least some of my online time talking about something other than death and grief.
Then there are the others (oh so many others), the ones who read, 'I might like some male company' as, 'I want sex'. They like to tell me that I must have needs and the many ways in which they would like to meet them. They are fascinated to know how long it is since I last had it. One of them made the mistake of asking around the time of the anniversary and I killed his ardour somewhat by saying that actually, I could remember exactly when it was because it was the last time I saw my love alive. Sometimes these men delete me before I delete them. Sometimes I get there first. It's been a depressing business. There have been a lot of tears.
Recently I had the revelation that perhaps my ambiguous profile wasn't helping matters and that, actually, I now realise that ultimately I want more than a friend, more than a lover. I changed my profile again to reflect this new stage in my journey and said that I would like to experience love again one day but that I am still finding my feet. And things changed a little. I get messages now from people who might at least consider the idea of having a relationship even if they are few and far between. It is noticeable that I get a lot less messages than I did two years ago. Not every man is looking for a middle-aged orphaned single parent who writes a blog about grief and mentions death in her online profile. On the other hand, answering my dating messages used to feel like an overwhelming part-time job. I prefer it this way and at least it sorts the wheat from the chaff, the men from the boys. I definitely need a man not a boy, I reflect. Or do I?
I expected that it would be complicated to find someone who could love the new me; I have changed a lot as a result of enduring what I have endured. What I didn't realise until I started dating is that my requirements in a partner have changed too. Emotional intelligence and empathy have become my most important criteria now. Naturally, I need kindness and compassion above all things. But there are other things too, surprising things that I come up against as men message me or as I swipe through profiles.
For instance, it turns out that atheists and sceptics are no longer welcome here. Suddenly I can't countenance the idea of having a relationship with anyone who might try to argue with me about the existence of an afterlife. Where before spirituality was just a mild curiosity of mine, now it is a matter of prime importance.
Then there is the question of age and health. I find myself studying profiles and my first thought is not whether the men in the photos are attractive or interesting but how likely they are to drop dead in the near future. Suddenly I am unforgiving of a few extra pounds, social smoking or excessive drinking. I see an imaginary warning label saying 'heart disease risk' over every man who is a little overweight or pictured holding a pint of beer. I discount anyone who rides a motorbike or who likes extreme sports, preferring men who keep fit by doing yoga. I'm no longer sure about anyone over the age of fifty and find myself considering men who are younger than me rather than older. I can't countenance the idea of dating anyone who is called Paul or anyone who is fifty-three.
Luckily, you don't come across many blacksmiths on dating sites but I came across one man who upcycles industrial equipment and found myself sobbing as I told him about the lamp that Paul was making when he died. He deleted me before I had time to realise the terrible conundrum that, having found and lost my ideal mate, I can't go near anyone who might remind me of him.
Finally I realise that I need someone who has experienced enough tragedy to be able to empathise with my own journey but nothing that would suggest too much risk. A fellow orphan would be appealing, I think, because then I won't have to deal with supporting them through loss in the future (I'm not heartless, just tired of funerals) but I don't want an orphan whose parents died of cancer because that might suggest a genetic connection. And I don't want someone who is so scarred by tragedy that it poses a risk to their mental health. I already know that widowers are the gold standard when dating in the widowed community (even my bereavement counsellor tells me that these relationships have the best chance of success) and so I have found myself adding 'widowed' to my search criteria whilst wondering at the same time if I want to deal with their grief as well as my own, whilst considering if I am secure enough to not find myself asking pitifully if they loved their previous spouse more than me. It is a weird world I have entered when I find myself having these thoughts.
So, here I am: desperately seeking a young, fit, risk-averse, spiritually-inclined man, with good genes whose entire family were wiped out in a freak accident. That's not too much to ask for surely?