It's that time again, when giant posters around the country are being pasted up to bombard you with images and messages from the various political parties telling you what they want you to think in order to secure your vote in the forthcoming general election. It's particularly so in Bedford, a marginal seat. However, the town has just inaugurated a kind of alternative political campaign.
Entitled #BedfordVoices, for the next month, billboards dotted around various locations in the town centre will proclaim the ideals of various charities and community groups in the form of hard-hitting political cartoons. The idea is to provoke thought and discussion about the issues raised by organisations that seldom get heard.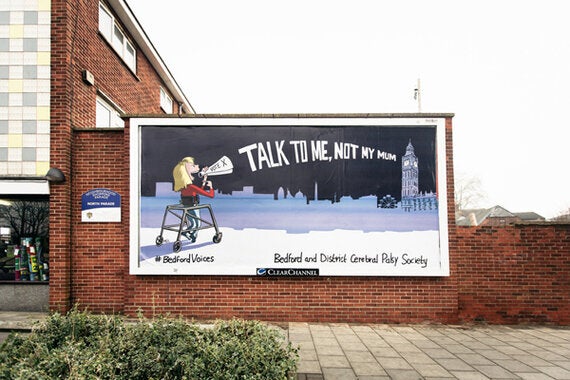 Among these, for example, is the Bedford and District Cerebral Palsy Society, whose anti-patronising message (above) comes loud and clear through the ballot/haler from which the young girl blasts assertively towards the politicians at Westminster. The slogan arcs its way into being part of the picture.
"We are giving space to community groups to say what are the real issues for them. Those advertising spaces are usually trying to sell us something, this isn't. Rather it's about inviting us to engage with someone else's perspective," says Dawn Giles, chief-executive of Bedford Creative Arts (BCA), the Arts Council-funded body that initiated this innovative project.
BCA commissioned former Royal College of Art graduates Dash MacDonald and Demetrios Kargotis, collectively known as DashnDem, to work with eight community groups in the town through a series of workshops, in order to distill their philosophy and ideals that could then be converted into visual form.
"We are interested in the political poster and how it has played a key role in how political parties 'speak' to the people", says Dash MacDonald. "And we wanted to see how we could enable community groups to voice what they wanted to say using the language and techniques of the political poster."
It was late in the day that the cartoon was decided upon as the most poignant way of conveying the messages. The art form was still very much in the public consciousness following the Charlie Hebdo affair.
"With cartoons, you're not restricted to reality," says Dawn Giles. "You can be metaphorical and because people in the groups are thinking about feelings as well as what they want people to think, to conjure that up in an image it soon became clear that it needed to be something imaginative."
The finished cartoons are the work of Patrick Blower whose work has graced the pages of such varied organs as The Daily Telegraph, The Evening Standard, Private Eye and Newsnight. He also created the ground-breaking animated cartoon feature, Livedraw, that ran on Guardian Online between 2009 - 11.
"One of the fundamental differences between drawing this kind of cartoon and one for a newspaper or magazine is that this gives out a positive message," he tells me as we amble around Bedford looking at his work in situ. "A political cartoon I think of as being in the demolition industry, whereas this is construction. With cartoons and satire you're basically having a go at power. It doesn't work if you're targeting the weak. So, it's a positive message trying to do something for an organisation."
The top London advertising agency McGarryBowen provided expertise on the best ways of displaying the artworks in an urban billboard setting. Not only has the message to be positive, but the colours must be flat and bright in order to attract the attention of passing motorists and pedestrians.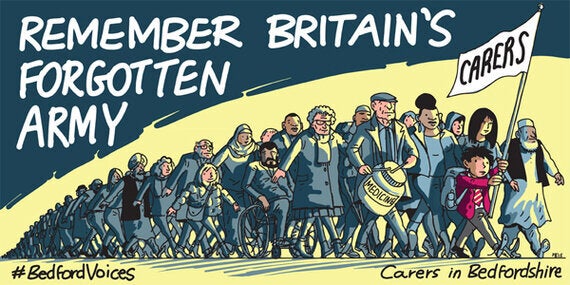 Remembering Britain's Forgotten Army (above) was the slogan given to Patrick Blower on behalf of Bedford Carers. He jumped on the army metaphor.
"The marching makes it more assertive. The eye-level is on the ground so you have a vanishing point disappearing at the far end. It's visually unexpected because you're putting ordinary people in an unfamiliar situation which is a marching army. Again I wanted strong simple colours. Too many colours would have made it visually overwhelming. There is a little bit of pink in there just as Corot would always put a red in a landscape to bring out a painting, so you have the boy with the pink jacket."
The most provocative of the cartoons represents Bedford's Multi-heritage Organisation which provides help and support to people from the many ethnic groups and faiths in the town, one of the most multi-cultural in the UK.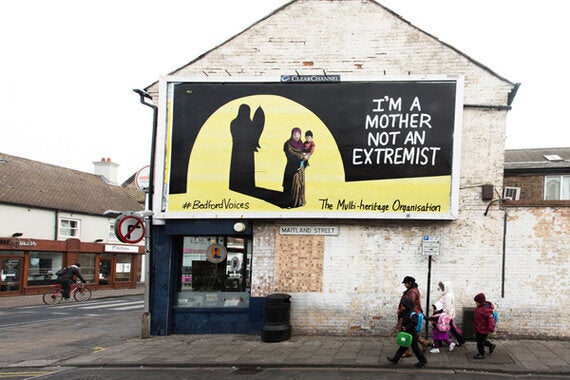 Blower decided to depict a Muslim woman in I'm a Mother not an Extremist (above) with a strong, dramatic and threatening searchlight being shone in her face with the resultant shadow transforming her child into a bomb.
"I think the image tries to convey in the simplest way what it must feel like to be looked at as a potential killer. A really good cartoon should nail something that you can't with words."
This cartoon has particular resonance with memories of the Charlie Hebdo atrocity still fresh in the mind, but also with the arguments over the question of free speech that the affair raised. To Patrick Blower, therefore, the image is multi-layered.
"I don't think you can crush the right to draw the things that might offend people as long as it doesn't incite hatred and is within the law. This image, though, also asks if it's hypocritical to have the right to depict anything you want yet to take offence at something that's said against you... People can feel threatened by other people's assertion of free speech."
Among the other groups represented by Bedford's cartoons are a community orchard, a support network for men, a community radio and a group representing transgenders. #BedfordVoices will continue until April 12th. BCA is inviting people to join a discussion of issues raised, on Twitter #BedfordVoices.
All images are used with the permission of Bedford Creative Arts.
Popular in the Community