Each year curator Justin Hammond travels the length and breadth of the UK visiting art schools and colleges and attending their degree shows. Through his observations, along with recommendations from tutors and those in the art world, his task is to choose 40 of those he considers to be the most promising young talent for inclusion in the annual Catlin Guide. It's a powerful position since the Guide is something of a key reference work for collectors, curators and gallery owners in identifying the stars of the future of contemporary art. For this year's annual Catlin art prize, worth £5,000, seven of these artists have been shortlisted and feature in the Catlin Art Prize exhibition before the winner is announced later this month.
"We're looking for artists who are going to push on from their degree show and who are going to shape the dynamic of contemporary art over the next decade," Hammond tells me as we wander around the exhibits at the Londonewcastle Gallery in the capital's east-end.
They are typically diverse as ever. First up, Dennis J. Reinmueller's Echo Chamber features a cartoon model of himself in a state of falling backwards. Nearby is a video game playing on a screen and a telephone providing a direct line to the artist (above). It's a satire on society's obsession with nostalgia and our "reboot culture" that fails to accept tragedy. You can actually buy a limited edition of three separate lines to Dennis for the rest of his life - he'll pick up very day at any time for the rest of his life on any subject. Hmm.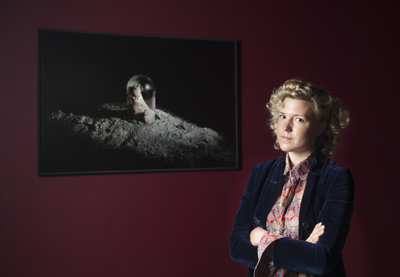 A summer spent in a small, poor rural village in southern Italy led to Lara Morrell's Christ Stopped at Novoli, a take on Christ Stopped at Eboli by Carlo Levi. Novoli is largely untouched by modernity and life there is very much governed by the seasons. Lara (above) constructed sculptures of six of the apostles from straw and other material picked up on the farm where she stayed. They are laden with religious symbols of martyrdom. She has then photographed them and, ingeniously, printed them on to wood to give them a painterly effect.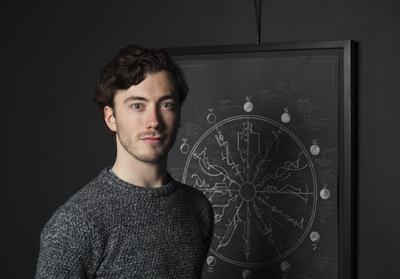 Lara is not a Catholic, neither does Jakob Rowlinson (above) believe in astrology. Yet he uses this pseudo-science as a parallel to his work on what he calls facial poetics. On a video (that changes each day), you see a person indulging in various dead-pan facial expressions. "In the same way that people look at the stars and somehow deduce things about their lives, with these abstract facial expressions the idea is that people can sit down and try to understand what's going on," he says. The viewer, therefore, fills the gap through their interpretation.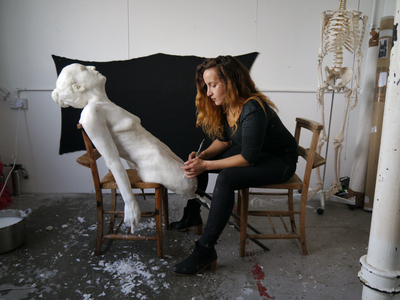 Perhaps the most visually spectacular exhibit is the sight of Virgile Ittah's two human figures made from wax, tumbling from adjacent beds. They capture that moment before death. The piece is based on the position of women at the end of the Victorian era . "Society has changed and the woman wanted freedom but it was impossible, so you ended up with a lot of hysterical women," Virgile (above) explains. "The work is about the impossibility of realising this desire." Implicit too in the way the figures seem almost floating are the difficulties of the assimilation and integration of different cultures.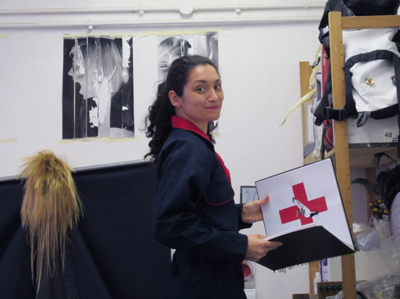 Sarah Fortais' 123 (Unfinished) depicts a rocket-shaped coffin hovering near a drum-kit that is attached sideways on to the wall of a sound booth in which a film is playing. It's a musical piece simulating the sound of a rocket taking off. Ear guards are required since, as the music gets louder, it's designed to vibrate the drum kit. It's bricolage in which the familiar is deconstructed to create the disfamiliar. "The coffin-shape is a reminder of some of the life-death issues associated with the early space missions," Sarah (above) tells me.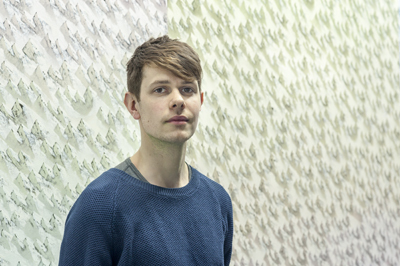 The largest room is devoted to two very different styles of painting. In large oil paintings, Neil Raitt (above) has taken classic icons of Alpine landscapes - with their fir trees and snowy peaks - and has reproduced them again and again to form what's essentially an abstract pattern that somehow draws one in by way of an hypnotic effect. The result, as shown in Alpine 12.02 (above), is in many ways as influenced by images on the internet and in advertising generally, as about classical painting.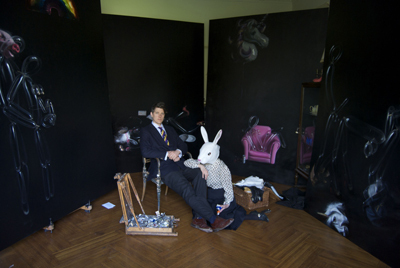 Eve's Progress by Mr and Mrs Philip Cath (above, she dressed as a rabbit) comprises four large still-life paintings of sculptures assembled in the studio of various ways in which feminism has become distorted and misrepresented. Balloon figures, pig's heads and all manner of satirical symbols predominate. The Mrs Cath reference is a deliberate ploy alluding to the often uncredited role of women in the success of their men. "The ideas that we once celebrated have decayed into a treacherous position post-internet," Philip laments. The work is an unusual team effort involving research, installing, arguing as well as painting. Co-operation was vital. Philip Cath is colour blind.
The winner of the 2014 Catlin Prize will be chosen by a panel of three - Will Jarvis (co-director of The Sunday Painter), art writer Coline Milliard and artist Mark Wallinger - and announced on 14 May. The exhibition runs at the Londonewcastle Project Space, 28 Rechurch Street, London E2 7DP until 24 May. The pictures are used with the gallery's permission.