Stanwick Lakes, situated near Rushden in Northamptonshire is a nature reserve popular with locals and tourists alike. It's hard to imagine that 50 years ago, through this now peace and tranquil environment, railway trains carrying passengers and goods thundered through. Today, on what were once railway tracks, ramblers, bird watchers and cyclists now enjoy the greenways they have become since the lines were closed.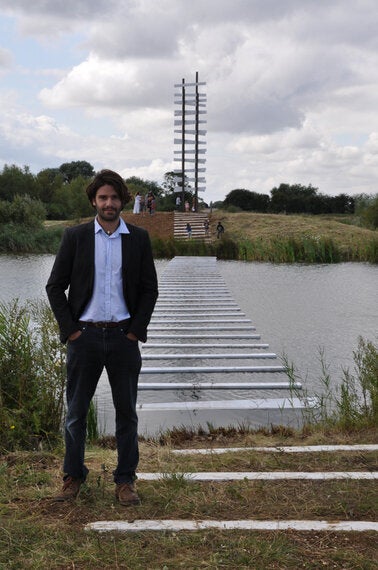 Yet an echo of that past has now become visible in the form of a contemporary art structure entitled Trace Track. Railway sleepers arise from the earth, cross a lake and become solid railway lines that rise 12 meters into the air. It's the work of Xevi Bayona (seen with it above) from the Spanish region of Catalonia.
The sculpture is part of an EU Commission-funded project called Changing Tracks involving Catalonia, County Mayo in Ireland and Northamptonshire County Council. All three partners are seeking to engage with new audiences for contemporary art by placing it in unexpected places.
All three share a similar history of past industrialisation and mobility built on the railway. As road transport superseded that of rail, all three have transformed disused lines into recreational and tourist highways.
Each region then commissioned an artist to respond to the local heritage associated with the railways and the people who used them. These three artists then came up with different interpretations displayed in each country. Thus, Xevi Bayona, for example, has also created spectacular sculptures on old railway bridges in Mayo and Catalonia representing the smoke trail of a train and shadows of pedestrians and cyclists.
"I wanted to make landmarks in the landscape to display the past of the railway. I think it's important that people know about this past," he tells me.
The Irish commission was awarded to multi-media artist Aideen Barry. Her interpretation was a quirky one inspired by a book she came across entitled Hints to Lady Travellers at Home and Abroad. It was written in 1889 by an eccentric character called Lillian Campbell Davidson whom Barry describes as being like a "pre-suffragette".
In the book, Davidson offers practical advice to women travellers. She says they should always carry a fishbone with which to whittle dust that might get into one's eye. She devotes four chapters to how to make tea in a carriage. Most bizarrely, she advises on how to take a bath on a train. This involves an instruction manual on how to turn a bathtub into a suitcase.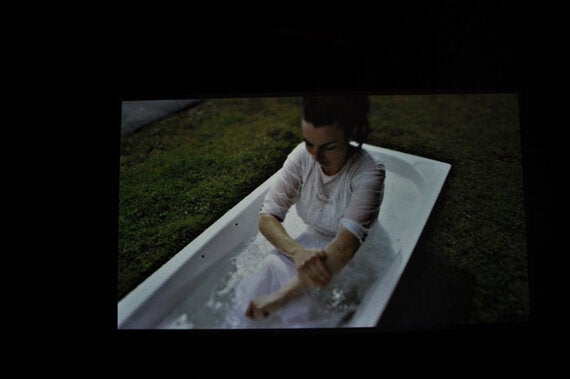 Barry decided to re-imagine, in the form of animated films, what it would have been like to be Lillian Campbell Davidson in 2014, negotiating the redundant railway lines that are now cycleways or extreme sports ways. Using stop motion video projections, her hilarious animations, a kind of Terry Gilliam meets Charlie Chaplin, includes her taking a bathtub out of her suitcase and having a bath on the line while cyclists go past (above).
"There's a real madness that goes into the work, and that describes a little bit of who I am," she tells me. "That little bit of the odd that I look for in my own work." Barry's projections are situated in various unexpected locations in the three countries. The one I saw was in one of Rushden's former goods sheds.
Salford-based Noah Rose's contribution has been to examine various themes surrounding the arrival and subsequent disappearance of the railways and their reinvention as greenways. He has created an artwork consisting of 12 "cabinets", four in each country, which delve into history and examine aspects surrounding migration, exile, language and cultural diversity. These "giant Toblerone-shaped" installations explore these universal themes yet retain a local resonance in each location.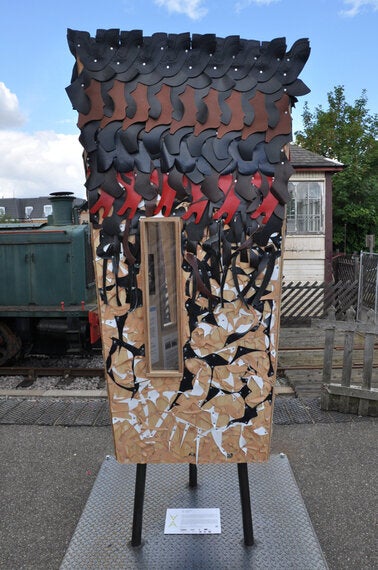 Entitled Museum of Interconnected Events, the cabinet situated in Rushden Transport Museum (above), for example, is covered in shoe leather since Nothamptonshire was once a thriving centre of the boot and shoe trade. Gravel and ironstone surround others in the region. Similarly, in County Mayo he has covered his cabinets in turf, wool and seaweed. In Catalonia it's cork, charcoal and ceramics.
Within the cabinets can be found artefacts including archival photographs or other documents relating to the impact of the railways on their surroundings, as well as local legends and traditions.
Most movingly, they contain stories. They might be of people's journeys or looking at the lives of those who were dependent upon industries transforming raw materials into products, having been moved by train.
Inside the Rushden one, for example, are photographs and documents relating to a railway worker who volunteered to leave Britain to fight in the Spanish civil war in the 1930s. Others tell the story of a local man who became a conscientious objector during World War I.
These tales involved Noah Rose in a lot of research in libraries and museums in all three regions and listening to first-hand accounts by relatives of his subjects. Relatives also provided documents and photographs. As he put it, "Changing Tracks has been more than just a project but also a life-changer."
The Changing Tracks installations will remain in place until November. All images used here are my own.