History and political events are seldom what they appear. The plethora of current radio and TV programmes and written articles commemorating the 100th anniversary of the outbreak of World War I present a fine example of this. Historians still argue vigorously as to the causes and the culprits, as beneath the surface lies a complex web of alliances, circumstances, prejudices and all manner of interacting factors. And so is it true of the human condition. Eleanor Moreton's oil paintings, full of vivid colours that combine both the narrative and the abstract, have used history, mythology and psychoanalysis as reference points for her artistic themes. In her current exhibition, Tales of Love and Darkness, she uses traditional types of imagery - portraits and landscapes - as a vehicle for exploring them.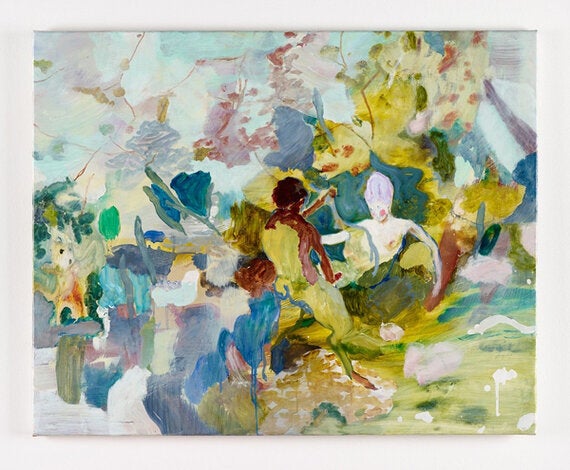 In The Love of Beasts 3 (above) for example, she has deconstructed a scene from a Karachi print in which the half-man, half-beast creatures from ancient mythology represent the thinking and physical sides of a person. It represents one idea that love is an attempt to bring Psyches together with Eros - the head together with physical love. "They are also coupling," Moreton explains, "So that is the unifying of this idea, and it's about the environment they inhabit which is fairly transparent, nothing is lasting or solid in it." It's a painting full of energy with a lightness achieved by the airiness of the colours and the way they are applied. "I ascribe to a more exploded sense of self. There's a lack of fixed self which underlies what appears to be a solid self person."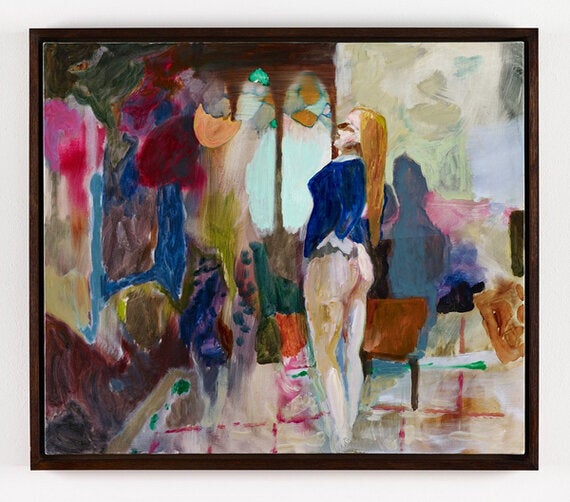 This notion conflicts with that of the moralising Victorian themes offered by the pre-Raphaelites with their fixed sense of faith. Hence, Moreton's parody of three of their paintings in the show. Above, in Mary-Anne Waiting, the solitary heroine of Millais's Mariana is no longer depicted waiting in vain for an absent fiancé but has thrown off her sexual inhibitions by way of her dress and undergarments. It's both a playful piece but also a recognition of the repressed eroticism inherent in Millais' original. It's expertly crafted in vivid colour.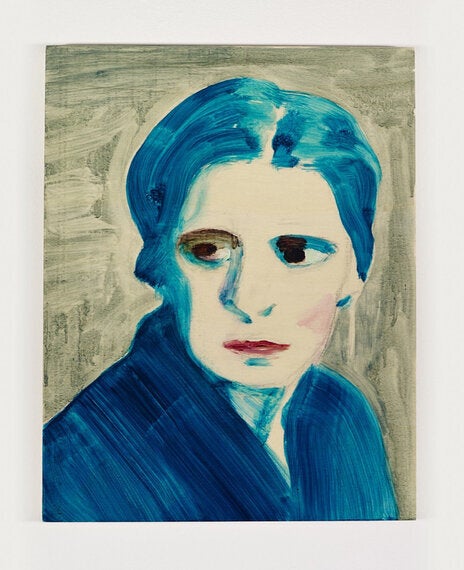 Part of the exhibition subtitled Absent Friends, consists of portraits on wooden panels of people with whom Moreton admires through their writing or music. Included are the writers Patricia Highsmith and Rebecca West, and singers Aretha Franklin, Nina Simone and Gillian Welch. "They are friends that I'll never know and probably wouldn't have got on with," she admits. This is because they are creative, yet difficult women who are associated with the Darkness element of the exhibition's title. Highsmith, for example, in her Ripley books, writes from the viewpoint of a psychopath, Simone had a troubled life due to being bipolar, Rebecca West (above) was a feminist author fascinated by traitors, murderers and racists, for example. These portraits are of figures who reflect in their own spheres the kind of psychological interrogation that Moreton enjoys in her work. The portraits are denuded of the "look at me" culture so often associated with female celebrities today. You can detect their troubles in the eyes. Moreton has succeeded in establishing her own relationship with these women through her painting.
Tales of Love and Darkness by Eleanoe Moreton runs at the Ceri Hand Gallery, 6 Copperfield Street, London SE1 0EP until 12 April. On a sad note, this is the last exhibition the gallery will show. It has succumbed to the economic challenges posed by supporting emerging artists in today's climate. This deprives the public of a gallery that did not flinch from showing often challenging works in a variety of media. It takes away an outlet for new and emerging artist to display their works. It also deprives them of the nurturing of Ceri Hand to help shape and clarify their ideas and to maximise their potential, something that this Eleanor Moreton exhibition exemplifies so well.