The Ceri Hand Gallery lies in the shadow of the Shard. Inside, the pictures in its current exhibition lie in the shadow of death. Death is never far away, particularly in the drawings, as opposed to the paintings, of London artist Henny Acloque.
There is an all-pervasive ghostly feel conveyed by featureless glittering human shapes swinging on tightropes in fantastical landscapes under mosaic skies and purple fluorescent trees. The drawings were inspired by a visit to Mexico's Island of the Dolls, a place of mystery and superstition, on which hundreds of mutilated dolls grace the trees, a practice begun by a hermit named Santana who is said to have been haunted by the death of a little girl found drowned in one of the canals.
34-year-old London-based Henny Acloque has experienced the death of her father and some close friends over the past five years and the re-evaluation she says to try to take positives from the deaths she believes has fed into her work at least subconsciously. Yet the drawings and paintings of Life After Magic are far from morbid.
They are both mysterious and mystifying, certainly intriguing. The paintings share one central theme. Bendable Poseable (below), for example, (all her work's titles derive from songs she listens to as she works) is typical in that it borrows from traditional landscapes of such as Bosch, Bruegel and Durer which she uses as a backdrop to abstract figures masked in the bright mosaic colours of the Harlequin. This motif, present in all the paintings, is designed to represent the contemporary world, combining old and new.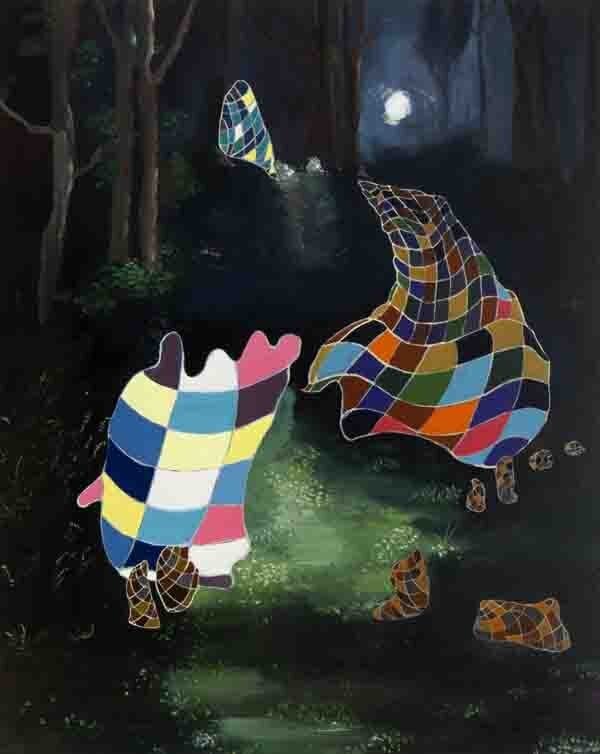 Yet their shape and position, hovering, swirling, vertical, horizontal are challenging. In another work, Something Dead as Diamond, she hints at the beauty behind the celebration of death, an aspect of culture ingrained in parts of Latin America but largely missing from our own. The exhibition's title Life After Magic refers to the way that the shaman transports his mind in ceremonies and rituals into past and future worlds.
"They're portals to the new world, she tells me. "The viewer is transported into a new portal and all my work has always dealt with the transportation into new portals, so it becomes an exhibition of the mind."
It's not easy to fathom quite what these portals represent. Are we looking at the past, present and future, layers of our subconscious or the darkness of our souls and the optimism and potential of the human spirit?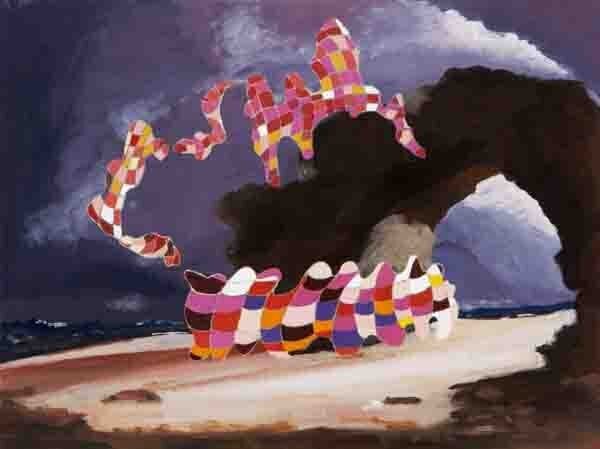 Acloque describes the Harlequins as "an infection creeping in on to the landscape", a comment perhaps on the contemporary world's attitude to the environment or more broadly on our attitudes towards the past and present. Certainly it chimes with the magic realism idea of a realistic setting being invaded by something seemingly irrational, a mark of much Latin American art and literature.
Whatever one's interpretation, gallery owner Ceri Hands sees an unusual influence at hand. "We have a certain Disney-like quality in the Harlequins. In his early cartoons, Disney used old masters as backdrops which were quite dark, in contrast to the bumbling cartoon figures ambling through the landscape."
Those traditional landscapes are often drawn from her father's collection of auction catalogues featuring landscape paintings. Indeed, this exhibition owes much to a Victorian book of fairy paintings she inherited from him. "I've built on those small things, investigated them more, twisting them and turning them on their heads. I like to imagine these pictures are a glimpse of a whole world there, a snapshot of what's going on in that world."
Life After Magic by Henny Acloque runs at the Ceri Hand Gallery, 6 Copperfield Street, London SE1 0EP until 11 May. You can find more information at http://www.cerihand.co.uk