"Identity is not as stable as it once was. It is transient, fragmented and manufactured." So say Jonny Burt and Joe Kennedy in the catalogue foreword to U, the new exhibition of portrait paintings at The Unit London of which they are the directors.
This observation on the effects of the digital revolution on our view of ourselves and of those around us has inspired a show shared by six portrait artist of considerable variety.
Among them is Hastings-based Jake Wood-Evans who was recently awarded a scholarship from the Royal Academy for classical study at Madrid's Prado museum.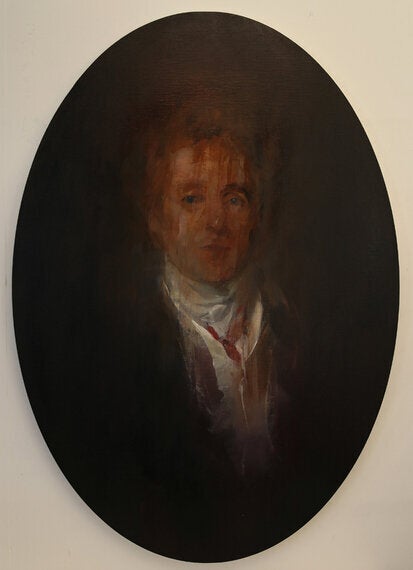 His dark and ethereal oil paintings such as Portrait of the Duke (above) hark back to old masters such as Velasquez and Vermeer. Yet their distortions and disfigurements create a sense of loss and a spirit of times past - emotion rather than representation. These are classical works with a modern twist.
There are echoes of Wood-Evans's work in the portraits of Manchester-based Mark Demsteader whose profile was boosted in 2011 when he filled an exhibition of portraits of his one-time muse, actress Emma Watson.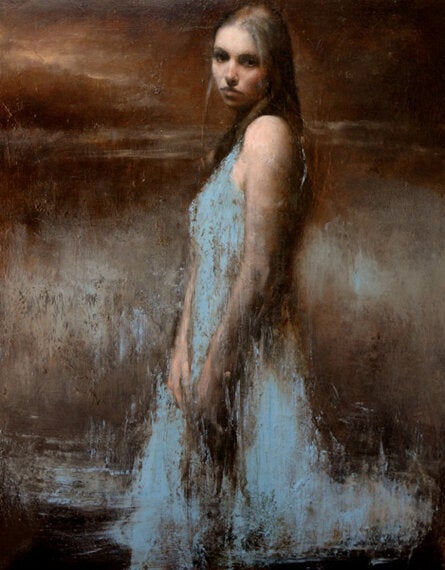 In Moorland Pool for example (above), the face is of a traditional style. This is offset by the looseness of the rest of the form which lends it a contemporary feel. Demsteader's striking contrast between the dark, earthy colours of the background with, in this case, the electric blue of the dress, gives an ethereal and intriguing nature to the portrait. The face is soft and delicate, the dress is bold and vivid. This contrast is a recurring motif in this set of works.
Ambiguity of a less subtle kind is also at the centre of the paintings here of Russian artist Ivan Alifan. Aged 25, Alifan, has already studied in Florence and in Canada, and enjoyed a residency at the Hermitage Museum in St Petersburg.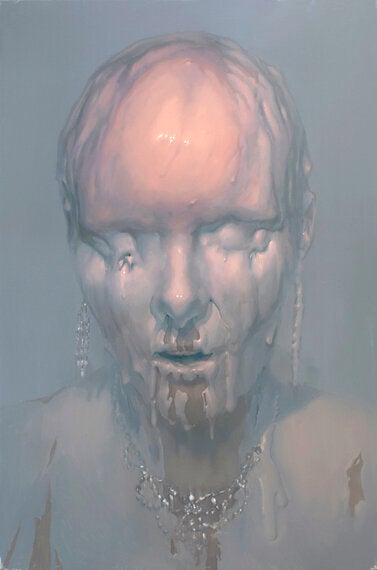 His series "This is not milk" which includes Sugar Babe (above) begs the question of what substances are these figures covered in - wax, emulsion, those of a sexual nature? The choice, as the say, is yours, hence the U of the exhibition's title. Behind the artist's question is an analysis of the modern gaze, creating a language of underlying sexual subtexts.
The three other artists represented at U are South African Ryan Hewett, the street-artist duo Snik and Norwegian-born Henrik Uldalen.
U is being staged on the first anniversary of the Unit Galley. Jonny Burt and Joe Kennedy are young, both 24. Their aim, according to Burt, is to "usher in a new generation of collectors into an art industry that is often exclusive and elitist". With the Demsteader works, for example, going for upwards of £20,000, this won't be easy.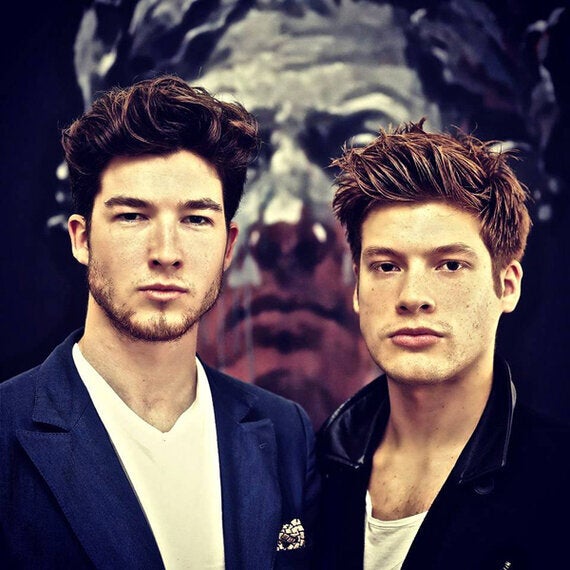 To achieve this inclusiveness, the pair (above, l to r Joe Kennedy and Jonny Burt) have initiated more modern forms of marketing. In particular they have accumulated 10,000 followers across three different social media platforms, creating a brand that younger people can engage with and easily understand.
They write and produce short promotional films showcasing the artists and available to view on You Tube and other websites as well as on the digital version of the catalogue.
QR codes enable prospective buyers to view, on their mobile phones, the artists talking about their works.
"If you are creative enough and understand who you're talking to, you create content that's engaging and exciting" says Kennedy, "then ultimately social and digital media can be a really, really useful tool."
U runs at The Unit London, 7 Earlham Street, Covent Garden, London WC2H 9LL until 18 October 2014. All images are used with the permission of the artists and the gallery