"I'm very interested in the kind of colour you cannot grasp. You know you've seen it but you can't quite remember what it was." So says Yukako Shibata, speaking to me at her current solo exhibition, Colour Shadow. As the title suggests, the theme is about the reflection of colour, achieved by making the exhibits three-dimensional paintings, painted sculptures if you will, through which natural light cast shadows on a white wall by reflecting the colour painted on the back. The effect is dreamlike and ethereal, subtle and weightless.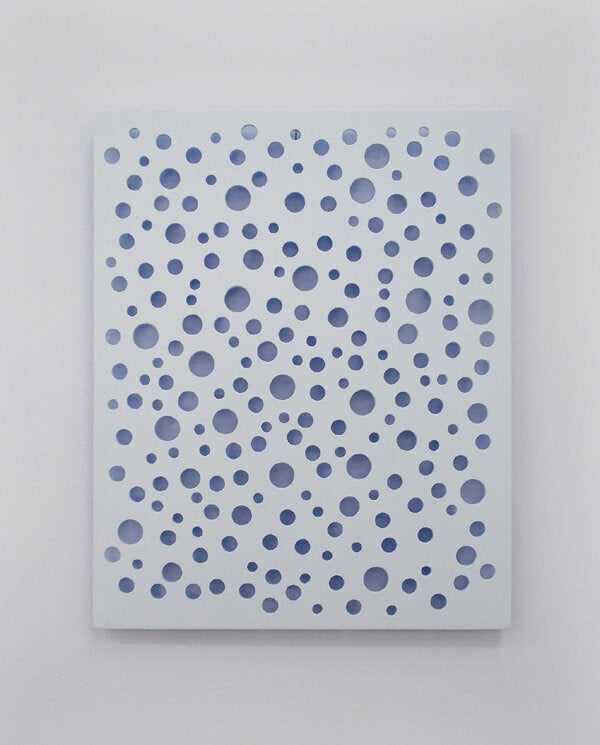 Shadowfall: blue (above), for example, consists of hand-drawn circles drilled out from its MDF base, giving a bubbly, airy feel. While the exhibit is painted in a pastel colour, the back is of a vivid blue that casts a soft reflection. Its appearance is as if a light has been placed behind it yet the only illumination is in Yukako Shibata's conception. In this case, the reflection of a gallery lamp adds to the mystique. Shadows play upon shadows.
The circular construction of Circle; emerald (below) is of a wood and papier-mâché base covered in a smooth plaster on which she has painted in oils. As with many of the other exhibits, the dreamlike, meditative effect is created by many layers of different coloured paint that are subtly juxtaposed using a glazing medium. This theme is also repeated in another way by placing different coloured shadows reflected from different exhibits placed close enough together to create the same subtle blending effect. Each colour reflections gave me a sense of calmness, of gentle emotions; pastels achieved by the vivid. The colours are carefully chosen. In one piece, a green reflection lies adjacent to a purple one. The idea is that if you stare at the green long enough, the purple is the after-effect you receive. "It's a way of tricking the eye," says Shibata. She creates a similarly clever effect by the use of indentation and projection in some exhibits, painting in gentle stripes where you would expect a shadow to be.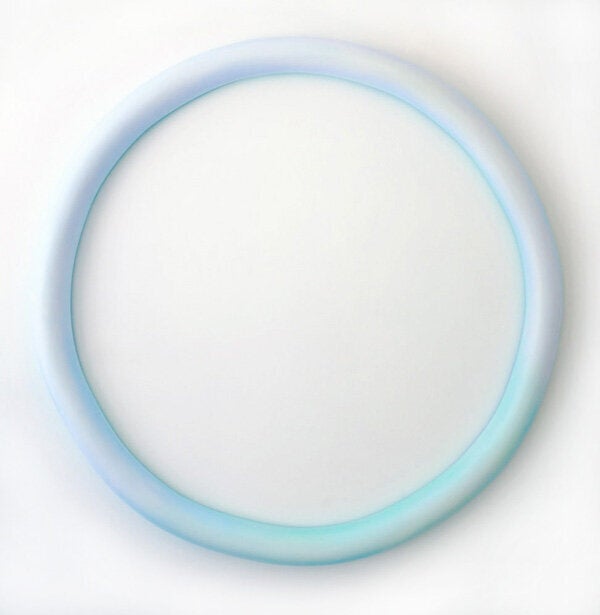 Another contrast is evident in one of the downstairs rooms. Breeze is a collection of exhibits that resemble pieces of paper scattered randomly by the wind. Again, each are painted in bright colours on the back to produce a soft, airy shadow. Yet this is achieved with the use of hard compounds - resin, plaster and ceramic. In other pieces, she uses polystyrene that has been treated to look like stone. "I enjoy transforming materials into something else."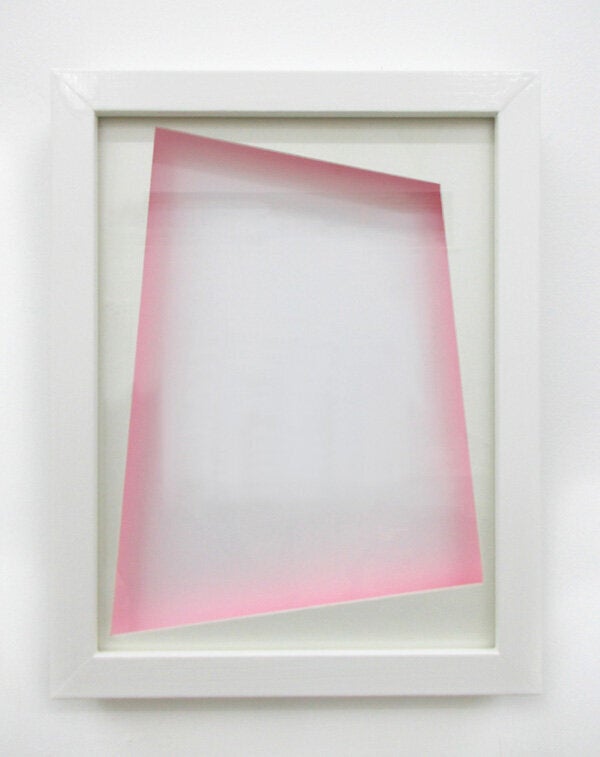 Though Yukako Shibata was born in Japan some 40 years ago, she has lived and worked in London for almost half her life. She gained a Masters Degree in Painting at the Royal College of Art in 2005 and has exhibited widely in both solo and group exhibitions including the Mall Galleries (2012), the VW Gallery (2012) and the Royal College of Art (2011). The final room of Colour Shadow shows reflections of colour on paper, mainly in orange and pinks (above). "My inspiration often comes from everyday life," says Shibata. "I might see a vivid colour sitting on top of a white table, so I use it." Nature is another influence, particularly landscapes. By turning a piece 90 degrees one can see architecture as a source of inspiration. "Sometimes colour is created by something else, it's not straightforward colour. I notice this subtle, indirect colour."
Colour Shadow is showing at the Lightgallery, 5A Porchester Place, London W2 2BS until 20 July.