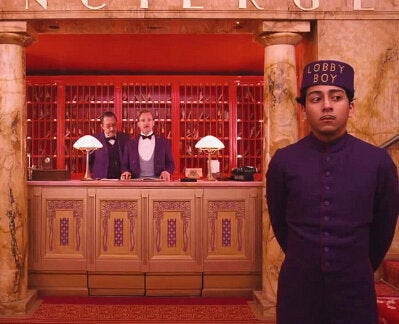 Director Wes Anderson has been busy travelling across Europe on what could be described as a modern day whistle-stop tour to promote his latest movie, The Grand Budapest Hotel. He's not a fan of air travel so he's been riding the rails, one of his preferred methods of transportation. Actor Tony Revolori, who plays a central character in the film named Zero Moustafa, has joined him on the trek.
The two of them were in Amsterdam on February 12th to screen Grand Budapest at Pathé Tuschinski, a theatre that could easily serve as a set for one of the director's films. Anderson and Revolori participated in a Q&A before the film with journalist and editor Ronald Ockhuysen. Their conversation covered Austrian literature, what happens when you're up for a role in a film against your own brother, and whether or not Dutch people know where Anaheim is located. Here it is:
Ockhuysen: When we see one of your movies we can recognise who made it within seconds. There's always a lot of nostalgia. Why is that? Why are you fascinated with the past?
Anderson: Well, nobody knows really. I will say, as a general rule, I sort of like old things. It's not uncommon and I fall into that category. With [The Grand Budapest Hotel], the biggest inspiration was the work of Stefan Zweig who I had never read until seven or eight years ago. I read a book of his called Beware of Pity and then I started reading all of his short fiction. I became a big fan. I thought about adapting one of his books but then I decided to try to make my own version of a Zweig story. I don't know why. It's acceptable that I can do my own Zweig. He's in the public domain and no one can really stop me. [laughs] I also read his memoir, The World of Yesterday. The thing that struck me the most in this book was his nostalgia for Vienna and a Europe that sort of began to die very quickly in 1914. Art was at the centre of everything. I've spent a lot of time over the past fifteen years in Europe and, for me, it's always an adventure. I don't have the sadness of nostalgia. I think there are connections between that Europe and the Europe of now. I'll leave it at that.
Ockhuysen: You use a lot of sets and things that are clearly fake and they're always really funny. You also have an eye for perfection. How do you combine these things?
Anderson: In the case of this movie, we began basing it on a real person. We began writing the characters, and they're all exaggerated, in a way, but I wanted to make them real in a way that felt authentic. At the same time, I wanted to make a world that they live in that's not necessarily like any other world; a world that we can't find if we walk out the door and outside. Making a movie like this involves accumulating all of these ingredients. We travelled around Europe and we gathered ideas while in Hungary and the Czech Republic and Austria and Poland, and Germany. All of these things went into the movie. For me, it's more about sweeping it all together and trying to make something out of it, to bring it to life.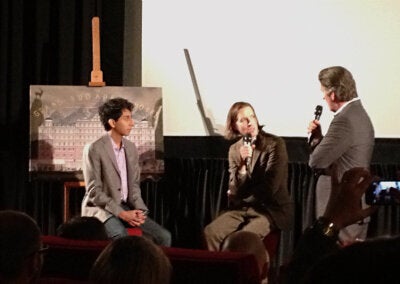 Ockhuysen: You tend to work with people you've been working with for years. Actors like Bill Murray, Jason Schwartzman, and the Wilson brothers. Same Director of Photography and other crew members. It's like there's a Wes Anderson family, in a way.
Anderson: Well, I like all of these people. [For Budapest], we've got two posters, one with all of the actors on it. For the film, we all lived together in a little hotel. I've learned to do this over the years and this is how we always work. Everybody can go home when it's finished and, believe me, everybody really wants to go home when it's finished. While we're working on it though, it's more of a pleasure for us to live together like a little family. It's much better for our working environment. They always come back so that's a good sign.
Ockhuysen: [To Revolori] What kind of a director is Wes Anderson? Is he nice on the set?
Revolori: I won't say that he had a whip but, no, he's great. He's always the same, even when he directs. Very nice and he has an air of comfortable-ness. It's like you're jumping in a river with all of his usual cast and crew members and you go along for the ride.
Ockhuysen: [To Revolori] You're pretty young. You're 17 now and you were 16 during the filming. This made you the rookie on the set. The new kid on the block. How did that go? Did you sleep well?
Revolori: Definitely. We had a good hotel. It was great. Everybody made me feel as comfortable as they possibly could and Ralph [Fiennes] was an amazing mentor. I had a lot of fun shooting this and I think it shows on the screen.
Ockhuysen: [To Revolori] I heard that both you and your brother were up for the role of Zero. Is everything still OK with him?
Revolori: No, he's still suffering from the broken leg I gave him. I'm just kidding. He's always giving me hugs and saying that he's proud of me. It's fantastic. I'm glad to have an amazing brother like that.
Ockhuysen: Was it difficult to find an actor like him? It's a very peculiar role.
Anderson: For the part that Tony plays, I knew I wanted to find somebody that had never really been in anything before. Over the years, in different movies, I've had roles like that. It was the thing I did. After we finished the script, I said we need to hire a team of casting directors. We were looking mostly in the Middle East since his character is from the Middle East. We also looked in France and all over Europe. I didn't expect to find someone in Anaheim. Do you guys know where that is? It's where Disneyland is located.
[At this point, several people in the audience nodded their heads. Many of them knew that Anaheim, and Disneyland too, can be found in California.]
Ockhuysen: So he came from right next door?
Anderson: Yes, he came from Anaheim. We looked at over a thousand auditions and then the process ended pretty suddenly. When I saw Tony, I immediately fired casting directors all over the world just like that. [laughs] It can happen. There's not always five contenders at the end. Many times you find that one person and then you begin shooting the movie.
Ockhuysen: You guys were just at The Berlin Film Festival and you've been doing a press trip all across Europe by train. Are you afraid of flying, Wes, or is it because you're a romantic guy?
Anderson: I'm a romantic guy who doesn't like to fly. [laughs] There's a few trains in this film and there was a train in The Darjeeling Limited. If it weren't for my phobia, I guess I wouldn't be able to provide these moments cinematically. I have a lot of experience being in trains because I usually refuse to get on an airplane. We just came from Copenhagen by overnight train and I can recommend it. It was very nice and comfortable and lovely. Tomorrow we're off to Paris. In a train.