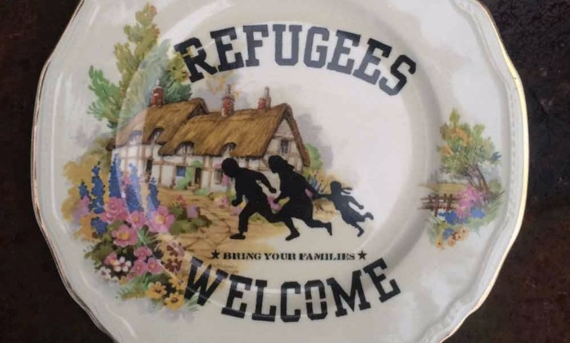 Photo credit: Carrie Reichardt
We were the organisers of a crowd-funder for the Kurdish-Iranian Teenager who was brutally attacked in Croydon, in what is being treated as a hate crime by the police. This shocking assault by a crowd of up to 30 people left him fighting for his life with a blood clot on the brain, a fractured skull and spine.
Our crowd-funder raised £59,000 with 2,969 donations flooding in alongside thousands of messages of support. These personal messages spoke of a nation shocked by the brutality of this attack, full of concern and compassion, and determined to show him that he was welcomed in the UK. While the focus was clearly to help this young man, an underlying sentiment ran through many of the comments, giving an insight into the broader political picture. There was urgency to the language used, people spoke up that "attacks on refugees are NOT British values", that they felt "this latest outrage shames post-brexit British Society" and "This attack made me ashamed to be British. Is this how we welcome people to our country?"
To our eyes the public seemed to want to set the record straight. To stand up to the perceived anti 'migrant' narrative of David Cameron's Swarm, Katie Hopkins' Cockroaches and let's not forget Nigel Farage's billboard which showed line of refugees under the heading "Breaking Point' - later likened by George Osborne to Nazi propaganda posters.
Throughout the fundraising we took care not to speak of this background political narrative, the focus was helping this young man, but now that the fund has reached its end we feel obliged to explore this wider sentiment. This isn't about politics, left or right; it's about standing up for human decency, and finding ways this awoken strength of feeling and inherent human kindness can be harnessed for good.
There is no denying it, we all feel powerless, as the bigger picture is overwhelming. In a world that's under increasing pressure, how do we tackle such insurmountable problems, where should we focus our efforts to achieve the most good?
Can efforts such as this be seen as 'sticking plasters' propping up a broken system? Undoubtedly yes, but we need to be realistic, as individuals we can't fix the whole mess. This doesn't mean we shouldn't try. It doesn't mean that our efforts won't make a massive difference to one small piece in the puzzle, that a life can't be saved or changed for the better.
The young man in Croydon is a great example of this and we can safely say that nearly 3,000 people actively stood up to a much smaller group in support of not only this young man, but also for many others who find themselves in similar situations.
We live in a time where we're more connected than ever before, social media, instant news and messaging - this is a network where we can be passive viewers or engaged do'ers. We need to shake off the lonely disempowerment of the Facebook echo chamber. Life is short. Let's not let our precious time be swallowed by a vacuum of personal PR and perpetual sense of missing out. We're worth so much more than this. Giving isn't a selfless task; it's proven that volunteering brings rewards of improved health both mentally and physically, feeding a basic human need to be part of wider community.
We can either start our own initiates or jump aboard projects that are already up and running.
There is always a need for donations and volunteers at Refugee Community Kitchen, to help continue their work feeding thousands across Europe.
The work of Liz Cleg is an amazing example of the good one personal can do for the lives of many, she set up a Women's and Children's area at Calais and now runs MEENA, a community interest company formed to continue supporting these woman and minors. You can follow updates and get involved in her work via their Facebook page.
Two other organizations that utilize the power of grassroots groups are Help Refugees who ensure that over 96% of their funds are spent in the field, and Worldwide Tribe who have set up a global network focused on telling refugees stories.
These are just a few of many brilliant projects out there, this recent article in the Guardian gives a great overview of the range of opportunities available to help Refugees and Asylum Seekers here in the UK - from lobbying with Citizens UK to offering a bed in your home via a charity like Assist in Sheffield.
These examples fit with the nature of our fundraiser, but there are many other areas that also need our help, you know the ones that matter to you and have the ability to initiate actions to support.
There is no one answer. We need to step up, protest, volunteer, donate, lobby MPs, fight to protect our environment and vote tactically in elections. Ultimately, if we are willing to give our time, money and effort to fix symptoms, or ask others to do the same, then we also need to be willing to stand up and ensure we can actively oppose that which we seek to remedy.
Lets pass on these small acts of kindness, help them grow, and hopefully in the process, we facilitate, empower and inspire others to follow suit. There is immense power in the small part we can each play, together we will change the bigger picture.
* Even though certain elements of the media published the young mans name, we have chosen not follow suit. He is a minor and we believe he should be given the anonymity he deserves.