Beyoncé has landed the 'Most Influential' cover of Time magazine. But - to the disappointment of some, the delight of others - she's also in her underwear.
Thigh-high boots, corsets, the teeniest of short shorts may be Beyoncé's look du jour, but do they really have a place on Time magazine's cover?
The other key influencers to make the covers of Time's 2014 list include actor Robert Redford, Jason Collins, the NBA's first openly gay athlete, and General Motors CEO Mary Barra, none of whom - I hasten to add - are in their smalls.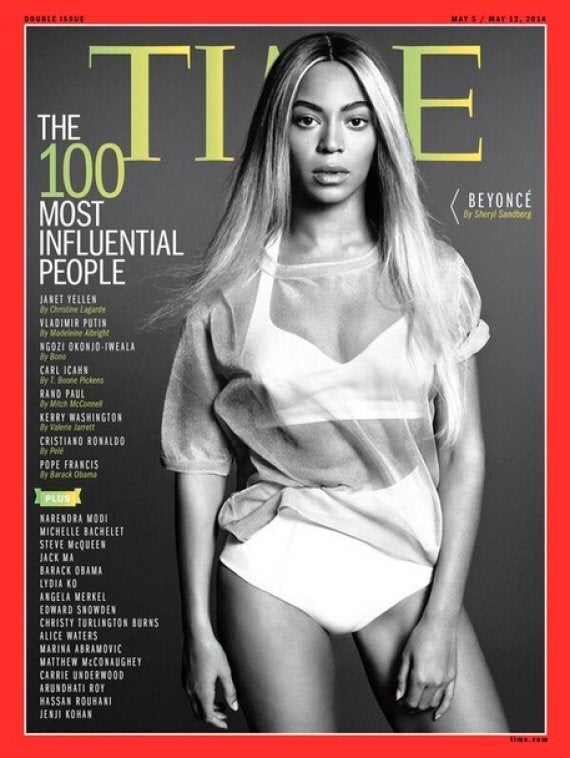 Since the cover was revealed on Thursday morning, Beyoncé's lack of clothing is already a hot topic on Twitter.
"A tad disappointed that Beyoncé covered TIME magazine as their most influential person....in her underwear," tweets one user.
"Come on Time magazine, can Beyoncé not be influential whilst fully dressed??????" asks another.
I'm tempted to agree, but for many (myself included) Beyoncé's identity and image is a feminist minefield.
This is a woman who insists girls Run The World, but whose recent tour is called The Mrs Carter Show; lyrics from her recent album include words from Nigerian award-winning novelist Chimamanda Ngozi Adichie: "We say to girls, 'You can have ambition, but not too much'", while months later at the Grammys she notoriously sings along with her husband referencing domestic violence: "Eat your cake, Anna Mae."
So far, so contradictory.
And this cover just further stokes the feminist fire.
The star has risen to world domination due to her talent, hard work and business acumen, but her image is - and always will be - lathered with sex appeal.
Naturally, I have no problem with Beyoncé owning her sexuality, but is there a time and place to strip off or should her cover remain congruent with her image?
Bey says Time magazine's recognition is important "because it's not about fashion or beauty or music; it's about the influence I've had on culture." So why does she have to come half-dressed?
Would it be so detrimental to her image to show that women don't have to be half-naked to run the world? I think not.