It's a refreshing start to the day to chat to an entrepreneur with two startups on the go just six months after graduating from an MA in Global Innovation Design at the Royal College of Art. Dan Garrett is a do-er - and a resolutely practical one at that. His recent collaboration with fashion designer Mary Benson is testament to his dynamic and collaborative approach to design. 'Fashion design is magical' he says, reminiscing about his job as a bike courier ferrying Louboutins to devotees in London. He recalls seeing women trying on the shoes in the store and paying handsome sums for what he describes as an uncomfortable and impractical object that paradoxically is utterly desirable. Yep, that's fashion! Magical, sometimes confusing and utterly spellbinding. We talk a little more about the magic of fashion and why Dan and his collaborators Elena Dieckmann, Ming Kong and Lucy Jong worked with Mary on their fascinating piece of wearable tech - the Bruise Suit.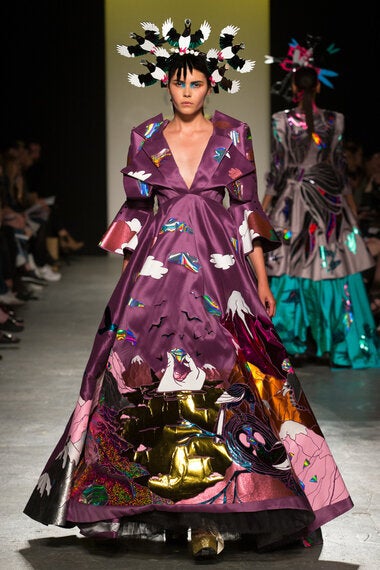 Mary Benson's graduate collection, University of Westminster, 2014
The bruise suit was borne out of a collaborative project at the RCA which saw Dan and his team find a problem that needed to be solved and then design and make the solution. The project, supported by Rio Tinto, had an open brief. The team decided to design a piece for use at the Sochi winter olympics and interviewed disabled athletes with the hope of devising a solution to a problem. Paralympic sit-skiier Talan Skeels-Piggins complained of being injured but unaware of his injuries due to his disability and that's when (after rejection of a number of wearables related concepts) the 'bruise suit' concept was borne. The concept was that on sufficient impact likely to result in an injury, the suit would respond with a visual notification for the athlete. Weeks of R & D in conjunction with a specialist research team at Imperial College London and collaboration with pattern cutter Raj Mistry resulted in a suit with removable sections of a polyurethane coated textile containing microcapsules of dye that shattered on sufficient impact, therefore signalling a chance of injury. It's best demonstrated by the video and images below.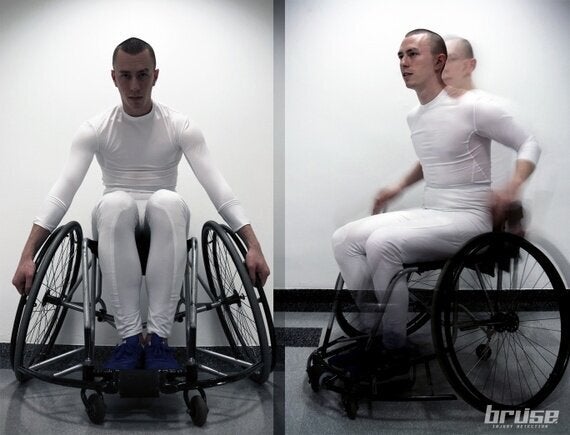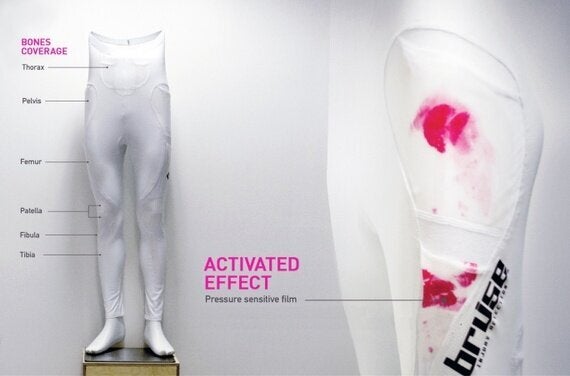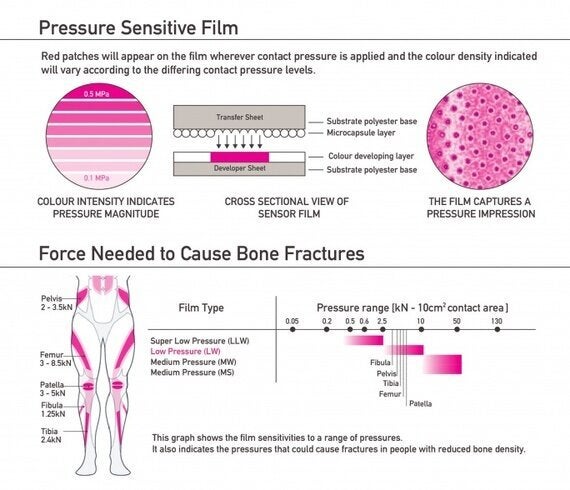 The design won additional funding from Rio Tinto and the James Dyson Foundation, leading to a second phase which saw the team collaborate with fashion designer Mary Benson whose work incorporates vinyl applications on a multitude of textiles. Dan explained to me that having researched (and launched a startup in product manufacturing for the healthcare market) he remains frustrated by the ugliness and lack of design in healthcare equipment. There is little if any consideration for aesthetics in the creation of products for those with disabilities and the complicated process of procurement for such devices (usually by councils on behalf of those with disabilities and without their direct input) means those using the products aren't choosing them. The cold, beige hallmarks of medical devices and institutions carry through, he says. Why? He asks. Having worked in the NHS for over a decade and being a designer myself I have asked this question (in my own head and audibly) countless times. Dan is determined to do something about it. I sense this comes from a fascination for design, in particular fashion, having completed a stint at the Pratt Institute alongside studying at the RCA, however Dan confirms that his practical problem-solving brain's hard wiring prevents him from moments of Mary Benson-like magic. He delights in seeing designers, like Mary, create imaginative aesthetics but remains focussed on primarily solving problems with his design and engineering projects.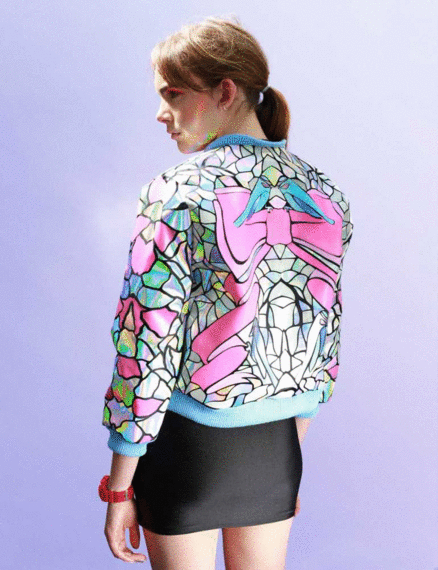 Mary Benson's AW14 Cruise collection
Mary, Dan and I live a stone's throw from each other in Bethnal Green, East London, but it proved impossible to get together due to scheduling conflicts, so Dan explains to me that Mary devised the surface design for the Bruise suit by exploiting her much used technique of vinyl applications, which takes the suit into a different (multi-coloured) realm. Mary's surface design turns the suit into a fashion object in addition to a piece of technical clothing with a serious purpose. The process of creating the microcapsule filled polyurethane strips that slide into discrete pockets strategically placed on the most at risk areas of the body (the long bones and knees, for example) was complex. It utilised newspaper print press roller technology to ensure the two layers of film with the microcapsules were correctly structured to function on sufficient (injury causing) impact. What Dan worked on specifically with Mary was creating pockets with teflon in between the vinyl and the film which could then be filled with the microcapsules. Dan explains the satisfaction in developing design that serves the body and cites biomimicry as a motivator for his particular approach to such design projects. Mirroring the structure of the body and supporting human anatomy is at the core of another of Dan's projects, for which currently has an advisory role - Aergo, the pioneering modular disability support system.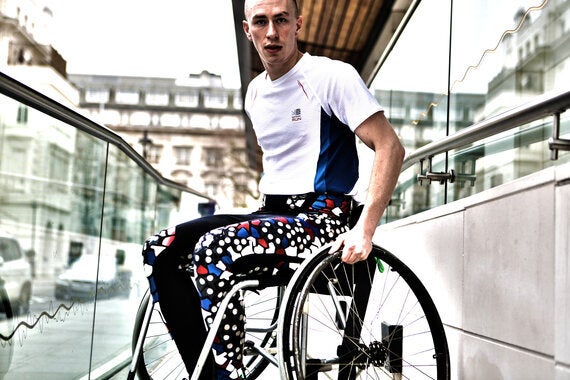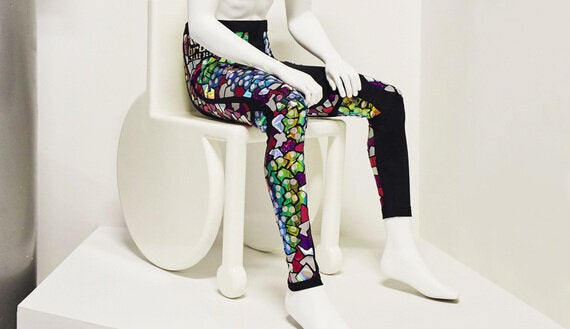 The Bruise Suit in collaboration with Mary Benson
Dan's other projects have included TasteWorks, a VR sensory study focussing on appetite and dementia at Keio University and his most current undertaking, Farewill, which launches in earnest soon. For now, I leave Dan with a buzz and heightened curiosity over what problems he might propose to solve through design next and hope they incorporate the magic of fashion.