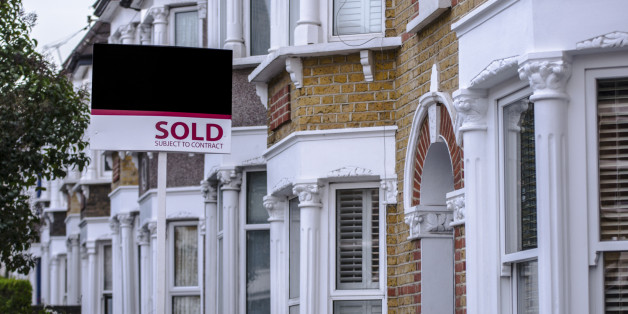 allinvisuality via Getty Images
At a time when London is gripped by a housing crisis, it may be surprising to discover that over 20,000 homes currently sit empty in the city. With the lack of affordable housing throughout Britain likely to be a major talking point in the upcoming general election, and with Labour already outlining plans for a dedicated Housing Ministry, could more be done to ensure London's housing stock remains in full use?
There are a number of reasons as to why so many properties currently sit vacant in London, and research carried out by the Empty Homes Agency has looked in to some of the most common explanations given by locals councils.
The main reasons for a property remaining vacant include inheritance, with new owners taking time to decide what should be done next; a landlord taking time to repair or refurbish a property; or thirdly, capital gain.
The third issue covered here is one that may have the biggest impact on the number of empty homes throughout London. The buy-to-leave phenomenon is one that has been well covered in recent years, with stories of luxury apartment blocks being left completely vacant, as well as about the deterioration of local communities where whole streets have been impacted by the issue.
Buy-to-leave investment is more likely to affect the capital, with foreign investors purchasing homes solely with the expectation of a high return in capital when they eventually come to selling. This means that large numbers of luxury home are used only sparingly, if at all, often sitting vacant while the price of the property increases.
This could explain why almost £12 billion worth of property sits empty in London, with £1.8 billion of that figure coming from vacant properties in the borough of Kensington and Chelsea. With an average property price of £1.3 million - the most of any London borough - Kensington and Chelsea also saw a year on year rise in the number of empty homes in the area. Rising from 1,289 vacant dwellings in 2015 to 1,399 in 2016 - these statistics show that the buy-to-leave issue is one that is far from being solved.
Although the number of empty homes may be just one contributing factor to the larger crisis of London's housing shortage it is still one that needs tackling, whether by a 'Housing Ministry' or by another formal body set up to deal with the issue.
The number of new homes needed to not only meet demand in London but also to clear backlog has been estimated to be around 300,000 a year, a target that is likely to fall some way short of being hit. Although last year did see a record investment with the Mayor of London Sadiq Khan providing plans £3.15 billion for more affordable housing, this will likely to support only around 90,000 new homes.
Even with Brexit looming, London's property prices are likely to remain an enticing proposition for investors, making the buy-to-leave issue a worthy cause to fight if the mystery of London, and the UK's, ghost homes is to be solved.