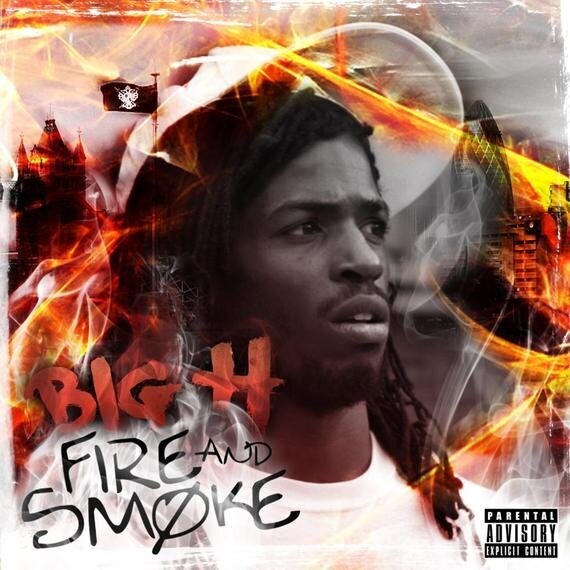 BIG H has proved elusive since the release of his first Street Crime UK in 2009 the waiting is officially at an end as the Grime legend marks his long awaited homecoming with the much anticipated album Fire and Smoke set for an official release on December 24th 2013.BIG H's signature choppy flow remains, the very same flow that placed him firmly as a Grime giant way back with Meridian Crew (former members included JME, Skepta) before forming BloodLine Gang with his comrade, Paper Pabs.
"They all think that I am insane..." claims BIG H on his album opener Bring The Pain 2, and judging from the reaction of many former underground alumni's of the Grime scene regarding H's return, he also seems to be that thorn in their side.
None more so than Wiley, the now chart-topper and known father of Grime has found BIG H to be that unruly son who just won't stop picking verbal fights with him and his Roll Deep crew over some unknown beef from way back.
This unrest with his rival makes for undoubtably the most exciting part of Fire And Smoke, one example is BIG H verbally attacking many of his former affiliates from, not just the Grime scene, but also former Meridian Crew members on the acidic track Limelight.
No name in Grime is too big to get mentioned in the diss track, although in the song he does say he would spare a few from the naming-and-shaming .It takes until the 5th track for H's flow to change up a gear as he teams up with UK rap artist Blade Brown and fellow BloodLine member Paper Pabs, going back and forth on their glorification of the drug trade/etiquette on the streets.
The production of BIG H's offering takes you back to the FruityLoops and glory days of Grime music which is what makes the album so nostalgic, Been Doing This is a rework of Wiley's classic eskibeat What You Call It, but its really the deep rooted honesty in his content that makes his full body of work a stand out listen for any true fan of the genre.
"...walk in the rain, might catch a cold i've been on the block from 9 yrs old"
H is not claiming to floss on any of the tracks and excluding references on the 2nd single, The Game, you won't find the album littered with exaggerated talk of the adoration he receives from the opposite sex either.
Its a window into the life of an artist reminding listeners how deeply routed he is in UK street life, and his distaste towards the so called glitz and glamorization of his beloved Grime music.
The downside to BIG H's street life story is many of his peers, have told similar stories but have, to some extent overcome their early street tale woes and metaphorically (for some, literally) got out the hood.
Although BIG H has been absent for a large part of Grimes growth due to personal reasons, which has possibly led to him missing many opportunities for personal elevation, I believe he enjoys where he sits in the class of Grime, and that's is at the back, shooting chewed up paper through straws at the back of his classmates heads and disrupting the teacher, Wiley.Fire And Smoke is released on all digital formats on 24th December 2013.Follow Big H on Twitter @BigHOfficial