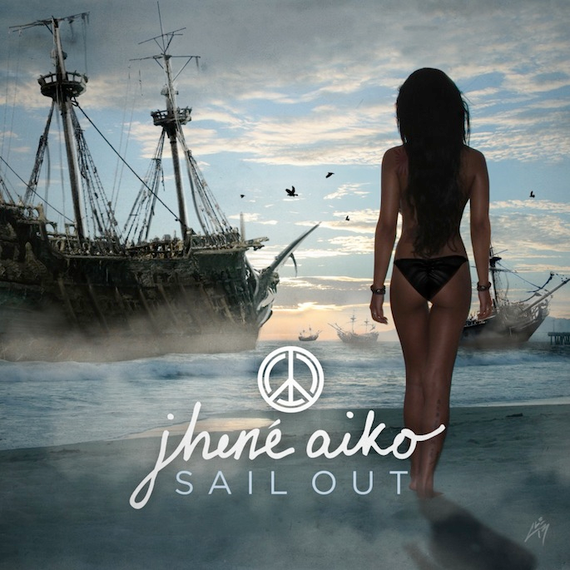 Jhené Aiko, R&B's best underground artist has coasted into the mainstream by topping the US iTunes charts with her 'Sail Out' EP. Released this week, the EP has already entered top 10 in the UK, and has seen the songstress greeted with open arms on both sides of the Atlantic.
The 7 track project does what the title suggests, with no harsh winds. 'Sail Out' is mostly a smooth, scenic journey through the lake of love stories, Jhene's misfortunes and triumphs set against the echos of eclectic, mellow earthy wind instruments, likened to her soft tone.
'The Vapours' is a kick off to her journey with sweet Chris Rea-type guitar licks before its interrupted a jaunty bounce sound allowing Vince Staples to features.
Bed Peace featuring multi talented Childish Gambino is the most sun kist track of the EP, a flower power vibe with Jhene at her most smiliest.
This sunshine trip continues for her offering 'Stay Ready' with the West Coast's self proclaimed King Of NY, Kendrick Lamar. Jhene uses the celebrated rapper sparingly (who by the way sounds suspiciously like Outkasts Andre 3000 here) her voice floats throughout this sweet tale of a bad boy and his angel's love making. Kendricks use of profanity should feel awkward in this angelic sounding song, but it doesn't as Ms Aiko continues it through the 2nd part of the track, 'What A Life'.
1. "The Vapors" f/ Vince Staples
2. "Bed Peace" f/ Childish Gambino
3. "Stay Ready (What A Life)" f/ Kendrick Lamar
7. "Comfort Inn Ending (Freestyle)" (Bonus Track)
The dark clouds suddenly gather as this musical journey sails through darker mountains and valleys in 'WTH', its some "real trippy sh*t..." as Ab-Soul puts it, and definitely one for the smokers looking for release with just their ceiling for visual aid.
My favourite track is ironically titled 'The Worst'. The track travels through a thundery storm of heavy drums and claps while Jhene sings the feeling most females going through a complicated relationship are probably battling with, "...I don't need you but I want you...I don't mean to but I love you". No doubt the soundtrack for confused women.
Many of Jhene Aiko's fans will be pleased she included her most recognised work in '3:16AM', this could have maybe been excluded to make room for one more original material, as it feels like an overgrown child held back in a class amongst new, younger students.
Ultimately the whole of Sail Out feels like a beautiful boat ride through the lakes of R&B with streams of Folk meeting at the mouth. This is best demonstrated on the last track 'Comfort Inn Ending'. Haunting with the pick guitar, here is where her voice best demonstrates her range and fluency. Overall Sail Out is one musical journey you really do need to take over and over again until the arrival of her debut full album pulls up on shore.Sail Out EP is available now from iTunes https://itunes.apple.com/gb/album/sail-out/id730631386Follow Jhene on Twitter @JheneAiko