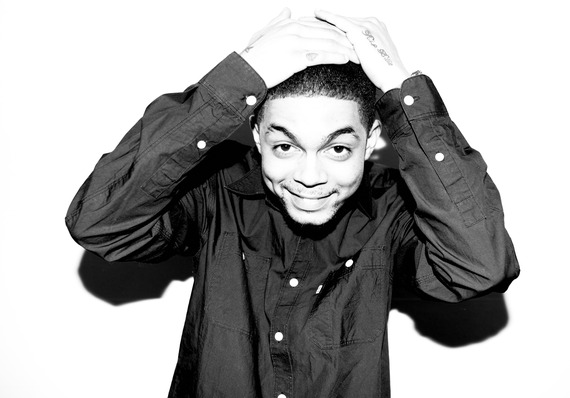 Kozzie the London-based MC doesn't usually smile much, but with the release of his new EP Koz The Kid 2 out now, leading him to be heralded as the prince of new wave grime, there is more than enough reason for him to crack a grin. I put forward some questions to the MC as he prepares to take his new post.Congratulations on your latest release! Do you still consider yourself part of the New Wave of Grime MCs?
Yeah, I'm in that age bracket of MCs who came up being called that and I think the name will just always stick.
In what way is this new EP a sequel to the first Koz The Kid project?
It's not that similar to the first project really, I just wanted to keep my non-album releases in this Koz The Kid series, and maybe have up to 5 of them. Musically though, it's totally different and much more mature.
Is the EP strictly Grime or are there different types of tracks?
It's pretty much all Grime with a mixture of singers, and then one slightly more commercial record for the summer, which features NASA.
What do you think will be the most popular track?
'When I'm Doing It' has been grabbing a lot of attention and I think that will make the biggest impact, if not 'Turn It Up', which is the NASA track.
We saw a brief glimpse of your football skills in the video for When I'm Doing It. Do you still get to play?
Yeah I still play on Saturdays and Sundays. I'm always training, and next season is coming soon so I'm looking forward to it.
Where do you feel most at home - in the studio or on stage?
On stage, but you have to be in the studio to get on stage! I just feel like when there's people going crazy to your tunes, there's no better feeling.
What producers are exciting you right now?
A lot of producers have begun to make other sounds as their regular pattern but I'd still say the likes of Faze Miyake, Rude Kid and Preditah. The first of those two are on my EP as well as Sir Spyro who did 'When I'm Doing It'.
What targets have you set yourself for the next year or two?
To have my album ready, to push my clothing line and to keep putting out what I like to do which is GRIME.
You're appearing at Outlook Festival this year in Croatia. Will that be the furthest from the UK that you have performed?
I've performed in Ayia Napa, France and the Czech Republic, and this will be my first time in Croatia. It's something new to add to the CV!
Finally, is the beef with Jaykae a serious one or just for sport?
Just for sport. There's no serious beef and I wouldn't event bring that type of stuff into music anyway. It's just for the love of Grime. Koz The Kid 2 is out now on iTunes https://itunes.apple.com/gb/album/koz-the-kid-2/id818612958
Follow Kozzie on twitter @OfficialKozzie
Photo credit
: SighTracked