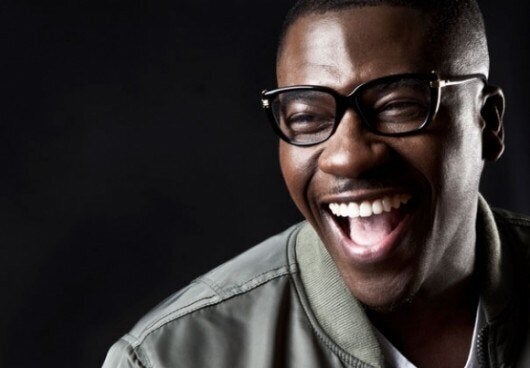 South London rap artist Smiler, having tirelessly worked the underground Hip Hop scene for over 5 years, continues to get rewarded for his time and effort by, not only bagging gigs at this years major Festival circuit, but also supporting and touring with Original Rudeboys.
As he gears up for the release of his new forthcoming single 'Brand New Style' featuring none other than Ed Sheeran, I caught up one of my personal favourite UK artists to see how he is finding the heady heights of the mainstream music scene.
Since your early underground Hip Hop offerings like 'Craziest' & 'Winning' I've noticed you've toned down your lyrical delivery, was this intentionally for your mainstream audience?
I think its just growth to be honest with you, I'm still as hungry, when I was younger my delivery was wild, but now I'm older my voice is more controlled. I feel I've learnt my craft a bit better.
Being one of a small group of lyrically inclined rap artists to not embodying 'Trap Rap' how did you find this as a South Londoner where this style is common?
It probably got to about 2010, 2011 when I had a reality check and thought, Rah! I am one of the few lyricist from South! I'll never be ignorant to trying new styles, track 7 of my tape (the new EP 'The Coming', out now) has got a Trap sound to it, but I'm not spitting how a normal trap rapper would spit.

Who were your favourite rappers when you were growing up?
I wasn't massive on UK hip hop, as a kid growing up it was all American rap at the time. I was listening to Badboy, Deathrow, AZ, Nas, Big Pun, Big L, Jigga. A lot of Queens Bridge rappers were tight with the rhymes so I was influenced by that style.
How did you find touring with MOBO around 8 UK Cities?
Crazy, it was my first ever tour, it really opened my eyes and schooled me on the world of touring. I learnt little things like how your voice sounds after doing a tour. It takes a few knocks and goes on a journey not any worse or any better, just different!
Which City was the most receptive?
On Pro's (Professor Green Tour 2012) tour the whole tour was ridiculous. Crazy! but what stands out in my mind is Blackpool. It was the Princes Ball Room. It was 4000 capacity and looked like an arena. I went on stage and they just erupted! it was like a volcano!

What can a big capacity crowd expect from a Smiler set?
I'm giving them energy! They're getting it! 15mins before, bang! that's when the adrenaline starts kicking in! I can't wait to get out there and grab the mic.
They're getting energy, lyricism, new music, they're getting all new Smiler, I'm ready.
Your current track 'Whoa' is commercially viable but you deliver with the quick-fire Smiler delivery. Is the union of underground flow with mainstream tracks your direction for future releases?
I haven't planned it out too much, my blue print is this; when I listen to a piece of music, whatever emotion it evokes from me, is what the song is going to get. I know there's that thing where artists need to keep their underground fan base but make songs for the masses.
There's a reason Jay-Z doesn't do mixtapes, he can satisfy both crowds with 1 album!
That's what I'm aiming to do. No matter what song you listen to your always going to get Smiler.
Your new EP 'The Coming' is out now, how does it differ from your previous work 'The Clarity'?
'The Coming' is going back to the essence. The Coming is the closest body of work to 'The Musical Omnibus' which is my first tape. So in all 4 mixtapes, 'The Musical Omnibus' 'Clarity', 'All I Know' & 'The Coming' I think the first and last are the most cohesive in terms of sound. I'm back on my B.S!
Any songs from 'The Coming' your particularly proud of?
Quite a few! I have to be my own critic and my own biggest fan, I love the whole project. I love the intro! I love a lot of different tracks for different reasons. I feel like the signature songs for me, I feel like the intro, 'The Coming' and track 6, 'So Good'. They are probably the two most lyrical pieces of work on the tape.
Do you prefer working with other MC's or vocalists?
Honestly I think it varies! It depends on the song. I love working with emcees, If your working with someone reputable and you truly rate then your gonna dig deep and bring out the best in yourself. When you've got two rappers on the same song, provided its crafted correctly, its so dope because it gives you an insight into two different worlds by delivering a similar message.
Your forthcoming single 'Brand New Style' features Ed Sheeran but you purposely did not name him on the title...
Shout out to Ed Sheeran for taking part in that song, but we're just not naming him! Its easy to name Ed init! I just feel like at the stage I'm at it might just become Ed's song and I wanna focus on Smiler as an artist.
Where do you aim to be this time next year?
Hopefully on a main stage. I feel like my journey is just beginning. I can't wait to see what it's got in store.
The new single 'Brand New Style' is set for release on September 9th 2013.
You can download the new mixtape 'The Coming' for free right now HERE