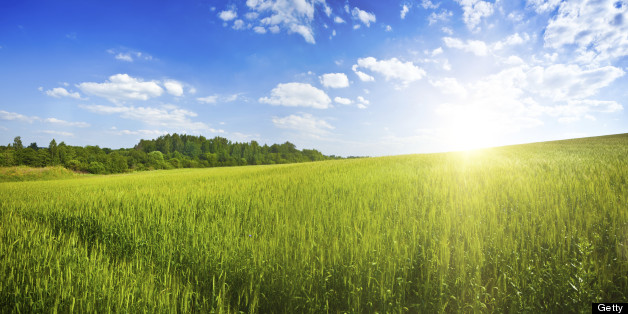 Getty
It's summer in Northern Ireland. It's 27° Celsius in the shade...
Summer weather in Northern Ireland isn't a given. It casts a searchlight of truth on the local residents, as roughly 1.811 million people emerge, blinking, into the unfamiliar light of a summer day.
The PVC door creaks open. First, blinking and scratching, comes Standard Northern Ireland Man. He's in the special summer uniform that he's kept for this eventuality, for Northern Ireland Man is nothing if not prepared. There are several variants - variations on an eternally common theme. Mostly, Northern Ireland Man will be in shorts. These will be optimistic shorts: bought in the hope of a reduction of net mass just as much as of an increase in ambient temperature. The shorts are knee length, often designed for action but used for leisure, and sometimes, tragically, tautly stretched. They are accessorised with a short-sleeved check shirt, worn untucked to camouflage the waistband left unbuttoned.
The younger males might wear a t-shirt instead - a band t-shirt, perhaps, or one of those tops which advertise that the person wearing them is the proud owner of a sense of humour. The t-shirt with the finger pointing to one side, advertising that the wearer is proclaiming 'I'm With Stupid'. The alpha male who occasionally might contemplate a vegetable, beaming 'Give Peas a Chance'. The slogan perched atop a proudly held beer gut: 'If Found, Return To Pub'. If Read, React With Great Despair. Looking away from the slogan t-shirts, losing hope, you catch sight of the lower reaches of Northern Ireland Man. You see white legs. Dark Hair. White terry towelling socks. And sandals. But it's worse than that, because as if the socks-and-sandals look weren't bad enough, the older NIM will often commit worse crimes by far: black, grey or navy socks and normal, year-round shoes. Worn with shorts, this footwear simply creates the impression that somebody has mugged poor Northern Ireland Man, and made off with his trousers. His dignity shredded or purloined, he strides across the beach, towards the water...
But he has a rival. Playing with a Frisbee on the grass beside the car park, is Sporty NI Man. Bedecked in a football shirt, Sporty NI Man has changed from his standard shiny tracksuit pants to his summer uniform of stonewashed jeans. He's astride the picnic bench, proudly displaying the distinctly unsportsmanlike gut beneath the logo of his favourite team, or showing off to his kids or passing females that he knows his way around a kite, or a Frisbee, or a complex game of swingball. He knows how best to deal with the business end of a barbecue, as well, and is expert in the ways of chops and sausages. He feels extra macho with a good steak set in front of him, and wears his masculinity with a jaunty twist like the slice of lime he adds to the neck of his bottled beer as a nod towards exotic summer fruit.
Impressed by all of this, is Northern Ireland Woman. Here too there are riches on display. There are matching skirt-and-top sets and sensible light cardigans. NI Old Woman on a Summer's Day will accessorise with a handbag that means business to offset the frivolous intent of her floral polyester two-piece and that cream cardigan she knitted herself in 1973. Her forty-to-fifty-something daughter strides beside her and around her and in front of her. She's everywhere you look, in three quarter length linen trousers, with Breton top or cute flowery shirt or a groaning camisole. A generation or a decade down, and there are shorts. Bought in the fragrant dark of on-trend surf shops, in the light of day they are too short to hide a grim reality of cellulite. Most terrifyingly of all, they sometimes advertise what lies beneath as 'Juicy' or 'Sweet' or 'Cute'. Uniting all the generations of NI Woman on a summer's day is her determination that it might be summer, but nobody will mess with her. She plants her sensible wedge sandal-clad foot onto the ground in front of her, and walks with determined step towards her next assignment. Shopping. The picnic. NI Man's next meal. You do not mess with Northern Ireland woman: even when the sun is shining, and she's wearing shorts.
And what of the blogger, in all of this?
The blogger is the quiet person whom you barely noticed, sitting on the bench on the headland in a short, dark dress, or sipping coffee silently, dressed in chinos and a sleeveless top. She was probably hiding behind sunglasses and untidy hair and was quite possibly reading, or gazing, abstracted, into space. Or maybe she was studying how the daisies on the grass punctuated her shadow.
A shadow of thought. The reflected thinking of a summer day.