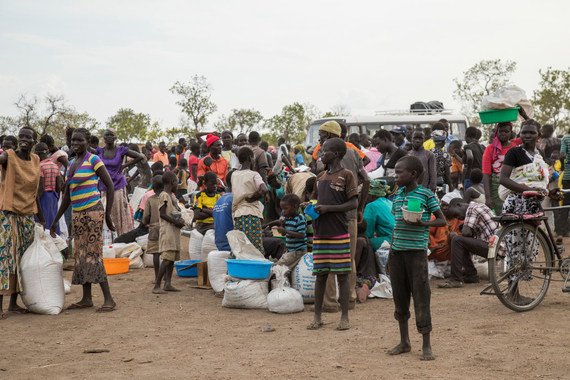 Uganda is now hosting one million South Sudanese refugees © World Vision 2017
It's been one year since Bidi Bidi refugee settlement in northern Uganda opened its doors to a flood of war-beaten people fleeing conflict and hunger in South Sudan. Then, it was vast bushland overrun with wildlife. Now it's a sprawling, bustling quasi-town, with 300km of roads and home to 272,000 people, making it the largest refugee camp in the world.
And it's surrounded by camps of rivalling size, all bursting with people forced to leave their entire lives behind and run. The UN announced this week that Uganda is now hosting more than one million South Sudanese refugees, and that's on top of the three million who are either internally displaced or spread across countries such as Ethiopia, Kenya and Sudan.
More than half of them are children, many of whom lost their parents along the way, or even saw them ruthlessly killed right in front of them. It's been a brutal conflict, with thousands of untold tragedies.
I spent a week in northern Uganda last month - hearing first hand of the treacherous journeys these refugees undertook. Running through the bush at night and hiding during the day; constantly living in fear of ambush and that this day would be their last. Bodies piling up by the side of the road, loved ones having no time to bury them.
In Imvepi refugee settlement, a couple of hours' drive from Bidi Bidi, I met James. At just 13 years old, he already knows all too well the horrors of war.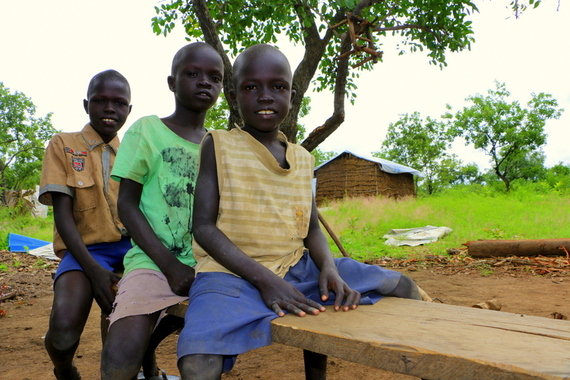 James, Stephen and David sit outside their tent, which they share with their foster family © World Vision 2017
He and his younger brothers, Stephen and David, fled South Sudan last year after their parents were killed in the conflict. They were taken in by a neighbour, but he refused to leave when the fighting intensified.
James believed it was the best possible chance of survival for he and his brothers, so he decided they would go alone. They packed only one small bag each, and ran.
It's impossible to imagine the burden of that decision on someone so young. To take responsibility for his brothers, while still just a child himself.
Thankfully, James, Stephen and David were looked after by World Vision when they arrived in Uganda, and now live with a foster family who also fled South Sudan. It's an unbelievable act of generosity, and one of many glimmers of hope in the midst of this forgotten crisis.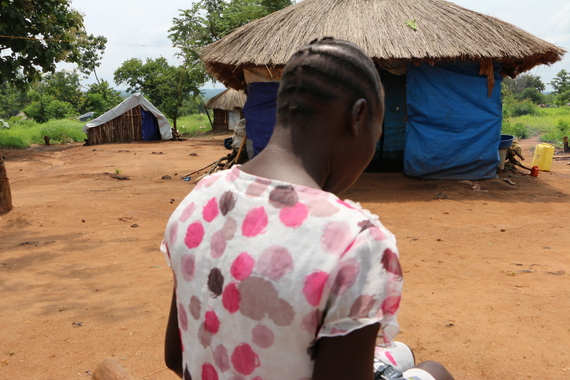 Eva and her sister fled into Uganda alone after their mother was taken by soldiers, and their brother was shot dead by rebels © World Vision 2017
Eva lost her mother and brother when they were ambushed by rebels on their journey to Uganda. Then, she was raped - and at just 16 years old is now four months pregnant. She doesn't know how she'll cope when the baby arrives; she already sells a portion of her food rations to help pay for necessities for her eight-year-old sister. When I asked if there was anything she needed, Eva asked for soap and books - "to keep my mind safe".
My heart broke. Here was a young girl whose short life has already been marred by horror, and all she wanted was to be able to wash her clothes, and escape for a little while. The injustice of her situation was overwhelming.
But Eva, too, is being looked after by World Vision staff, who regularly visit her and are hoping to get her back into school. There's a long road ahead, but her future is already starting to look more hopeful.
It's thanks to the tireless work of government and NGO staff on the ground that children like James and Eva have a chance of a normal life one day. The generosity of Ugandans stands in stark contrast to the rhetoric we hear so often here in the West. While we build fences to keep refugees out, Uganda welcomes those fleeing with open arms and the promise of safety. It's a sobering comparison. Especially so, given that Uganda's resources - already limited - are being stretched to breaking point.
Bidi Bidi's commandant, Robert Baryamwesiga, summed up the heart behind Uganda's open-handedness when I met him at his small, humble office on the outskirts of the settlement.
"Refugees are people. They deserve to be treated like human beings," he said.
While Uganda struggles with the reality of accommodating more than a million arrivals from South Sudan, its priority remains simple, human dignity. And for that, the world should sit up and take note.
Find out more about the South Sudan refugee crisis, and how you can help, here.
Carey Lodge travelled to Uganda with World Vision in July 2017.