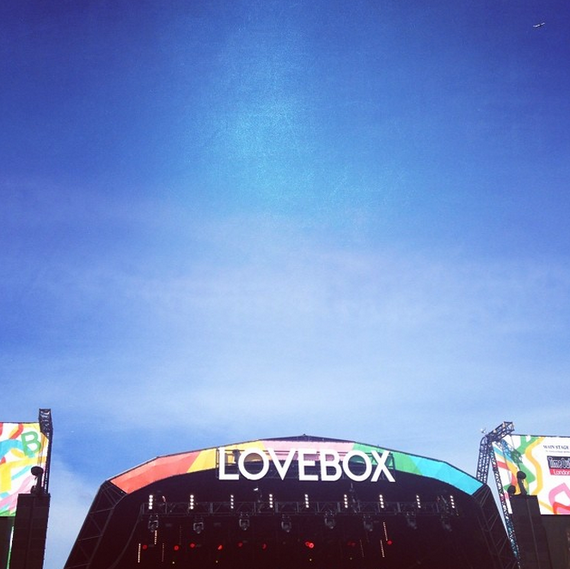 I went to Lovebox last Saturday, and unlike Wireless, it was very good. I have barely any complaints (minus one, which I'll get to in a minute).
Fortunately the torrential downpours that we were expecting never appeared, (thanks accurate weather people) and instead it turned out to be a wonderful sunny day with temperatures reaching thirty.
A London weekend festival, Lovebox has been described as "an annual love letter to the Capital" and I couldn't agree more. As usual it took part in Victoria Park, delivering its eclectic mix of musical genres. This year's headliners included Hercules and Love Affair, Nas, Maverick Sabre, Banks, MIA and Bonobo.
Just a little observation; the food options weren't as exciting or diverse as what Wireless had to offer (no ostrich burgers). And another thing; the amount of sculpted torsos on display was overwhelming. It seems that crafted six packs were part of the dress code this year; a feast for your eyes, yet totally depressing if you happened to be feeling a bit podgy.
The happiest performance of the day came courtesy of funk band legends Soul II Soul who were the perfect accompaniment to the scorching sun (and my margarita). With Jazzie B on the decks and three of the coolest looking women performing backing-vocals with synchronised goddess-like dance moves, I was jealous to not be up on stage. Regulars to Lovebox, each year they seem to pull in the largest crowd and each time they make me bust moves I never knew I had.
Banks was another musical highlight of the day. However, she talks too much. I thought she was British and it was kind of disappointing to find out she's actually from L.A.
Nas was brilliant as he performed his debut album Illmatic, released in 1994. Although I did feel a bit dodgy about the fact that he was wearing his own tour merchandise.
The most dramatic and note-worthy performance of the day came courtesy of MIA (surprise, surprise). Ever the political activist, she emerged on stage to make some statement about Gaza, which no one paid attention to. Looking somewhat like John Lennon rolled in glitter, she began performing songs from her most recent album, except the sound system wasn't powerful enough. In fact, it was so low that I could quite happily have a conversation with my friend standing next to me.
After failing to sort the sound out, she resorted to doing what any desperate performer would; she started calling members of the audience up on stage. However, as she was individually selecting people as though they were props, security was repeatedly seen telling her she wasn't allowed.
Being MIA, she ignored them.
With about forty fans on stage, she began performing 'Hussle' from her album Kala. My favourite part: a boy standing on stage attempted to take a selfie with her as she was mid-performance but she swatted his phone away saying 'Nah man, I don't do selfies.' This in itself amused me more than her performance.
The most depressing thing of all was watching the audience members on stage; all engrossed in their phones. Blatantly tweeting, instagramming and recording videos, rather than enjoying the moment itself. However, all social-networking antics came to an abrupt end when the sound was cut off completely. Swiftly followed by the projector screens being turned off. At this point MIA ran off stage to return five minutes later and perform two songs, including Paper Planes, before chucking her mic on the floor, shouting "Lovebox, we gots to go." Then she stormed off stage twenty minutes earlier than expected and that was the end of that. A stroppy woman, or a crappy attempt at a publicity stunt?
What is it with me and festivals this year? They just don't seem to go to plan. Still got a tan though.
Related