It's funny how one can be so engrained in a journey that it takes someone else to point out how far you've come. I recently had my portrait taken by photographer Amelia Troubridge as part of a photographic series, commissioned by Innovate UK in partnership with Getty Images, which captured recipients of the Innovate UK women in innovation awards. Each image in the series captures a women in innovation in her working environment, highlighting her working achievements in the hope that it will inspire the next generation of innovators and entrepreneurs.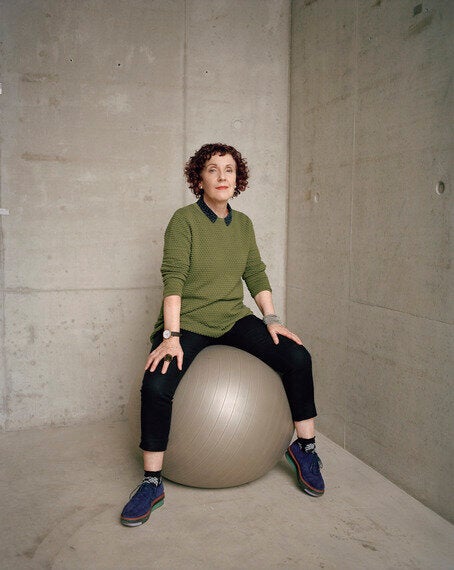 Photograph by Amelia Troubridge as part of Innovate UK's #infocus women in innovation campaign, an initiative to create diverse role models for women in STEM.
This put me in an unusual position, where I was suddenly made aware that I am considered a role model as a woman in innovation.
I feel a great responsibility as a female innovator, as I find that people don't often associate a woman of my style with the word "innovation". There have definitely been moments where I suspect I have not been taken seriously as an entrepreneur, however am pleased to say that once a conversation has started I see people change their minds. I very much enjoy being able to challenge the perception of what a petite, creative woman in her 60s can do!
I have always had wonderful support from female role models throughout my journey with Piñatex®. I learned about perseverance from Sonja Landweer, a friend and artist in Ireland who taught me to trust my own process. The Head of the Design Centre Philippines in the 1990s believed in my ideas to develop innovative products using natural fibres and local skills, and encouraged me to take these ideas further. This led to extensive research, which led me to take on a PhD at the Royal College of Art & Design in 2014. Being in my late 50s at the time this was a significant undertaking, and I am grateful that the Department of Fashion & Textiles was run by powerful women who inspired, encouraged and guided me through five years of research.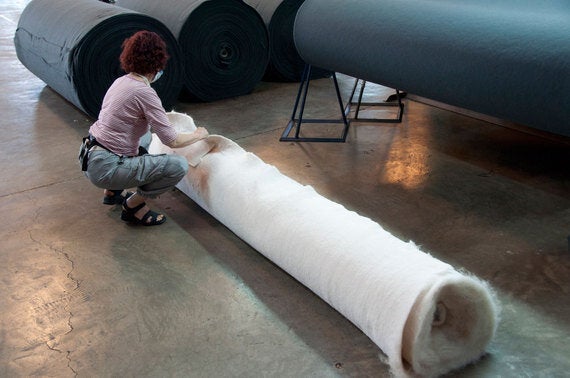 Carmen with non-woven mesh. Image supplied by Ananas Anam
I love that the Innovate UK portrait series shows a hugely diverse group of women who have not only achieved remarkable things, but are enthusiastic, positive and proud of their work. Each brings their own personality to their approach - some more subtle, some very confident - but all are united by vision, determination and a will to succeed. These are characteristics that I hope all women can recognise in themselves, as they are what drives us forward through our lives, whatever our paths may be.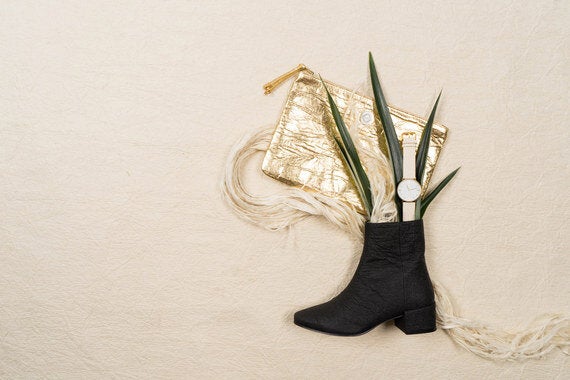 Piñatex® textile and products #MadeFromPiñatex: boots by Bourgeois Boheme boots, bag by Taikka, watch by TimeIVChange. Photo by C. Mueller
Innovation has always been a core value of my practice, and will continue to be integral to the journey of Ananas Anam and Piñatex® as we strive to revolutionise the sustainable textile industry, delivering the most ecological and socially responsible product possible. The women in innovation infocus award has given me the opportunity to kickstart a key stage of research and development that would not have been possible otherwise, and I am so excited about the direction we have been able to take because of it. I would encourage anyone considering a future application to do so - this award has been both constructive and well supported - belief in your idea is all you need to start an incredible new journey.
To see the #infocus women in innovation photography series, shot by Amelia Troubridge in partnership with Innovate UK and Getty Images, visit: http://www.gettyimages.co.uk/collaboration/boards/DPwzhXTL606QygeKCaWd0g
If you're an entrepreneur or innovator, visit the Innovate UK website to find out more about upcoming funding opportunities. www.gov.uk/government/organisations/innovate-uk