Stuck in London for the holidays? Fear not! The capital offers plenty of options to get you in the mood for Christmas. Forget over-the-top Christmas markets, tacky Santa's grottoes or lukewarm mulled wine: Londoners are spoilt for choice when it comes to eating out before or during the Christmas break.
I went on a personal quest to find out the best winter dining experiences London has to offer. Comment below if you've got more suggestions!
Swedish Jul a Fika - Brick Lane(£35 per head)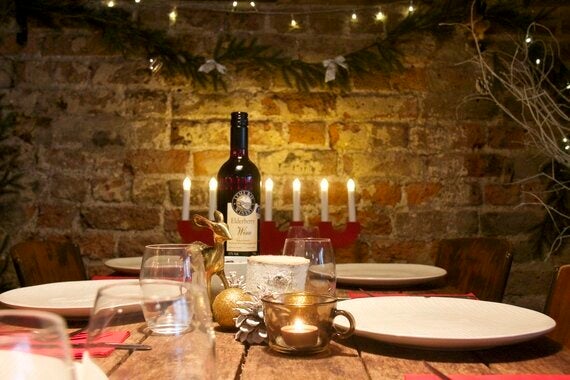 Until December 23 Fika offers Jultallrik, the Swedish take on the Christmas meal. It's a three-course Swedish Christmas feast so think hot wine, gingerbread biscuits with cheese, Swedish beef meatballs, honey glazed Christmas ham, home cured dill gravad lax, reindeer sausage and many other scrumptious dishes that'll make you party like the Swedes do.
http://www.fikalondon.com/
BB Bakery Christmas Afternoon Tea - Covent Garden(£45 per head)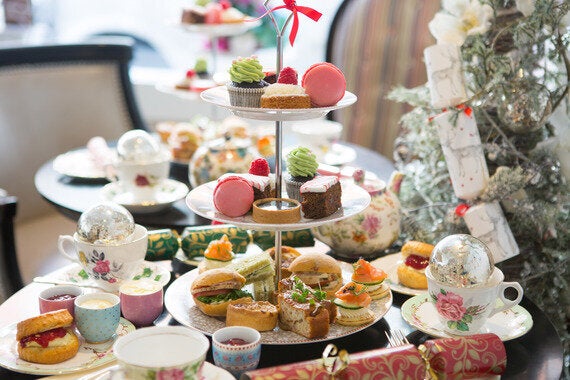 Already offering one of London's best afternoon tea experiences, the BB Bakery took holiday feasts to the next level with its cute Christmas menu. Aside from classics like scones with clotted cream and finger sandwiches, the BB Bakery's festive menu joins the British afternoon tea tradition with true French baking mastery thanks to Christmas tree cupcakes, Il Etait une fois Noël macaroons and a BB bûche de Noël.
http://www.bbbakery.co.uk/
Dram & Smoke - Bermondsey(£40 per head)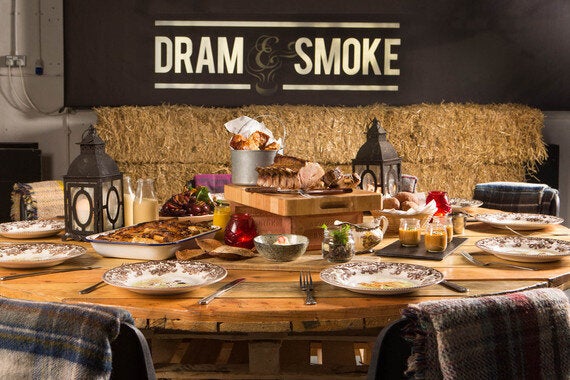 Another Christmas feast that came from the cold, Dram & Smoke warms London up with a supper club set in a former a leather tannery warehouse just off Bermondsey Street.
Dram & Smoke blends the private house party vibe with the exclusiveness of a candlelit supper club. Imagine long communal tables, checkered blankets and dim lights matched with ping pong, foosball and a host of other games.
You'll get in the mood with the welcome warming hot toddy and then move on to a five-course tasting menu which includes duck doughnuts with chilli jam, potted smoked mushrooms with blue cheese and homemade pickles as well as shooters of lobster broth. The menu's strongest dishes are however a massive carve-at-the-table roast rack of pork and a heart-warming whisky bread & butter pudding with jugs of malted milk custard. It might be hard to walk properly after that feast... But that'll just mean you'll be ready for your Christmas lunch!
Cuisson's POP Down (£39 p/person)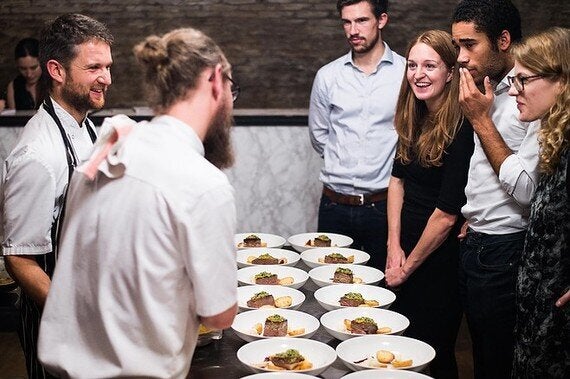 There are dinners where you just sit down and eat. And then there is Cuisson, the ultimate Christmas party experience that screams: collaboration. Set in the Vaults' understated, gritty and unique space, Cuisson's POP Down sees a team of four incredibly friendly chefs from four different countries and experience across London's best restaurants standing right in front of you. Each and everyone of them is ready to answer questions about their food and to get you involved in the cooking process.
All plates are set on a big iron table in front of the dining area, creating an exciting back-and-forth between the guests and the chefs, who encourage you to get behind the counter with them to whip up some of London's finest dishes. Christmas highlights include a Brussels sprout, chestnut mushrooms and clementine grains starter and brisket served with a side of fermented vegetables, with finishing touch of a beef tea gravy.
http://www.cuisson.co.uk/
20th October - 16th January
And if you like to eat out for Christmas...
The Punch Tavern Christmas Eve/Christmas menus(£21-£35 per head)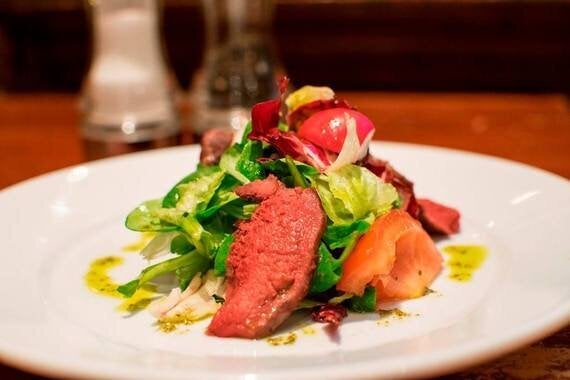 The historic pub The Punch Tavern in Fleet Street, once the after-work-drink haunt of choice of Punch magazine's editorial team, cater for those of you who can't be bothered to cook for Christmas.
The pub's varied yet affordable menu consists in a mix of winter starters like pumpkin and chestnut soup and unmissable mains like a roast stuffed Christmas turkey. Prices vary depending on the number of courses you go for, but one thing is certain: staying in London for Christmas has never been this interesting.
Pictures by Fika, BB Bakery, Dram & Smoke, Cuisson, The Punch Tavern.
Related