With the relations between Cuba and the United States improving, now it's your last chance to visit this country as a land not yet corrupted by technology and consumerism. That said, we aren't all Spanish speakers or experts in the Cuban way of living - which is exactly what most people pointed out when I mentioned I was travelling to this remote spot in the Caribbean by myself and with little more than "Hasta la victoria, siempre!" in my Spanish vocabulary. Here's how I made it.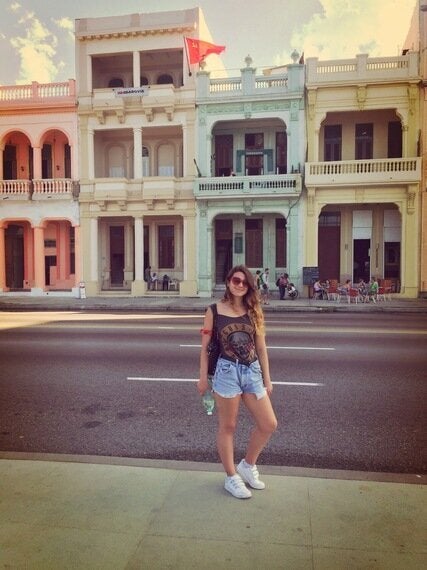 1) Don't get weirded out by people hitting on you
Many Cubans want to leave Cuba to live and work in countries with more opportunities. It shouldn't then come as a surprise that, just like it happens to many other people, their first options is marriage. As a solo girl traveller I understood pretty quickly that no matter how dishevelled I looked, I would hear men make kissing sounds, honk the horn at me, call me "niña", "mami", "mamasita" and "linda" or propose to me for the whole trip.
The first thing my host, a lovely Cuban lady, told me was: "Guys will start following you and talking to you asking if you have a boyfriend or if you want to go to dinner with them. Say: 'Yo necessito de nada. Yo estudio medicina a Cuba.' They probably just want to get free food from you or see if you can get them out of Cuba."
Sure, a girl with an Hawaiian shirt and a bikini walking towards a tourist bus might not look like your typical medicine student, but my host's advice helped me learn what to expect and showed me I had no reasons to get weirded out by the locals.
The guys I've spoken to confirmed it's the same for them, so either buy people lunches or pretend to study medicine. Up to you.
2) Learn the multiples of 5 - and how to use them
Cubans - and especially Habaneros - essentially live off tourism: restaurants, accommodation, cabs, guides... And commissions.
With the average monthly Cuban salary equalling to a little more than £10, the locals can only get some extra money by helping each other out and securing business for each other. Business is secured through referrals - and referrals cost money. So if I get you a taxi from the airport for 25 cuban dollars (CUC), I might ask you to pay 30 CUC so I can get an extra 5 CUC of commission from the driver for giving him more work.
This doesn't mean Cubans are trying to rip you off - in fact, they are amongst the most heart-warming, kindest people you'll ever meet. It's simply their way of getting by.
So your job in Cuba is being able to trade in multiples of five not to pay any extra money - essentially make sure some dude's commission doesn't impact on what you're paying.
3) Take a holiday from the web
In Cuba the Internet is a luxury, so be prepared to pay if you want WiFi.
In Havana you can find it in hotels like the Hotel Nacional (for 5 CUC per hour) or in Calle 23. Here you can join the Habaneros who bought a card from nearby stalls or locals (for 2 o 3 CUC per hour respectively). If you're looking for an Internet-free holiday, Cuba's the place for you!
4) Stay in a Casa particular
The cheapest accommodation in Cuba is renting a room in a casa particular, the pillar of the Cuban economy. Owners of casas particulares (mostly women as far as I've seen) rent rooms in their houses for 25-35 cuban dollars per night.
Look at your casa particular host like your referral point in Cuba. A good casa particular is safe enough for you to leave cards and extra money (in a locked suitcase) and a great dining spot, too: with about 15 CUC per day you'll manage to have great breakfasts and dinners in a clean place. A good host will ask for your passport and visa as soon as you get there... And will also be able to sell you discounted Cuban cigars.
Now you know more than I knew before landing in Cuba. Good luck!