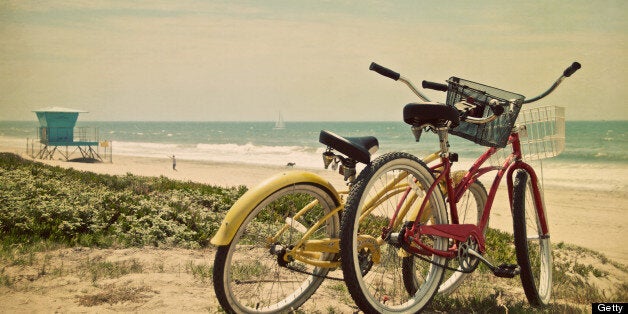 Receiving a phone call from a stranger at 9.20am on a Friday last June turned my world upside down. I run a London tour company and when the phone rang I thought it was just a normal enquiry. But the tone of the woman's voice was urgent.
I heard that she had been given my phone number by my husband. And my husband was shouting it out from the underside of a truck. He had been knocked off his bike on his way to central London. Before he lost consciousness he wanted someone to let me know.
It transpired that he his arteries in his right arm had been virtually severed, his arm was mangled, he'd broken 9 ribs, 3 bones in his leg and crushed his right foot. After 9 weeks in St Mary's Hospital, Paddington he was allowed to come home. Six months later he is worse for wear, but just about back on his feet.
I thought I knew London well having lived here all my life but an event like this can change the way everything looks. I have learned that good things come out of bad. That London is full of amazing people. And a few more things I'd like to share about bike accidents, hospitals, forgiveness and seasonal gratitude.
1. Forgiveness is healing. My husband doesn't want revenge on the truck driver who ran him over. He just wants to put all his energy into getting fit again.
2. Plastic surgeons are about so much more than botox and breast implants. They rebuilt my husband's right arm. From his thigh.
3. Nothing will stop cyclists getting back on a bike. My husband has already bought one to replace the one mangled by the truck. And he can barely walk.
4. One of the most likely way to end up in a London hospital is to travel on a bicycle or motorbike. The other is by being stabbed or shot.
5. Without immigration the the hospital my husband was treated in would not have some of the best nurses, doctors and support staff in the world.
6. Pushing a wheelchair in London sucks. With a full grown man in a wheelchair is heavy and impossible to get into most shops.
7. London's Paddington is a brilliant area for daily hospital visits. So much to entertain (distract) the kids on the basin. And felafel and shawarma to die for on Edgware Road.
8. Deliveroo delivers to the patients on the ward. My husband tested out the drivers and they made it all the way to his bedside with piping hot meals from gourmet burgers to bolognese.
9. Although it's been hard to see their dad suffering our kids, aged 7 & 10 have showed both of us how it's possible to get on with the business having fun whatever life throws up.
10. Despite being a free spirited Londoner, I've been amazed at how much other people have stepped up when disaster struck. Love and kindness from all sorts of places has got us through this horrible time. And it is more apparent than ever that true kindness transcends all religions, languages and and borders. And it comes in unexpected ways from a few kind words to food parcels.
This Christmas we will be toasting all the friends, family, doctors, nurses, hospital porters, police, air and ground ambulance staff, deliveroo & uber drivers and all the people who helped us and our family get (quite literally) back on our feet after our life was unexpectedly derailed.