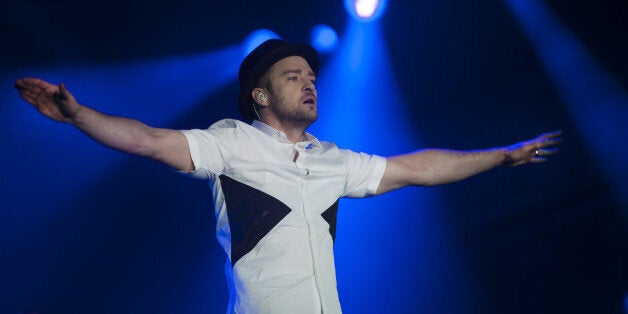 When the news dropped that Justin Timberlake was to appear as the interval act at this year's Eurovision Song Contest, I admit a little part of me died.
Obviously, it wasn't a crucial organ that failed to function - after all, this isn't a life or death decision over who performs in that curious vacuum of time between the contestants and the voters on a brightly-coloured stage somewhere in Europe(ish). No, to borrow from Bill Shankly on the subject of English football, it's far more important.
But I confess to a little whimper of protest as one final bastion of creative arena was invaded, probably permanently, by a commercial juggernaut of superstardom and all its trappings.
This is nothing against Justin Timberlake. He's evidently a supreme showman, who brings as much talent in his little finger as some of the aspirational acts we've seen over the years gracing the stages from Austria to Azerbaijan. But that seems to be missing the point.
The head of the UK judging panel is obviously firmly on message, welcoming JT to the stage and cheering this "turning point in the history of Eurovision". Vocal coach and former reality show judge CeCe Sammy knows a thing or two about commercial acumen, and applauds his arrival as bringing "a larger, more international audience with younger viewers taking an interest".
Like it needs them. Eurovision currently boasts an audience of 200million plus around the world, far beyond its traditional borders of permitted participating countries. It's already the largest non-sporting live TV event in the world. Australians have been staying up overnight for years to catch the winner in the morning, their enthusiasm ardent long before they finally sneaked in to the competition, under cover of the 60th anniversary last year. So keen are they Down Under, they've made it back this year, and might even win - this without a Kylie or an AC/DC in sight, however appropriate at least one of those offerings might be.
Justin Timberlake is obviously great, but he's American, totally irrelevant to this extravaganza, which has traditionally invited a fitting act to showcase the host nation. And that hasn't worked out badly either. Riverdance stole the show in 1994, and never looked back.
And he's already a superstar. With his inevitably slick production and already established charisma, at best he risks overshadowing every other contestant with his high-octane pop mastery. Or, if he tries to tone it down, he risks going in the other direction, adopting some faux-Eurovision friendly schtick, a Mumford and Son extra, with a plaid shirt and patronising vibe. Either of these will be equally unwelcome and, whatever guise he adopts, we all know he's in the midst of a promo tour for a new film and a new single. The Eurovision Song Contest deserves more than a promo pitstop.