There have been some mixed messages from the George Michael camp this week. The weekend was full of reports of friends' 'concern' for the reclusive star - so concerned that they phoned newspapers? - as he was, according to them, tucked up in his beautiful North London mansion, refusing to see anyone, embarrassed by apparent weight gain and scars on his head sustained by his tumble onto the M1 last year.
And they point to his continuing silence on Twitter as evidence that all is obviously not right in his world. Further, that the only person he will apparently let in the door is his old school chum, David Austin.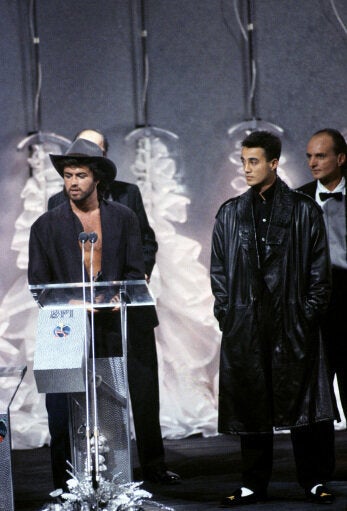 George Michael
The thing 'they' forget to mention is that David also happens to be the exec producer on George's latest work, the live album 'Symphonica' which went to number one when it was released back in March. Could it be, dare I say it, that George is doing what he promised at the beginning of the year and concentrating on his music rather than satisfying the curiosity of the masses?
Belying this aura of Howard Hughes seclusion helpfully highlighted by these 'friends', George has, in fact, given two in-depth interviews both published in the last few days - both given to pedigree music magazines, Q and Mojo, not the tabloids rejoicing in this latest rumour of doom and isolated gloom.
In these pieces, despite his increasing distrust of media over the years, he gave as honest a response as always on a variety of subjects - regrets that included splitting from Wham! and buying Chris Evans' London mansion only to sell it again a month later, his pride in the longevity of his music, and reflections on his legacy, including, heavenstobetsy, the hope of being remembered as a nice person who wrote songs that touch people.
So, from a man in his sixth decade, his fourth as a global superstar, some nostalgia, some reflection, and a weighing up of the good and the bad. How unsatisfying all this must be to the anxious hordes, waiting for his next kamikaze expedition, his next trip to Snappy Snaps.
Of course, all of this could be clarified in a single blow by George himself, if he would only do the honourable thing and lay his soul bare on Twitter. George joined the platform in early 2011 but, after an initial burst of enthusiastic chit chat to his half a million followers, seemed to conclude his thoughts and words might be better saved for his lyrics. A studio album is promised later in the year. Even with George's talent, those songs don't write themselves and, as the recent Symphonica documentary showed, his enthusiasm for controlling every aspect of production, honing every note, is as keen and no doubt time-consuming as ever.
In the meantime, then, what do we have? A bunch of rumours about a bloke who seems to prefer to work, not party his way through his 52nd year, and his latest release, a buoyant, contagious, show-stopping version of Nina Simone's Feeling Good. Message received.
Perhaps we should, just this once, take George at his musical word and ignore the other (careless?) whispers about him coming our way.
George Michael's Feeling Good is taken from his No.1 album 'Symphonica', and is released on 18 August. Watch the video below...