Until last year, few had known the story of Lili Elbe - the Danish artist who started life as the male landscape painter Einar Wegener and faced the challenge of pioneering gender realignment surgery in the early 1930s, at a time when it was almost unknown.
That all changed with the beautifully-told drama 'The Danish Girl', starring Eddie Redmayne in the role of Lili. As well as his Oscar nomination, Alicia Vikander won an Academy Award for her performance as his wife Gerda, an artist herself thrown into unique circumstances when she learned of her husband's wish to transform himself.
Director Tom Hooper (also an Oscar winner for 'The King's Speech) made the decision to shoot his film on the streets of Copenhagen, Lili and Gerda's home, and a few hours in the Danish capital brings to life the extraordinary story of these two artists inspired to break away from all that was conventionally expected of them.
You can take your first step into history with a walk along the Nyhavn Canal, a colourful waterfront peppered by colourful 17th century townhouses, restaurants and bars. This canal goes all the way to the harbour and is home to many historical wooden ships. Just outside Cap Horn (a restaurant full of organic Danish dishes - don't forget to try the herring), you'll spot where, in the film, Eddie's Lili meets up with Henrik (played by Ben Whishaw), the first person to challenge her unique union with wife Gerda. During the making of the film, the waterfront was transformed into a 1920s fish market, but it really doesn't look very different in reality.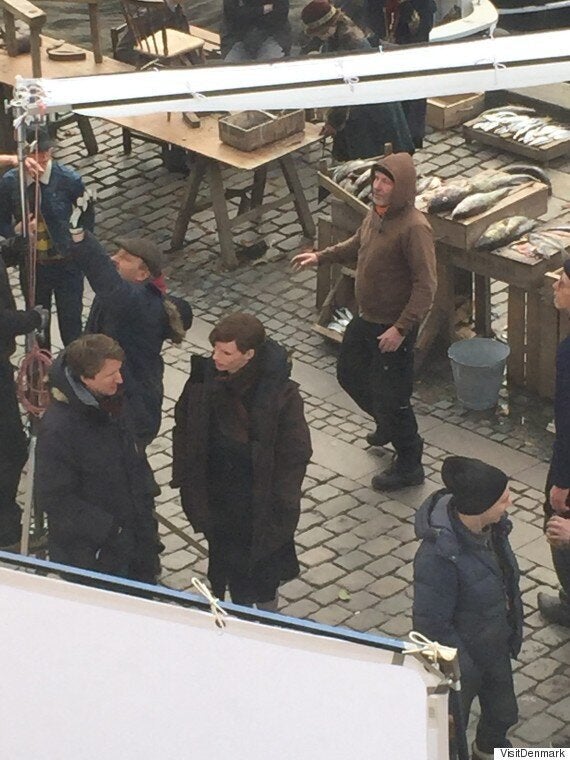 Tom Hooper directing Eddie Redmayne on Nyhavn waterfront in 2015
A few streets away are the Nyboder former naval barracks, the distinct row of yellow houses where 'The Danish Girl' viewers can see Lili paying a secret visit to Henrik. Tom Hooper must have whistled with delight when he first saw this street, it is beautiful and entirely untouched by modern history. Nor would he be the first cultural figure to be so affected. Danish philosopher Soren Kierkegaard previously wrote, "Why was I not born in Nyboder, why did I not die as a baby?" High praise indeed... probably.
A short walk away through the Old Town of Copenhagen is the Royal Danish Academy of Fine Arts, where Lili and Gerda first met and both studied in real life. Here are some of the landscape paintings that established Einar as a formidable talent, and the building can be seen in the film hosting the artists' ball where Lili makes her public debut.
You can also poke your head in the Royal Library, the reading room where, in the film, Lili researched gender reassignment and discovered she wasn't alone in her desires.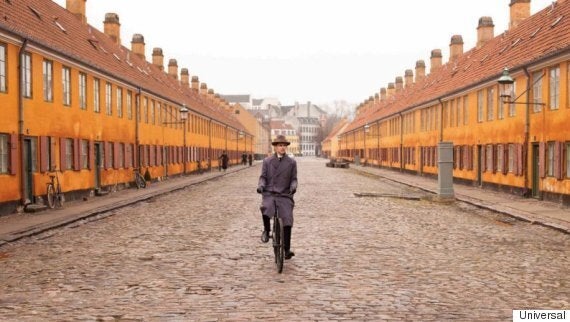 Tom Hooper had to do very little to transform the Nyboder area of Copenhagen, for this scene in the film
Copenhagen's Frederiksstad district is a contender for UNESCO World Heritage status, so many more scenes from the film found their natural locale in these parts. Dipping into a wine bar, one of Lili's actual real-life paintings can be seen on the wall, and a wander through these streets brings home the light, beautiful architecture and sense of freedom that would have each inspired Lili and Gerda's life here.
Lili is everywhere for sure, but Gerda's is an equally interesting story, one which has been overlooked for nearly a century. This has been remedied by Copenhagen's Arken Museum of Modern Art, a gallery that sits on the sea half an hour out of the city, and is as proudly international as it is Danish.
Running until January 2017 is an exhibition dedicated to Gerda's career, both before and after her husband's transformation inspired her second chapter, and it becomes clear that Lili's journey from man to woman both challenged her personally, but inspired her creatively.
One seductive portrait by Gerda of Lili finds the subject looking over her shoulder, coquettish but also beseeching - theirs was obviously a very complex relationship.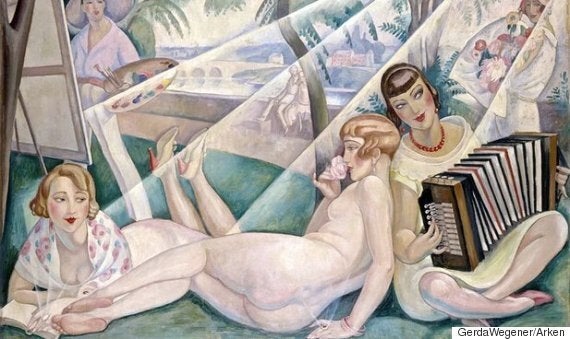 'A Summer Day' hints at the complexities in the relationship between the artist Gerda Wegener, the subject Lili Elbe (centre) and her husband as he had been (left)
More sophisticated yet is a huge picture 'A Summer Day', where Gerda has accommodated both her husband Einar, trapped behind an easel, and Lili, up front and centre, resplendent but bashful in her hard-fought, female form.
You can sit in front of this huge painting for quite a while, musing on the demands of love, and it was here that the cast and crew of 'The Danish Girl' held their first press conference for the film, way back in 2015. Long before Awards Season frenzy carried the movie all the way to the Oscars, Eddie Redmayne was impressing the Arken curators with his knowledge of the artistic duo, jumping up to point out elements of Gerda's work to a surprised but impressed press corps.
On the way back to the centre of Copenhagen, make sure to stop off for a hot chocolate, or something stronger, at Rainbow Square, the area next to City Hall that the council voted in 2014 to rename in honour of the LGBT flag, and the country's commitment to equal rights.
Sitting here, toasting both Lili and Gerda and the challenges they faced together, brought so beautifully to life in 'The Danish Girl', is a fitting reminder that, while Lili Elbe may have faced singular challenges ahead of her time, she was fortunate in one respect - that of being born in a country that can pride itself on its progressiveness, and a pioneering spirit she so evidently shared.
'The Danish Girl' is out to own on DVD and Blu-ray now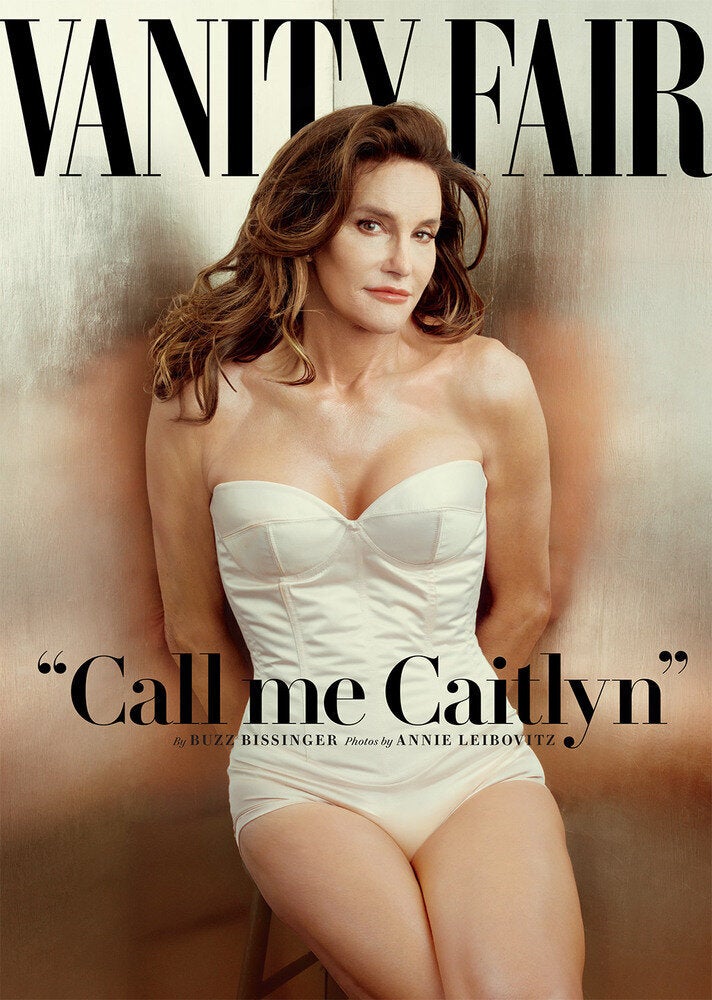 Iconic Transgender Moments
Related