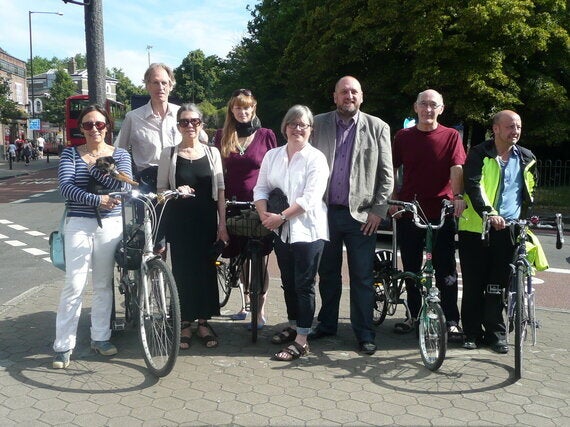 The next four weeks could make or break London's cycling revolution. The election results could scupper the infrastructure programme that Boris Johnson and Andrew Gilligan are finally putting in place. Without a Mayor who is fully committed to this programme, and a London Assembly pushing her/him to be bolder, it could all be undone.
This struck me last week as I was cycling along Cycle Superhighway 1, from Pitfield Street across Old Street and down to the Green Party offices. It was beautiful. The new design made me feel like I was supposed to be there, with ample safe space for people on bike and foot.
It feels to me as though a real revolution is just starting. A tiny proportion of our streets have been turned into safe, pleasant spaces for people to walk and cycle along. Transport for London should be increasing its budget and getting ever more ambitious over the next four years.
So many of the Dutch-quality designs now being implemented have been noisily opposed. Boris and Gilligan stood firm. What would the next Mayor do? I know Green candidate Sian Berry would stick to her guns. But Zac Goldsmith backed more car parking around Richmond Park, and has said he might rip out cycle superhighways. Sadiq Khan opposed plans for 'filtering' on streets in his Tooting constituency, and says he'll only build new superhighways if there is minimal disruption, which is basically impossible.
In our manifesto for City Hall we have made a very simple, but important pledge: to complete the current cycling vision plans. This would mean completing all 12 cycle superhighways to the highest standards, extending them into outer London, and starting some more. We'd extend the Mini Hollands programme to every borough. We'd refocus the Quietways programme to improve the quality, and put more political capital into persuading borough leaders in sympathetic but reluctant councils to join in. We'd redesign at least the 100 most dangerous junctions, and revisit the list of 500 originally identified by Boris and TfL.
I also think we can reduce opposition, instead of just trying to battle it head on. Last year I visited Walthamstow and Enfield to talk to locals, and think we can win over pedestrian and business groups to the idea of streets for people. If the Mini Hollands had been promoted in this way, rather than as projects just for cyclists, I've no doubt they would have had a smoother ride. As a pedestrian campaigner, I know that cycle infrastructure can be designed in a way that improves the lot of people on foot.
The next Mayor will face one other major decision. Boris' £0.9bn cycling budget sounded impressive, but it will tail off very quickly from 2019, dropping far below what's needed. If Sadiq Khan is elected, he may even be tempted to raid the budget to prop up his unfunded fares pledge. The London Assembly needs to work as one to ensure the budget remains well above £200m a year, and matches the proportion of trips taken by bike.
With these challenges in mind, I'm setting off on a four-week tour of London to talk to local people about cycling projects that could be secured or scuppered. I'm running for the London Assembly to pick up where Darren Johnson and Jenny Jones left off. I want to get a head start to pick up the local examples and contacts with which to tackle the Mayor once I'm elected.
If you're worried about the future of cycling in London, come and talk to me in Camberwell Green from 5.15-5.45 this afternoon, at the Walthamstow Mini Holland from 9-10am on Thursday morning, at the unfinished superhighway in Hounslow at 6pm next Tuesday evening and the Olympic Park in Stratford from 8-9am next Friday.
Related