The Feminist Library is under threat of closure, ironically at the start of Women's History Month, but we are fighting strong. I am the Writer in Residence at this unique resource in a central London building just off Waterloo that was opened 30 years' ago specifically to house community, grassroots and minority organisations.
The collection holds 7,000 books and over 1,500 pamphlets, posters and ephemera, capturing in detail the surge of the Women's Liberation Movement to present day. Since I have been there last year, I have opened pages of rich material from emerging and well-known writers of fiction, poetry and fact.
I've had some of the most stimulating conversations with the 30-strong team of volunteers who have shaped and run the library, and wondered from where co-founder Gail Chester gets her unbridled energy and drive. It is an intergenerational community, uplifting and inspirational. It previously won an award to train librarians and some of those women on that scheme have gone on to post doctoral work, and work professionally as librarians and archivists in major institutions. It has a culture of sharing knowledge and is genuinely friendly, welcoming of everyone. For me, what makes it yet more unique is the combination of its international profile, which sees researchers from Japan, Europe and the States, for example, with its use as a low cost resource for local communities. It doesn't try to be overly branded nor oil its wheels with slick professionalism. It is activist, independent and untamed.
But Southwark Council have seen differently and are hiking our rent to over double the amount. This is a well-known trend. In another borough, five public buildings are private gyms. Elsewhere, academic institutions are penthouse flats. This is short sighted and leaves a cultural vacuum for future generations. What we are creating is a legacy of buff bodies and great views, seen from top-to-bottom tinted glass, but zilch identity, history and sense of belonging. Fine, if you are a bit privileged demographically speaking, you might be able to piece some semblance of history from mainstream pickings, although don't think you will receive anything other than a mediocre message flatlined by Google. If you are wanting to think for yourself, however, claim your identity, or piece together a different story, then you are quite frankly, screwed. Money, in this instance, will not buy back cultural heritage, which is priceless.
This is the fight and we are doing well. We presented a petition at the Council during their budget meeting with nearly £15,000 signatories from around the world. That number is going up every single day. We have messages of support from high profilers: the novelists Sarah Waters, Margaret Atwood and feminist icon Gloria Steinem, as well as messages of support from the thousands who have used the Library or taken part in events and meetings there over the years. On the same day as World Reading Out Loud Day, we staged a political demo where 100 women read out from their favourite feminist texts outside the Council's offices. It was a stirring and powerful night. As a result of this pressure, the Council have extended our eviction deadline: at Christmas last year, we were given the news of the rent increase and given until end of February this year. After our negotiations fell through, we were given just three weeks to get out; and now, due to the tremendous response, we have to the end of April. We are all working round the clock.
My writing at the Library is aiming to record this upheaval and uncertainty, piece by piece, with urgency. In standing together, in doing this vital work, we are showing that feminism, with its legacies, tensions and brilliance, not only works now, but will work for future generations.
What we really need now to safeguard this resource is money. We set up the Emergency Fund where people can donate and, really, anything will have a massive impact. We are thankful to those who have so generously given, and we ask others to consider giving what you can. This is so urgent, whether it is a monthly commitment, or a one-off: large or small. Please donate here: http://feministlibrary.co.uk/support/donate/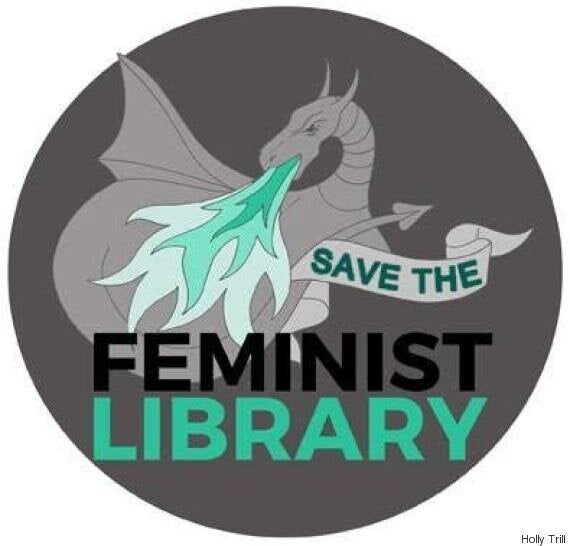 Caroline Smith on behalf of the Feminist Library Collective