Caroline puts her feet up at Dreamcatchers in St Mawes © Caroline Sylger Jones
Going somewhere that reminds you of a happy time can help you destress
An unassuming seaside village on the Roseland peninsula in Cornwall, St Mawes reminds me of my childhood. I go there regularly to pick up shells and sea glass from the pebbly beaches, paddle in the sea, walk along the coastal path, have picnics and stare for hours at the changing colours of the ocean. Whether I'm alone, with family or with friends - I always come back with that fill-to-the-brim happiness you get from sea air and simplicity. Here's why:
Cossetting self-catering: St Mawes Retreats
The most exceptional place I've stayed here is St Mawes Retreats, a collection of five delicious self-catering properties dotted around the town where you can create your own wellbeing break. On my most recent visit I chose Dreamcatchers, a contemporary house sleeping eight with an awesome living area, a huge balcony and uninterrupted views of the sea. Colourful Designer Guild fabrics, uplifting art by local artists like Sophie Harding and soothing wall quotes ('there is no set path, just follow your heart' reads one) make the place easy to be in. There are Hypnos beds, free standing baths to soak in (complete with sea views) and decent, toxin-free toiletries from REN too.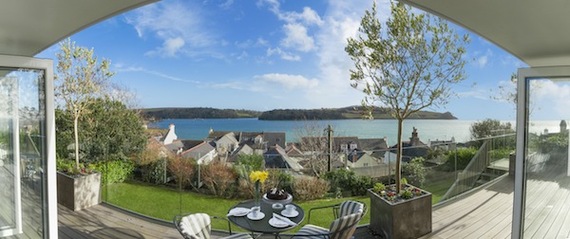 The view from one of the balconies at Dreamcatchers © St Mawes Retreats
St Mawes Retreats' owner Amanda can organise just about anything you choose, whichever property you stay in, including cooking and art classes, personal fitness and yoga sessions, guided hikes, Stand Up Paddle boarding, kayaking and sailing. Your food shopping can be done and unpacked before you arrive, and you can hire a private chef to cook every meal (William Marsden of Pencoose Pantry, for example, cooked us a couple of delicious, uncomplicated meals using seasonal, locally sourced, organic ingredients - his fish pie was especially yum).
In-house spa treatments
You can, of course, book in-house treatments by talented local therapists - choose holistic massage, reflexology, Thai massage, aromatherapy and various body rituals, all of which use organic, plant-based Inlight products hand-made nearby in Cornwall. On my most recent visit I went for a deep tissue massage with a spot of reflexology in the care of nurturing Sarah Greenhalgh, who as well as keeping me thoroughly warm as she worked, went out of her way to treat my feet for longer than I'd booked to help me with a chesty cough. She was excellent too at Tapotement, the percussion strokes used in holistic or traditional Swedish massage which stimulate when performed fast and calm when done slowly - and in my case was used to loosen the tight muscles in my shoulders. I loved that fact that she offered me a choice of music to play too (I chose Mozart).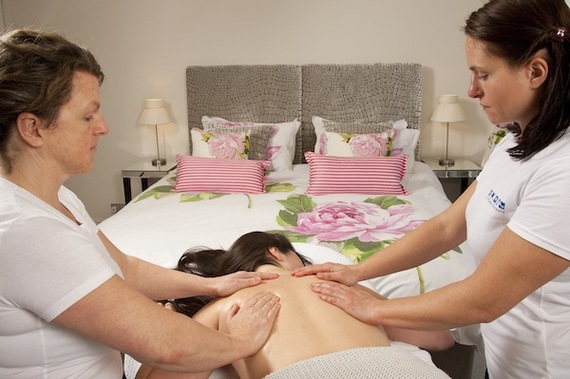 Sarah Greenhalgh (above left) and her colleague Alex Holbrooke are both excellent therapists © St Mawes Retreats
A stylish hotel to visit: Hotel Tresanton
Olga Polizzi's understatedly stylish hotel at the top of the village, Hotel Tresanton, is somewhere I make a point of going back to for its view and brilliant, unpretentious service. On our last visit, while a babysitter looked after our daughter (there's a team - we had the lovely Ingrid), we walked at dusk through a sunlit village and sat on Tresanton's terrace for a cocktail looking out to the romantic St Anthony lighthouse and the open sea. Later esconsed in the dining room, we ate Porthilly oysters followed by brill with salsa verde and a Tunisian orange cake with yogurt sorbet. Another yum. By the way - the hotel also has a treatment room, where you can book amazing facial reflexology with local genius Graham Sluter (I have at least one treatment with him on each visit).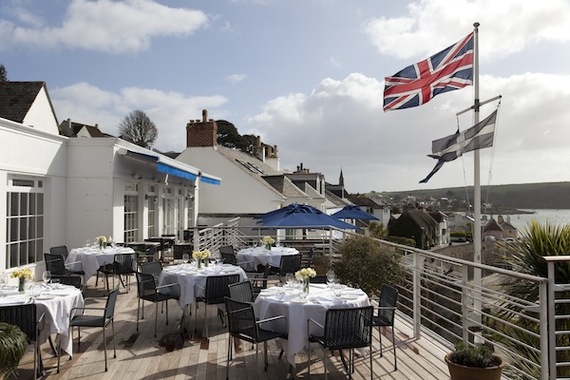 The hotel overlooks a wide sweep of bay with views out to St Anthony lighthouse and the open sea © Hotel Tresanton
Lots of mellow things to do
What else can you do in St Mawes? The village is a lovely place to amble around, full of cute and beautiful houses with flowers growing everywhere and boutique shops where you can pick up interesting, arty finds - they sell chic clothes and accessories (plus organic suncream and the Inlight Skincare range) at Hotel Tresanton's shop in the village ONDA, pretty things at Grace and Favour, and pieces by local artists at The Square Gallery. The beaches are pebbly (bring cushions) but no one seems to mind and it keeps them from getting too busy - alternatively, drive to glorious sandy alternatives in the area. Take a trip to the Helford River (St Mawes Retreats can book you a fish cookery lesson here too) or go and see one of the gorgeous local gardens (the Italianate Lamorran House Gardens are calming and pretty, and just a few minutes walk away - open on Wednesdays and Fridays). It's fun in peak season, but if you're looking for real peace avoid school holiday times when you can.
Whatever you choose, be sure to leave copious amount of time for staring at that ever-changing, whale-grey or chalky-blue sea view. And relax...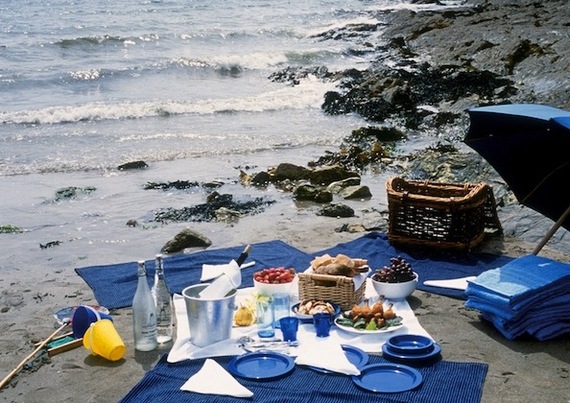 Hotel Tresanton is just a short walk away from the beach © Hotel Tresanton
Fact File
A week at Dreamcatchers costs from £1595. See www.stmawesretreats.co.uk
Main course meals at Hotel Tresanton cost around £15-£25. See www.tresanton.com
Advance single fares from London Paddington to St Austell start from £23.90. For the best value tickets and offers buy before you board at www.firstgreatwestern.co.uk, download the free mobile app or call 03457 000125.
It takes about 45 minutes by taxi to get from St Austell and Truro train stations to St Mawes. The journey costs £40 and a taxi can be pre-booked for you.
© Caroline Sylger Jones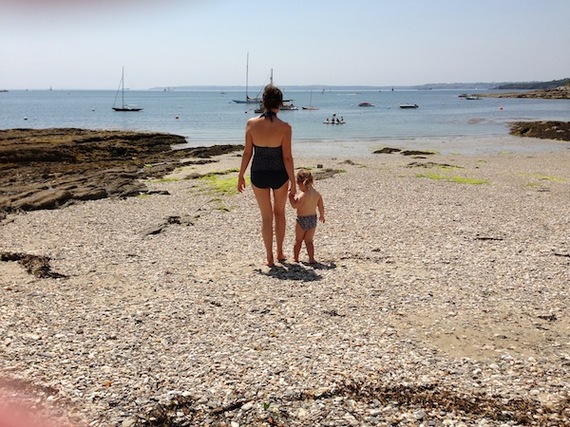 St Mawes is the perfect spot for kicking back with your family © Caroline Sylger Jones