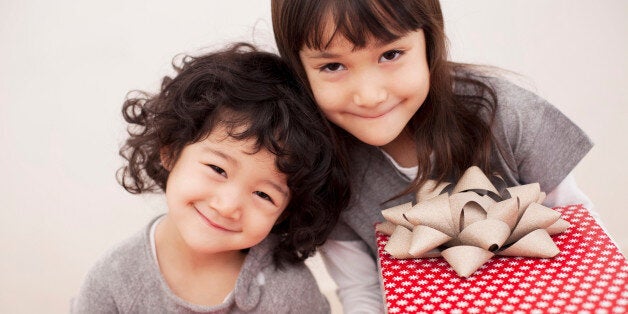 Fun, exciting, relevant and readily available, these gifts are exactly the same as the old versions - or have a modern twist.
You can enjoy these presents with your kids, as you relive your childhood.
It's you who pays, so it should be you who plays. Or at least gets to have a little reminisce, as you're knee-deep in wrapping paper, Quality Street and overexcited infants.
1) Who can forget the humble unprecedented Rubik's cube? Several have tried to come up with similar. Be sure to get the original. We need the brain-addling seemingly impossible one. If only as a fiddle toy or stress reliever, these bring back memories.
2) The classic Thomas The Tank Engine stories by Reverend Wilbert Awdry are back - in the early format. Those small narrow ones, remember? You can nab a set of 26 books for £30. True vintage appeal for any train-loving youngster and their parents.
3) Invest in a stretchy squishy Koosh ball. Just the same with that rubbery smell.
4) Spirograph. Beware of cheap imitations. It's knocked on a bit in price. Circular colouring joy, as you return to eight years old. Pattern-making to be proud of.
5) Tiny Tears. Looks completely different. Comes with dress, nappy, potty and bottle and can be picked up on offer quite regularly. You can buy clothes for her as well.
6) I've never met anyone who doesn't enjoy a simple Slinky. You would be hard pushed to get anything as cool for under a fiver and you don't even need stairs. Watch out for strange kinks occurring. They never quite recover.
7) Cabbage Patch Dolls are identical to the ones we used to have. They come named with birth certificate. Their stitched cuddly bodies will take you back, as you convince yourself they aren't ugly. In many shops you choose your own but sometimes online it's a gamble, which makes it more like a real baby. Kind of.
8) Operation. They do new ones in themes, such as Despicable Me but Cavity Sam with all his guts out is the one for me.
9) Button Moon DVDs. A few pounds each for the original series. Worth it for the theme tune alone. Yours to keep forever. Adventures On Button Moon features 10 episodes from 1980.
10) Etch A Sketch. I never really totally 'got' this, but the red rectangular frame and those twizzly knobs will look great as a retro feature in my lounge. Am sure I can learn to make pictures with my brood.
11) Mr Frosty. It's changed but haven't we all? Still a snowman shaped character to crush the ice and has a glorified ice cube tray, bowls, lolly moulds and stirrers.
12) Twister. The 'board' game that's not boring. Who can resist Twister after a Baileys?
13) Fuzzy-Felt. True toy connoisseurs reckon it's not the same but the basics are there. Felt that you attach to a board. They do anniversary sets with the familiar house/tractor/family and loads of others, including an up-to-the minute Disney Doc McStuffins set.
14) Spud guns. It's a political hot potato whether to give kids toy weapons but ...
15) Happy Families card game. There's one you can buy that has all the classic families. A fiver for all that glorious nostalgia. Why not get off our iPads and rediscover cards round the table?
16) Screwball Scramble. Just like the game of yore. You guide the marbles round the activity run. For no good reason whatsoever. Amazing.
17) Mr Potato Head. Until 1964, the mouth and eyes were stuck in to real potatoes. Despite the plastic head being added, these are close enough for comfort. Modern versions include Spider-Man but classic Mr and Mrs are popular now too.
18) French knitting doll. It's a wooden stick thing with a hole through it and four hooks. You make long strings, which can be sewn to make stuff. Ok, so knitting and sewing writing isn't my forte. Still got my blue tortoise that my mum coiled my knitted string into and stitched. Easy to use, keeps them quiet, inexpensive and traditional.
19) The space hopper cannot be rivalled for its ability to make everyone laugh. With its long ears and bouncy fun, it grins permanently.
20) Who knew Fashion Wheel is around today? I can finally meet my unmet childhood 'need'. No idea why they wouldn't get me one. Or a Teddy Ruxpin. Scarred for life. Now for £12.99, I am healed.