In 2011, I promised the people of Wales a decade of delivery. I said that despite the record cuts to our budget, we would fulfil the promises we made to steer the country through tough times. Together, we delivered on our promises. Extra jobs, more money for schools - we did what we said we would do.
Today represents the half-way point on our journey, on that decade of delivery. And so today I make six new promises to you, the people of Wales.
First, we will build on the incredible success of our apprenticeship, training and jobs placement schemes. A future Welsh Labour Government will fund 100,000 extra apprentices by the end of the next Assembly. This new all-age scheme will mean everyone will have the chance to fulfil their potential in the workplace.
Second, we will give a tax-break to small businesses in Wales using our new powers on business rates. We know that small businesses are the lifeblood of our economy - and of our communities too. This new scheme will benefit over three quarters of business premises in Wales. Half of all eligible businesses will pay no business rates at all.
Third, we will refresh our commitment to rigour in the classroom, and give the teachers the resources they need to deliver for our children. A new £100million fund for school standards will build on the Literacy and Numeracy Framework, school tests and our record breaking GCSE results.
Fourth, we believe that people in old age who need extra help - those who have played fair and paid in - deserve a fairer deal. So we will double the capital limit they will be allowed to keep on the sale of their home should they need to go into care. That's an effective £26,000 tax-break for thousands of older people in Wales. Responsibility rewarded. That is the kind of Wales I believe in.
Fifth, we will develop a New Treatment Fund in Wales to ensure that people suffering life-threatening conditions can have access to the latest medicine and treatment. We are proud of our record on the NHS - we are treating more people, more effectively and more quickly than ever before in Wales. We will strive to improve things still further in the coming years.
Finally, we will deliver the most ambitious childcare offer in the UK. This will mean 30 free hours of childcare for working parents - covering not just 38 weeks, but 48 weeks worth of care for 3 and 4 year olds. This will supplement the Flying Start scheme we already have in place in our most disadvantaged communities. This is an investment not just in working families, our children's future - but in our economy too.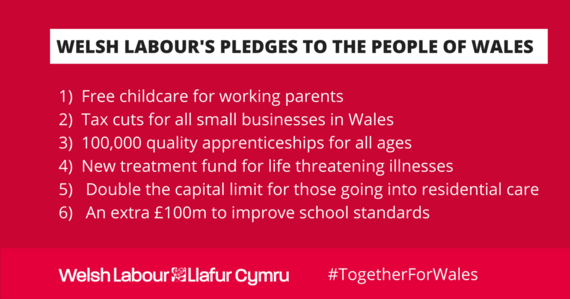 We know how hard it is for so many working mothers in particular to get back to work and today's commitment will make family life that much easier.
These are the promises I want you to use to judge the next Welsh Labour Government - but these policies will only see the light of day if people vote Welsh Labour in May. We are more ambitious for Wales than any of the other parties. You will never catch me talking Wales down as others do, I believe in Wales, and I believe our best days are still ahead of us.
The half way point in our decade of delivery, is a good time to reflect on the path we have already travelled. The promises we made in the last election, we delivered. Through Jobs Growth Wales we supported 16,000 young people into work - providing countless businesses with the confidence they needed to take people on. We have recruited 500 Community support officers to keep our streets safe, and many of these have gone on to become warranted officers.
We promised better access to your local GP at times that suit people best, and now eight out of ten GP practices offer appointments after work. We promised to double the childcare and health visitor support in our least well-off areas, through our Flying Start scheme - and now 18,000 extra children have benefitted. Last, but not least, we promised extra funding protection for our schools - and working with our colleagues in local government, we delivered that too. This year we saw the best ever GCSE results in Wales. Five out five. Delivered.
And that's not all we've done - we have record direct investment now in Wales, unemployment is now routinely lower than London - and, we continue to spend more on the NHS in Wales than happens over the border in England. That is a record I am proud of, in the context of a £1billion cut in the Welsh budget, and the many other obstacles we have had to contend with, standing up against an obstructive Tory Government in Westminster.
Despite the challenges, Wales is on the up. We are on the map, in a way that we never have been before. Together for Wales, we can deliver these new pledges, and deliver on our country's promise.
Related