Can you imagine if England were to win the World Cup?
The streets would be filled with cheering fans, their faces painted and polystyrene gold replica trophies manically waved around high above their heads. Names like Rooney, Sturridge and Sterling printed on the backs of hundreds of England shirts.
But what happens if England win the World Cup next year? That's right; as the men's World Cup enters a four-year hiatus, the women's World Cup is still to come. In 2015, pending just one point in our next two qualifiers, the Lionesses - as the England Ladies team is known - will be on their way to Canada for the seventh FIFA Women's World Cup.
Women's sport makes up just 2% of all sports coverage in the UK. It's a shocking statistic, but I hope it's something that can change over time. Tennis, golf, football, athletics; all of these sports are full of extremely talented female athletes, but they face a struggle to be recognised and rewarded for their ability. The media and marketing companies have a huge role to play here and they stand to benefit greatly from it too. Now more than ever, young girls and women want to be fit and healthy and are looking for sporty female role models.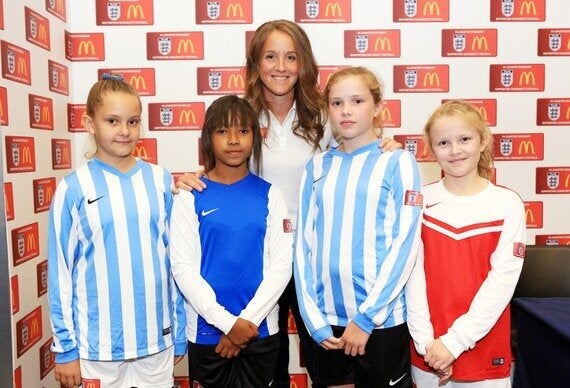 Casey with young players from local London grassroots football club Larkspur Rovers FC at the launch of McDonald's new four year Community Partnership with The FA.
I was lucky enough to captain the Team GB women's football team at the London 2012 Olympics and I'm proud to say that our matches drew bigger crowds than the men's games. There is an appetite for the game and in some countries women's football is huge. The US for example had over 90,000 people watch them win the World Cup final in 1999 on home soil in California.
So if the Lionesses were to win the World Cup, could we predict a surge in popularity here? There has already been a huge increase in the number of girls' grassroots teams across the UK over the last 10 years and the FA Women's Super League (FAWSL) was established as the new top tier competition in England in 2011. Crowds have increased 100% in the last year alone, which shows you it's moving in the right direction. Some matches are shown on TV, but if we could get them all on there, what a difference it would make. The quality of the league is the strongest it's ever been. We've got World Cup winners over here and players coming from Brazil, Sweden and all over the world to play in our league.
Take your daughters (and sons) to watch Chelsea play Arsenal, or Liverpool vs Man United, with the same quality, but lower price tag of the men's games.
Most importantly football is fun - fun to watch and even more fun to play. That's why grassroots football is so important in the UK. For young girls in particular, sport can improve their self-esteem and confidence, teach them important life skills and keep them healthy and active. It's also a great way to make new friends, whether it's the kids on the pitch or their parents watching on and helping out in the clubhouse on a Sunday morning.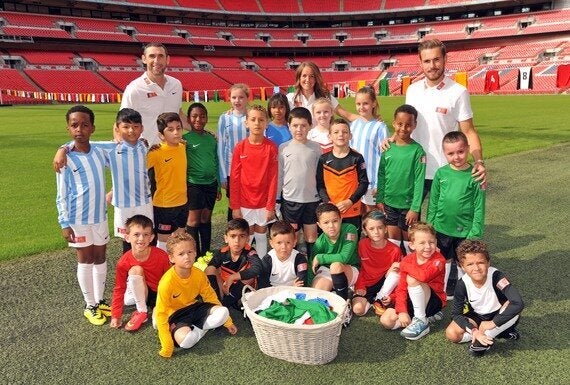 Casey with former Arsenal defender Martin Keown, current Arsenal midfielder Aaron Ramsey and local FA Charter Standard Club Larkspur Rovers FC at Wembley Stadium to launch McDonald's new four year Community Partnership with The FA.
It's why I'm supporting McDonald's Community Partnership with The FA, which aims to improve the standards of grassroots football across the UK so that young people, including girls, are given every opportunity to play the game I love. McDonald's has been supporting grassroots football for 12 years and this month renewed their commitment to the partnership with The UK FAs for another four.
At the launch last week, we turned the halfway line at Wembley Stadium into a giant washing line, to demonstrate the 250,000 football kits being donated to junior teams as part of the scheme. We invited a young football team down from a local FA Charter Standard Club to help us and I met a group of young girls who played for the team - all around 9 or 10 years old - whose enthusiasm reminded me of myself at that age. I however, didn't have a girls' team to play with - in fact, I was the only girl in the entire league at that age, which shows how far we've come. Young girls like those I met at Wembley need strong female role models. They are the future of the women's game and - if they can find us - will no doubt be cheering on the Lionesses through the TV come summer 2015.
Casey Stoney is helping to launch McDonald's new four year community partnership with The FA. McDonald's is giving over 7,000 junior football clubs across UK free kits as part of their work supporting grassroots football. For more information, visit mcdonalds.co.uk/betterplay