Svetlana is a young mother, in her late twenties. In her hometown of Donetsk, she worked as an accountant. With the crisis currently engulfing her home, she is unable to work, and when the conflict intensified around her, she became afraid for her family's lives. She fled with her children to a neighbouring village. We sit together in a crowded family shelter as she tells me her story.
"I left my parents behind in Donetsk. I was there only three days ago - it is a nightmare made real. In some areas, the destruction is total. The people there...they look like shadows."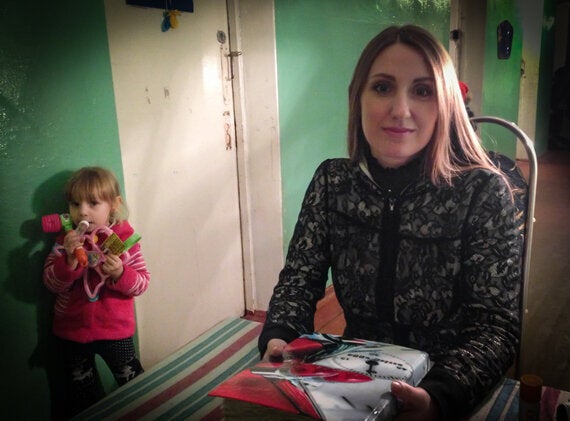 Svetlana volunteers at a shelter for displaced families, helping to register them for aid. Credit: Cat Carter/Save the Children
"Shots ring out constantly. It's so dangerous to move around. You cannot walk the streets in search of food. Only the poor remain there now - those who cannot afford to rent an apartment outside the city, or cannot afford transport. When you hear the blasts you run to the basement and cower there. My daughter's knees were constantly bloodied, from tripping down the stairs when she ran to our basement."
"We left our lives in Donetsk"
Svetlana pauses for a long time, staring out the window. She seems lost in thought, and I'm about to ask a follow-up question when she continues, her voice heavy with sadness.
"Many people there are very weak now, so it's difficult for them to find food - if you are strong enough, you can stand in line for hours, for the meagre supplies available, but otherwise you stay where you are and slowly waste away.
"We left our lives in Donetsk. I was an Accountant, but here, I am nothing. My husband looks for odd jobs to support us. The winter is very harsh, and both of my children became sick - we think from the cold."
Cash programming - providing essential economic support
The conflict is just one reason that Save the Children is here. The harsh winter weather is another. Taken together, the impact on families can be fatal. More than 300,000 children have fled the contested areas now, and that figure is rising daily. Often fleeing with nothing, many displaced families need everything.
Local capacity to cope with the influx is overwhelmed, and international aid agencies, Save the Children among them, have moved in to help. But, wherever markets are functioning, or have the capacity to recover, traditional mechanisms for delivering aid don't make sense. This is particularly the case in a middle-income country like Ukraine, where it would be highly detrimental to undermine those markets with aid, or to give families like Svetlana's clothes that are too small or large, or medicines that they don't need. Instead, we're using cash programming -the fastest growing method of delivering aid of in humanitarian responses, which not only can support families' like Svetlana's, but also stabilise local markets.
We supported Svetlana with a one-off cash grant of $280, to enable her family to buy winter supplies, such as blankets, warm clothes and waterproof boots. There are many reasons why, in the right context, and particularly in developed economies, cash is more effective and appropriate than other means. It is less visible than other forms of aid (think of the alternative - lorries full of food or goods being trucked huge distances, or making refugee children all wear the same 'standard' clothes - for example a bright red jacket). This then helps to reduce risks to recipients and staff, and offers flexibility - both in terms of its use, and its withdrawal. In Ukraine, our cash transfers are delivered through a bank transfer system, which communities can then withdraw in their own time, in a local branch.
It's also more dignified - as another Mother, Marina, explained: "one reason that we are so grateful for this cash from Save the Children and ECHO, is because my husband is very ashamed of receiving charity. He is a proud man, and to take hand-outs or old clothes, he would not do it. Money is different - we can then go and spend money, and choose exactly what we need. It gives us back something." Recipients of cash grants are chosen carefully, based on what we term 'vulnerability criteria', both demographic - for example if a mother is alone with her children, or pregnant, or has several children relying on her, and their economic status. In Ukrainian society, women are often in charge of the household and finances, so they find it easy to ensure the money on the most pressing needs of their family.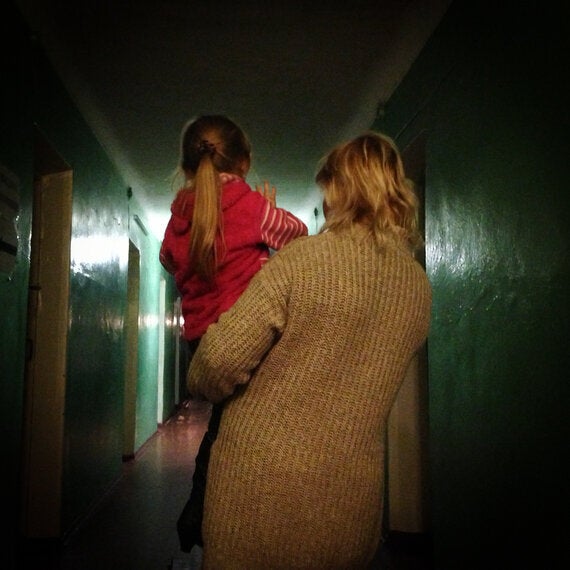 Mother of three Marina, looks out at the street from the one room she shares with her family. Credit: Cat Carter/Save the Children
Local markets: a lifeline in any emergency
Critically, cash programming supports local markets, instead of undermining them. Flooding any community with aid automatically means that the people receiving the aid will have less need for the local market - in turn meaning that the local market becomes less stable. Supporting crisis-affected communities with cash means that this money is spent in local markets, helping them to remain strong - a life-line in any emergency.
Cash is also more flexible. No two families are the same. One family I've spoken to spent the money on winter clothes and nutritious food, while another family spent it on warm, waterproof boots - vital for the sub-zero temperatures here. Svetlana spent it on warm clothes for her children and medicine.
"I spent the money on medicine and health care for my children. I also managed to buy some warmer clothes for them. This kind of cash grant is so much better than receiving goods - we can choose what we need. For example, clothes for my children - they are such different sizes and keep growing! Having cash means we can keep up with their needs, and not be dependent on others."
As with any aid, we must guard carefully against the cash grant being used inappropriately. We do this by working with the families before, during and after the fund allocation, and by running monitoring and evaluation sessions, to ascertain how the money was spent.
"There are many people in need here"
As my conversation with Svetlana comes to an end, she is almost embarrassingly effusive in her thanks. I explain that I wish we could do more, but the needs are great and the funding is small. She nods, understanding. "There are many people in need here." she says quietly.
I ask how she is keeping herself busy, given that she cannot find work here. She brightens instantly. "I am volunteering, here in the shelter! I am making sure that all families who come here know what aid is available - they are all so delighted and amazed that someone outside of Ukraine cares about us".
Save the Children has been working in Ukraine through partners for the last seven years, and has been directly implementing since September 2014. We have been working in eastern Europe for more than 20 years. The UN also increasingly recognises the growing importance of cash in emergencies. Read more here.