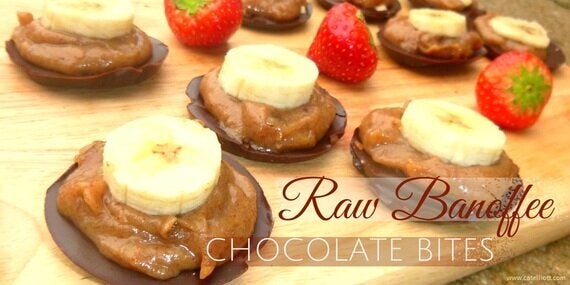 Yo' chocolate lovers, caramel lovers, and you deliciously perfect health food addicts. Listen up, I have a super delicious treat in store for you... and it all began with a girl obsessed with banoffee pie.
So what's so good about banoffee pie?
It's smooth, sweet, caramel, and deliciously gooey with chunks of banana.
It's sugary, creamy, and decadent and because it's loaded with way too much sugary processed junk, it leaves you feeling a little bit ashamed, sad, and slumping after your sugar high of eating a whole pie.
I know I've done that before... eaten the whole pie, well with the help of a banoffee pie obsessed pal who got me to make her banoffee pie way too frequently than I'd like to admit (but in all honesty we both could've cleared off a whole pie each...or more in one sitting).
And with that lack of control, because it tasted so damn fine, in mind I set off to make this recipe that friggin brilliant - but without the sugar, dairy, and unhealthy ingredients. I even put a little spin on this and made it with a chocolate base (which you could substitute for a 50:50 ratio of dates and almonds blended together if you wanted it to be like a cookie base and not require being kept in the freezer like the chocolate requires).
And I hate to toot my own horn here, but I know you'll love this too - well unless you're one of those people who doesn't like super awesome tasty desserts.. and if that's you stop reading now. Seriously, stop.
Apart from the deliciously perfect taste that this recipe has, the best part is that this is refined sugar-free, paleo, gluten free, and can be made vegan if you sub the honey for maple syrup (or other vegan alternative). It also is made into the perfect "bite" sized proportions so that you cant go overboard (as easily) as when you have to slice up a whole pie.
You need this in your life - and it makes for the perfect party treat!
This recipe serves 12 raw banoffee chocolate bites
Ingredients for the Chocolate:
1/2 cup cacao powder
1 TBsp Lucuma powder (optional to give a caramel hint)
3 TBsp raw honey
1/3 cup TBsp coconut oil melted
A pinch of sea salt
Ingredients for the salted caramel:
6 (1/2 a cup) medjool dates pitted and soaked in warm water for 10 minutes then drained (save the soaking water for later)
1/2 TBsp raw honey
1 TBsp Lucuma powder (optional)
1 TBsp raw almond butter
1/4 tsp sea salt
Combine the chocolate ingredients in a bowl over a larger bowl of hot water to melt. Use a spoon or a small whisk to get this mixture silky smooth.
In a muffin tin tray, line the bottom of the tray by cutting 12 squares of greaseproof paper with just enough overhang to pull them out of the tray - or use cupcake wrappers.
Pour a small amount (about 1-2 TBsp in each) of the chocolate sauce in to each f the 12 "moulds" until all the chocolate is finished. Then place the tray in the freezer to set for about 5 minutes.
Whilst the base is setting, make your caramel sauce by combining all the ingredients in a high speed blender and blend until a smooth mix is formed. Add a small amount of the left over water until you achieve a consistency you like (around 2-3 TBsp of extra water makes a thick caramel).
Remove the chocolate bases from the freezer and remove from the tray by pulling the moulds out. Scoop a big spoonful sauce of caramel on top of each, lightly pressing so it covers the base but leaves a small gap near the .
Top with a slice of banana for a banoffee pie styed chocolate bite.
Serve straight away or store these in the freezer for whenever a sweet tooth kicks in. Keep them in the freezer when you aren't eating them as they will soften if left at room temp.
Note: you can also use the chocolate or the caramel recipe on their own for the base to other desserts or to enjoy on their own. You can also top with some whipped coconut cream (recipe in the 120 Cleanse) - Also this recipe is an extract from the 120 Cleanse Cookbook that includes loads of healthy desserts and recipes.
Get this in your belly now!
Go on and share with the buttons below so everyone else can be living in a raw banoffee dreamland too..