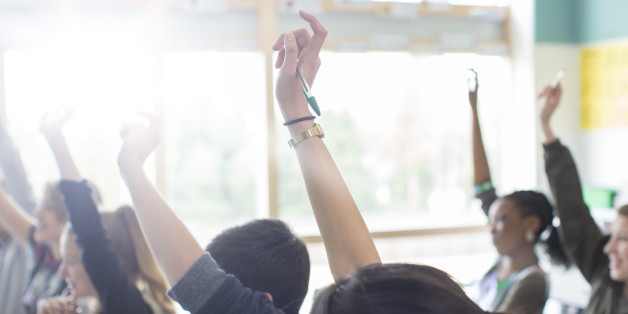 Caiaimage/Sam Edwards via Getty Images
Today the Social Mobility Foundation in partnership with the Social Mobility Commission and the City of London Corporation announced the top 50 UK employers who are taking the most action to improve social mobility in the workplace.
Research has consistently shown that people from more affluent backgrounds take a disproportionate number of the best jobs and that employers tend to disproportionately employ graduates who went to private schools and elite universities.
Speaking from a London perspective, one in five young Londoners are unemployed, one of the highest rates in the country.
And at the same time businesses are telling us that they can't find people with the right skills.
But experience shows that with the right training, and the right preparation, these skills gaps can be filled by some of the young people for whom traditional recruitment practices would sometimes disregard.
Supporting social mobility is not just good for society, but is also good for business.
The Index is an effective incentive to UK firms to demonstrate the progress they are making in this vital area.
There is a lot to be done, and the Social Mobility Index is an excellent tool to enable businesses to assess themselves frankly and look at what they can do better.
We at the City Corporation are supporting the Index with £70,000 funding to encourage and support responsible businesses, residents and workers to help change the lives of hundreds of thousands of Londoners.
I am particularly pleased to see so many City businesses represented in the top 50. Thirteen out of the top 20 are City firms and these are businesses which are showing real ambition in their approach to tackling social mobility. They are leading the way in removing the barriers which are holding back the best and brightest candidates in our society.
More companies are making progress on social mobility, casting the net wider in the search for talent and recognising that a level playing field is in the best interests for all businesses.
Some businesses tell us that they are finding it difficult to recruit enough people with the right skills. Indeed, the percentage of job vacancies due to skills shortages increased in financial services from 11% to 21% in just two years.
But, there is an untapped pool of talent out there. Yet, if we continue to source candidates from the same pools, we will get the same fishes.
We are constantly looking at what more we could do. And the City of London Corporation is scrutinising its own performance against the standards of the Index.
Our Business Traineeship programme helps state school students from the City's neighbouring boroughs to develop the skills needed for a successful career through paid internships. Over 1,500 young people have benefited since it started, with more than 100 of the Square Mile's top employers providing placements.
To demonstrate our commitment to social mobility we are hiring 100 apprentices and boosting young people's skills and employability through our partnership with City institutions.
We are providing state education through sponsorship of academies across central London. All are judged as 'Good' or 'Outstanding' by Ofsted. These schools are recognised as the highest ranking academy chain in the UK in terms of student progress. And we are opening five new academies in September in Islington, Hackney and Newham.
We are doing our bit to fight back against the capital's housing crisis by managing social housing estates across seven London boroughs - and we are building another 3,700 extra homes by 2025.
Our charitable funder, City Bridge Trust, is London's biggest independent grant giver, making grants of £20million a year to tackle disadvantage across the capital. It has awarded around 7,600 grants totalling over £350million since it first began in 1995.
As the newly elected Policy Chairman, my goal is a vibrant, thriving City contributing to the prosperity and well-being of the capital and the country. Our city is at an historic moment where it faces challenges on keeping access to talent and markets; where the people who live in this city struggle to get access to decent jobs, homes and transport. I welcome the opportunity to work together to tackle these challenges.
The City Corporation is a proud partner of the Index and I look forward to seeing how we can shift the dial on this important issue.