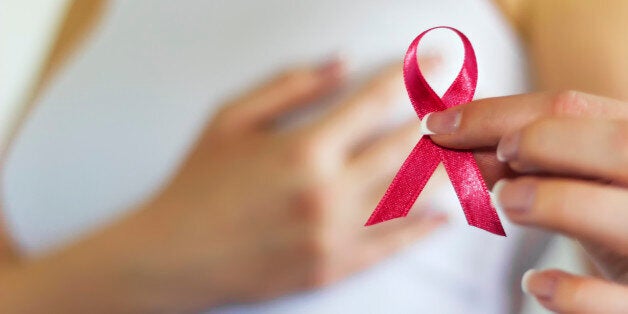 The summer of 2015 still seems a blur: I was on the emotional roller coaster that is cancer treatment. That May, aged 51, I had been called for a routine mammogram which showed signs of abnormal cellular activity - twinkling fragments of glitter on the computer screen staring back at me in the Consulting Room. I was dumbstruck and in shock. I think of myself as a healthy person. I eat well, practise and teach yoga, rarely drink. My biggest vice is coffee. There is no history of breast cancer in my family.
Yet instantly I found myself on a treatment trajectory even though the 'c' word was never used by the wonderful medics at St Bartholomew's Hospital in London who treated me. The condition I had turned out to be Stage 3 Ductal Carcinoma In Situ (DCIS), a non-invasive pre-cursor to breast cancer.
One doctor told me I was simply unlucky to have got it because the truth is we don't know why certain people develop the disease and others don't. However, I felt lucky. I didn't have to go through chemotherapy. I still have both breasts. But I did have some downright painful procedures, and agonising waits before being told I needed surgery and radiotherapy. Now, I'm out the other end - the surgery a success, lymph nodes clear, I feel like I learned so much about myself, my body and health.
When I look back now it feels surreal. I made a swift recovery which surprised me, and I put this down to the fact that I've practised yoga for the past 15 years. Even though instinctively I have always believed in yoga's healing power, I have now experienced it first hand. It got me through the medical treatments - which, though absolutely necessary, are often worse than the condition itself especially in the early stages of breast cancer.
We tend to think of yoga as headstands, sun salutations and tying ourselves up in knots, but beyond the postures, it's actually a vast system of techniques and philosophies which helped me on every level; physically, mentally and emotionally. During my treatment, some days I would simply lie down on my mat and focus on my breath. This slows everything down and restores balance to the nervous system and when the nervous system is in balance there is a positive chain reaction in the body. Stress levels go down and everything functions well - including sleep patterns and digestion - allowing healing and repair can take place.
I learned that rest is really key to this process - something in my busy life of deadlines, teaching and generally pushing myself hard I didn't really appreciate. Most days, I would practice Yoga Nidra, sometimes called 'yogic sleep'. It's a systematic way of relaxing the body to bring about a state of consciousness between sleep and meditation which is very healing, plus it boosts energy levels. I still do this at least once or twice a week - more if I'm going through a particularly hectic time.
Keeping moving post-surgery is also important, so alongside breathing and Yoga Nidra, I would do gentle chest and shoulder openers every day. I had a lumpectomy and lymph nodes removed from my underarm and was given a standard set of shoulder exercises which I approached in a yogic way, by moving slowly with the breath to lengthen the spine, lift the chest before easing into the stretches mindfully. Less than a week after coming round from the anaesthetic, I was able to do very gentle sun salutations.
All of this surprised me, but it was the simplicity of slowing down and breathing which helped me the most. It is at the centre of all yoga practice because it allows you to centre yourself and be in the moment. I found this really calming and particularly useful during the initial shock of diagnosis, also when I needed to be very focused to listen to what the medics were telling me and being able to ask the right questions.
Summer 2016 has been very different - this year's mammogram was clear and I'm truly thankful for that. I realise that I was very lucky since I was on the cusp of having invasive breast cancer which would have been a very different picture treatment wise. That's why I know I will never miss a screening and urge all women (for whom it's appropriate) to not be afraid and to do the same.
The Estée Lauder Companies UK & Ireland Breast Cancer Awareness (BCA) Campaign aims to inspire others to share their stories to Take Action Together to Defeat Breast Cancer. Visit BCAcampaign.com for more information. #BCAstrength